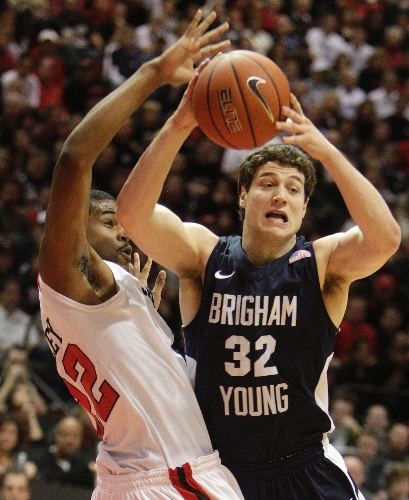 SAN DIEGO — Whether it's at altitude or sea level, San Diego State just can't stop Jimmer Fredette.
The star guard had 25 points and nine assists as No. 7 Brigham Young spoiled the biggest game in No. 6 San Diego State's history, running away with an 80-67 victory Saturday.
As the final buzzer sounded, a fired-up Fredette threw the ball into the air and celebrated with his teammates a few feet from San Diego State's student section. It was the first home loss in 14 games this season for the Aztecs, who also lost by 13 points to BYU in Provo, Utah, a month ago.
"We were just really, really excited to win this game," Fredette said. "It's a huge game. Everyone was picking San Diego State to win, and I thought our team did a great job of just making shots and getting rebounds, getting loose balls, doing things that we needed to do, and that's why it was an emotional win."
The Cougars (27-2, 13-1 Mountain West) swept the regular-season series against the Aztecs (27-2, 12-2) for the third straight year and took a one-game lead in the conference. San Diego State's second loss came in one of the most eagerly anticipated games in this city's history. The Aztecs' only win against BYU in the last three seasons was in the conference tournament semifinals two seasons ago.
The teams very well could meet again in the conference tournament championship game March 12 at the Thomas & Mack Center. Both teams are expecting high seeds in the NCAA Tournament.
"I told our team, 'BYU is Final Four good,' " Aztecs coach Steve Fisher said. "And I don't know that our guys liked to hear that. And then I said, 'We are, too.' Today, they were the better team. No excuses. They made plays. They made shots."
Just like last month in Provo, it was too much Fredette. The Aztecs rotated three players on him defensively, and often double-teamed him. That left other BYU players open, and Fredette got them the ball.
Charles Abouo had 18 points as the Cougars dominated inside and outside. Noah Hartsock had 15 points and Jackson Emery 13.
BYU went 14-for-24 from 3-point range, with Fredette and Abouo each hitting four 3-pointers. San Diego State went 6-for-17 from behind the arc.
"Whether they shoot 14-for-24 or not, they are going to be a very, very difficult out for anyone in the NCAA Tournament," Fisher said. "I don't care who it is. They are that good."
■ Air Force 74, Colorado State 57 — At Air Force Academy, Colo., Michael Lyons scored 21 points, and the Falcons' swarming defense held the Rams scoreless for nearly nine minutes in the second half.
Todd Fletcher and Tom Fow each had 13 points for the Falcons (14-13, 5-9 Mountain West).
Andy Ogide finished with 27 points for the Rams (18-10, 8-6), who lost their third straight game, dealing a blow to their NCAA Tournament hopes.
■ New Mexico 80, Texas Christian 70 — At Fort Worth, Texas, Dairese Gary had 32 points and nine assists to lift the Lobos over the Horned Frogs.
A.J. Hardeman added 14 points and 10 rebounds for the Lobos (18-11, 6-8), who snapped a four-game losing streak that put a big dent in their NCAA Tournament hopes.
TCU (10-20, 1-14), which has lost 12 straight, was led by Amric Fields and Nikola Cerina with 17 points each. Former Valley High School standout Hank Thorns added 11 points and 12 assists for the Horned Frogs.