Fredette, BYU unable to repel Gators' attack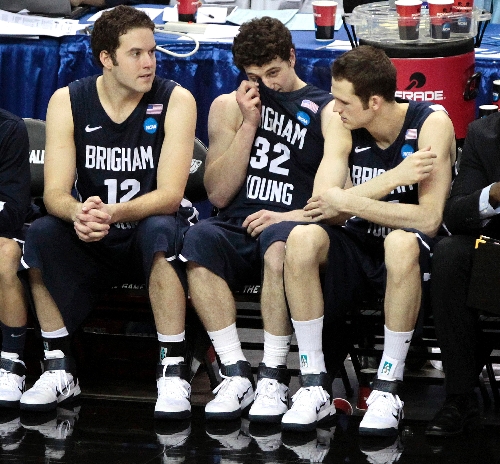 NEW ORLEANS — Alex Tyus is like most of these Florida Gators — good at a lot of things but lacking one dominant skill. He's usually content to blend in and be just another part of the team's effectively anonymous style.
On the biggest stage of his career, the senior's impact was obvious.
Tyus had 19 points and 17 rebounds as second-seeded Florida beat Brigham Young 83-74 in overtime Thursday, chasing a bloodied Jimmer Fredette and the Cougars out of the NCAA Tournament.
Now the Gators will be playing for a spot in the Final Four for the first time since 2007 — returning to the nation's elite after a hiatus from the spotlight of winning national titles in 2006 and 2007.
"It's been so rewarding for me to see them make the journey they've made to this point now," Florida coach Billy Donovan said. "It's been very, very rewarding and fulfilling for me, and I hope in some way I've been able to give them as much as they've given me."
While Fredette was the star attraction, scoring 32 points on 11-for-29 shooting in the final game of his college career, Florida countered with balance.
Kenny Boynton added 17 points — while also playing tight defense on Fredette — and Erving Walker and Chandler Parsons both scored 16. Boynton and Parsons each hit 3-pointers in overtime as Florida outscored BYU 15-6.
But it was Tyus who put the Gators over the top. The 6-foot-8-inch senior is the team's fifth-leading scorer, averaging 8.6 points and 5.7 rebounds.
While Tyus was battling under the basket, Boynton was glued to Fredette on defense the entire game.
Fredette shot only 3-for-15 from 3-point range and had to work for his points against the physical pressure. By the end of the night, he had a bandage on his chin from a blow in the second half and a sore calf, but the baskets kept coming until he was held scoreless in overtime.
When the outcome became apparent with a minute to play, BYU coach Dave Rose subbed out Fredette, bringing a standing ovation from the crowd. He averaged nearly 33 points during three NCAA Tournament games and finished the season by scoring at least 30 points in seven out of eight games.
Rose said Fredette's legacy would be a simple one to define: "Winning games — that's his legacy. He just helped his team find ways to win games."
But it's Florida (29-7) that continues to play, eliminating BYU (32-5) and reached its first regional final since 2007.
The Gators led for much of the first half, but BYU rallied to tie the game at 36 by halftime.
Florida was almost unstoppable early, making 10 of its first 13 shots and leading by 10 points early. But the Gators cooled dramatically from that point, making just 4 of 13 from the field and 1 of 6 from the free-throw line in the first half.
Fredette, who entered as the nation's leading scorer at 28.8 points per game, missed his first six shots from the field. But the Cougars were able to tread water because of Jackson Emery and Stephen Rogers, who combined to make five 3-pointers in the half.
Fredette was held scoreless for nearly 14 minutes before finally hitting a layup with 6:17 remaining in the first half. He made four of his next seven shots to finish the half with 10 points.
Florida double-teamed Fredette occasionally but usually guarded him one-on-one with Boynton or Scottie Wilbekin. Fredette was bumped several times while trying to finish layups, and two of his first three shots were blocked.
But fouls were hard to come by, despite Fredette's occasional glares toward officials and the anger from the vastly pro-BYU crowd at New Orleans Arena.
"It was just a little frustration, just because that's what happens sometimes during basketball games," Fredette said. "But I tried to keep an even keel, and we were still right in there at the end of the game. We just didn't win."
FLORIDA — 83
BRIGHAM YOUNG — 74
KEY: Kenny Boynton played snug defense on Jimmer Fredette and scored 17 points to spark the Gators.
NEXT: Florida vs. Butler, 1:30 p.m. Saturday, CBS (8), KBAD-AM (920)