Friendship won't be a factor when Sonnen, Evans step into the octagon
November 13, 2013 - 9:39 pm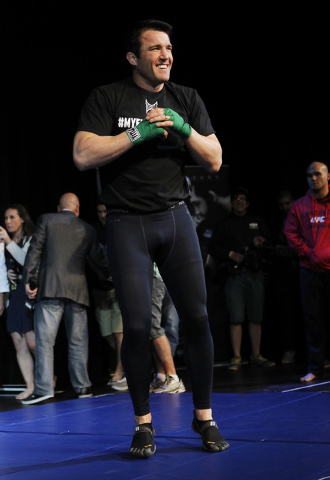 Chael Sonnen made only one request of his bosses at the Ultimate Fighting Championship as they tried to find him an opponent for the organization's 20th anniversary card Saturday at the MGM Grand.
Sonnen, perhaps only half-jokingly, said he would be willing to fight anyone but Rashad Evans.
Then came the text message from UFC president Dana White with a simple two-word message: "It's Rashad."
Sonnen didn't have to wait long to get Evans' reaction to the news that the friends indeed would meet at UFC 167. He simply swiveled his chair and held up his phone, allowing Evans to read the message himself.
Evans and Sonnen work as studio analysts for UFC broadcasts and programming on the Fox family of networks. It was during a show in Indianapolis in August when they got word of their impending matchup.
"I held up the phone while we were on a commercial break and just let him read it. I didn't say anything, and he read the whole thing," Sonnen said. "A few minutes later, I had to do what's called a toss where once I get done speaking, I toss to Rashad by looking at him, and I could feel him sizing me up the whole rest of the show. Then I felt myself doing the same thing to him."
Evans didn't dispute Sonnen's version of events.
"Once I saw he was on the menu, I immediately started looking at him as something good to eat," the former light heavyweight champion said.
It was a scenario the fighters thought they would avoid despite being near the top of the light heavyweight rankings.
"We had already extinguished the idea of fighting just because we have such good work chemistry that we thought they wouldn't do that to us because it could create some awkwardness or whatever," Evans said. "But we were both wrong."
Evans and Sonnen have had more than their fair share of contentious rivalries with opponents leading up to fights. This has been completely different. Two of the best trash-talkers in the sport have been relatively silent leading up to Saturday's fight.
While there is no animosity, there was also never any thought of turning the fight down. To them, it's just another competition.
"It's not the fight either one of us wanted, but we're both leaders in the locker room with the guys in the back, and we can't set an example that you get to pick and choose your fights," Sonnen said. "You've got to compete against everybody."
There probably won't be many fireworks on the set when they return to TV again in two weeks, either.
Sonnen called himself a good winner and a good loser and said he probably would avoid broaching the subject with his friend should he emerge victorious. Evans essentially said the same thing, but admitted he might bring it up once or twice.
"I wouldn't rub it in," Evans said. "I wouldn't make a big deal about it, but every once in a while I might give him a look like, 'You know what happened.'"
Evans hopes a victory puts him back in the conversation for another title shot against Jon Jones, a former friend turned archrival who beat Evans in a bitter grudge match in April 2012. The potential for Evans to earn a rematch appeared far-fetched in February, when he dropped a lackluster decision to Antonio Rogerio Nogueira in his first fight since the loss to Jones.
But Evans, 34, rebounded for a split decision over Dan Henderson and June and hopes a win over Sonnen would help him get one step closer to a chance at redemption.
"I would really like another shot at Jon," Evans said.
Sonnen, 36, famously had two chances at then-middleweight champion Anderson Silva before he lost to Jones in April.
Sonnen insists winning a title remains his primary motivation, but his next fight is already set no matter what happens against Evans.
Sonnen has been embroiled in a war of words with Wanderlei Silva for most of the past two years, and the two will serve as rival coaches on the Brazilian version of "The Ultimate Fighter" before fighting each other at the end of the season.
There will be plenty of animosity in that fight, just as there was for the two with Anderson Silva. Sonnen insists that doesn't fuel him, however, and that his lack of verbal attacks on Evans doesn't mean there is a lack of motivation.
"Those things are secondary, and they're fun to talk about, but they're not motivating factors to me. None of it is. Not the money or the attention or anything," Sonnen said. "I like to win. I like to go out and compete and win and feel good about myself for a few days, then go back in the gym and start the process all over."
He concedes there might be a price to pay for losing to Evans.
"Maybe he'll make me bring him coffee or something like that to remind me of the match," he said.
Contact reporter Adam Hill at ahill@reviewjournal.com or 702-224-5509. Follow him on Twitter: @adamhilllvrj.