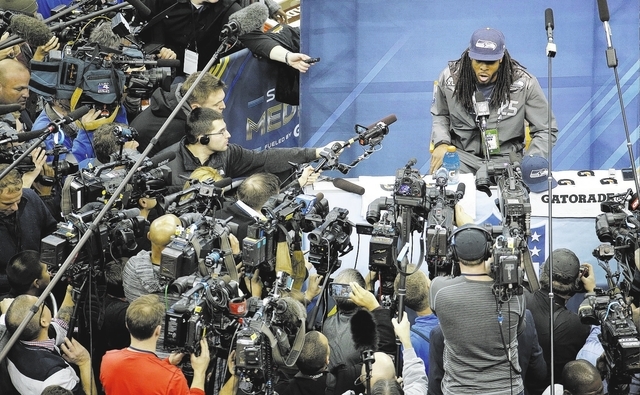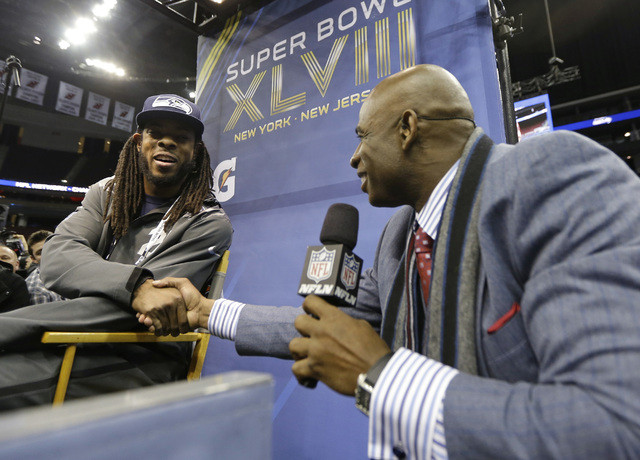 NEWARK, N.J.
Everything that has been said about Super Bowl media day is true.
It's the most over-the-top, ridiculous, inane spectacle in all of sports.
And it's awesome.
There was, of course, a huge contingent of the so-called traditional sports media at the Prudential Center trying to scramble for quotes from Peyton Manning, Richard Sherman and all the other players from the Denver Broncos and Seattle Seahawks who were available for one hour Tuesday morning.
Well, everyone except Marshawn Lynch. More on that later.
Then there were the type of outlets that are big time but never would think of covering a football game. Think "Access Hollywood" and VH1.
Add that to the bloggers and other new media and sprinkle in the final ingredient — the whackos who dress in costume and become stars for about 11 minutes each year.
That included an Austrian reporter dressed as Mozart, a Danish reporter suited up head-to-toe in full "Waldo" gear and something called "Pick Boy."
The entire thing is pure chaos and more than lived up to the hype. But it was nothing compared to the hour between the two media sessions.
As soon as the Broncos' hour ended, there was a one-hour break before the Seahawks were scheduled to hit the floor for their session.
That meant it was time for the media brunch. Based on the stampede of the media herd rushing to the New Jersey Devils' practice facility for free lunch, one would think Ines Sainz had offered a date to the first guy to reach the buffet.
Or that there was free food and media folks around.
Once that was over, it was the Seahawks' turn to face an hour of questions.
In some cases, it was 6 minutes, 21 seconds of questions.
That's as long as Lynch made it. The Seattle running back has done his best to avoid talking to the media all season and did so yet again. He spent most of his obligatory hour with the media standing away from the rail filled with waiting cameras and tape recorders and instead talking to staff and what appeared to be a friend.
He did put in that tough six-plus minutes, though.
Then he did a quick spot with Deion Sanders on NFL Network, and among his few words was an expletive.
There goes that Skittles endorsement deal. It appears that he did do enough to avoid a fine, however.
Gregg Rosenthal of NFL.com tweeted that an NFL representative told him Lynch should be in the clear.
"Players are required to participate, and he participated," the spokesman told Rosenthal.
Richard Sherman did far more than just participate. He was the unquestioned star of the day. Not for being all crazy and ranting and yelling at the camera. Just for being Richard Sherman.
He was thoughtful with his answers, highlighted by the fact that he would move from his spot on the podium to get in position to clearly hear each question before returning to the microphone to answer.
Nobody else did that.
Some lady near the stage was shocked at what she saw.
"Oh, he's really not like how he was after that game," she said to nobody in particular.
You think, lady? Did you believe he just shouted angrily all the time like he was out of his mind?
Apparently, that's the image people have of Ultimate Fighting Championship fighters. A contingent of people from the organization was in attendance with a championship belt in advance of the UFC card in the same Prudential Center arena Saturday.
An annoyed NFL official, senior director of on-field operations Dennis Kayser, approached the group and asked the people to leave, according to NJ.com.
"We don't want this around here. This is wrestling stuff, right? Yeah, we don't want that associated with us and this event. This is the NFL," Kayser said.
Jay Glazer, a TV reporter who covers the NFL and the UFC, stepped in to save the UFC group and its belt.
Glazer wasn't the only famous media member there, either. Guys such as Chris Berman were just as big of stars as many of the players.
ESPN reporter John Clayton was there, too. Without disclosing our methods, which suffice it to say were a bit creepy, the Review-Journal can confirm that he does not have a ponytail.
Let's just leave it at that.
Clayton was not among those asking bizarre questions. There were plenty of those.
Everything from "What's your favorite boy band?" to "If you were an Olympic athlete, which sport would you do?"
If the session were any longer, someone undoubtedly would have thrown out the old "If you were a tree, what kind would you be?"
The best question might have been asked of Denver tight end Julius Thomas. Somebody asked him which teammate has the hottest wife.
Thomas deflected the question, saying he preferred not to get in trouble.
It was an easy question, though. Google "Eric Decker wife."
You're welcome.
The most annoying thing about the experience was all the veteran reporters complaining about the silliness. Throughout the entire experience, the muttering was never far away.
Guess what? This isn't about you. Work on your features about Manning's legacy or the weather at any of the other media sessions this week. Media day is about the bizarre and absurd.
Don't like it? Don't go.
You didn't hear Mozart complaining when everyone was mistaking him for Thomas Jefferson. He just rolled with the punches.
Then, hit the buffet.