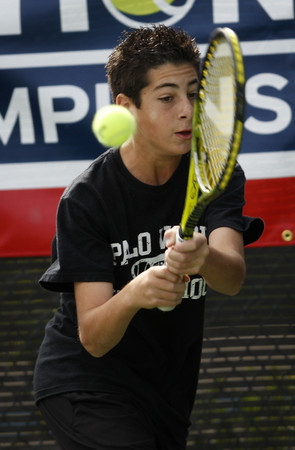 In Michelle Shoen's four years at Bishop Gorman, the girls tennis team never had lost a match.
The Gaels senior wasn't about to let the streak be broken Friday in the state championship.
Shoen and doubles partner Amanda Silvestri rebounded from dropping their three sets to win a crucial tiebreaker game, lifting the undefeated Gaels to their fifth consecutive title with a 10-9 win over Liberty (17-1) at Darling Tennis Center.
Palo Verde won the boys title in almost as close of a match, edging Coronado, 10-8.
In the girls final, the teams tied 9-9 and went to six 12-point tiebreakers to decide the match. Each team won three, but Gorman (17-0) won more points (33) than did the Patriots (30) in the tiebreakers.
"I have a tendency to get angry if things go wrong, so I walked into the tiebreaker calm and collected, and it ended up working," said Shoen, who teamed with Silvestri to beat Liberty's Sarah Lucas and Sina Gebrai 8-6 in their tiebreaker. "When it was over, I just cried."
Gorman's Anita Lee and Sarah Bessen won their tiebreakers, 7-2 and 7-1. With Liberty's Danae Ingwaldson winning 7-3, and the Patriots' doubles teams of Ashley Wao-Udin and Valerie Nesenhoener and Aphrah Brokaw and Erika De Los Santos each claiming 7-4 tiebreakers, Shoen and Silvestri had to win for the Gaels to keep the title.
"Michelle lives and dies with this," Gorman coach Gordon Hammond said. "It's sweet that it came down to their tiebreaker and they came through.
"It's not the way to decide a state title, though, on points in a tiebreaker. It's a (expletive) way to decide it."
Still, an impressive streak stays alive. The Gaels haven't lost a match since falling to Bonanza in the Sunset Region final Oct. 11, 2005.
Lee and Bessen each went 3-0 in singles for Gorman. Taylor Larreau was 2-1 in singles.
Wao-Udin and Nesenhoener and Brokaw and De Los Santos each went 3-0, and Lucas and Gebrai were 2-1 for Liberty, which appeared in its first state final.
"My girls played their hearts out and left everything they had on the court," Liberty coach Kih Gourrier said.
BOYS
It took Fernando Sunago a couple of seconds to figure out why a mass of humanity was hopping the fence and heading onto his court Friday.
Then two things hit the Palo Verde junior.
That mass of humanity — and the fact that he had just clinched a state boys tennis title for his school.
Sunago's 6-3 victory over Coronado's Mitchell Smith in the final set of the match lifted Palo Verde (15-0) past the Cougars (13-1) at Darling Tennis Center and gave the Panthers their fourth state title in the past six years.
Despite his court being surrounded by every player on both teams and most of the fans, Sunago didn't realize how much was riding on his match.
"I was surprised," he said. "I didn't think it was the last match."
The Panthers took a 4-2 lead in the first round, getting a sweep of the doubles matches, and never lost the advantage.
"You've got to come out quick. You want to win that first round," Palo Verde coach Zach Brandt said. "That was big for us. This was what a state championship (match) should be."
Palo Verde's Zach Bellon and Dillon Casey won all three of their doubles sets.
The Panthers won the state title in 2004, lost to Bonanza in '05 and won titles in '06 and '07 before missing out on a trip to state last year, when they lost to Bonanza in the Sunset Region final.
Smith and Mathew Dees each went 2-1 in singles for the Cougars. Marc Feldman and Michael Seitz were 2-1 in doubles for Coronado.
Contact reporter Bartt Davis at bdavis@reviewjournal.com or 702-387-5230.
In-depth high school sports coverage