Gaels' Powell has big numbers, waits for recruiters to dial
December 2, 2011 - 2:08 am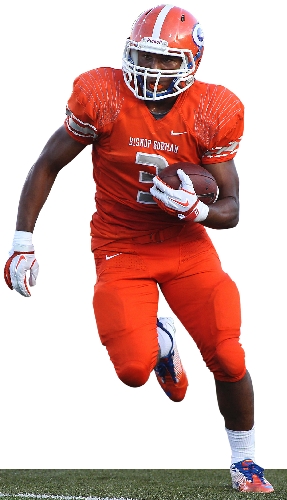 The first known use of the word "tweener" dates back to 1978, according to the Merriam-Webster online dictionary, and refers to a player who has some but not all of the necessary characteristics to play a certain position.
In other words, in between.
Bishop Gorman standout running back Shaquille Powell, however, has no idea what "tweener" means.
"Never heard of it," the senior replied when asked for his thoughts on the term.
Ironically, Powell is the classic "tweener" in the eyes of many college recruiters. At 5 feet 9 inches and 200 pounds, he is a player clearly talented enough to play for a Football Bowl Subdivision school, yet deemed too small and/or too slow to play in a major conference such as the Pac-12.
Despite being named Gatorade Nevada Player of the Year on Thursday as well as a four-star prospect and the No. 6 all-purpose back in the country by Rivals.com, Powell can't seem to shed the "tweener" label no matter how many yards he gains and touchdowns he scores.
"He doesn't have the multitude of offers you might think he'd have based on his stats," Gorman coach Tony Sanchez said. "But whoever gets him is going to get a heck of a big-time back. … At the end of the day, it's not about who doesn't love you, it's about who does love you and investing in those people."
Powell said his only Pac-12 scholarship offer came from Arizona State, and it was a "soft" offer, meaning the school would likely offer him once he made an official recruiting visit. But Powell stopped hearing from the Sun Devils some time ago, and the school this week fired coach Dennis Erickson.
Powell also drew early interest from Utah, but the Utes told him they wanted a bigger running back and would only offer a scholarship if they didn't find what they were looking for elsewhere.
"I was kind of like second choice," he said. "I wasn't really feeling that."
The only schools from Bowl Championship Series automatic-qualifying conferences heavily recruiting Powell are Vanderbilt (Southeastern Conference), Duke (Atlantic Coast Conference) and Illinois (Big Ten Conference).
The coaching staff at Illinois, which included former UNLV running backs coach DeAndre Smith (father of Gorman receiver Ryan Smith), was fired Sunday.
Powell said he also is considering UNR, San Diego State and Fresno State. UNLV has offered a scholarship.
"It's kind of disappointing to put in all that work and schools are still staying away from you," Powell said. "It's frustrating, but at the same time, with the schools I do have, I like them, and they're going to get one hell of a player."
NCAA coaches cannot comment on a recruit until he signs a national letter of intent, but Pac-12 assistants have indicated to Sanchez that Powell's lack of speed is the biggest knock against him.
According to Rivals.com, Powell ran the 40-yard dash in 4.59 seconds at a combine this summer.
However, Sanchez points out that there are several running backs at the FBS level who are similar in stature to Powell and not known for their straight-line speed.
"He has an incredible ability to make the first guy miss and he never gets a negative gain," Sanchez said. "To me, he's a complete back, an every-down back."
Powell has rushed for 5,251 yards and scored 90 total touchdowns during his Gorman career. In six games against out-of-state competition the last two years, he rushed for 1,057 yards and 14 touchdowns while averaging 7.8 yards per carry. Only nationally-ranked Armwood (Fla.), held him to less than 100 yards.
"When you watch him, you're watching one of the best backs on the West Coast," said Reed coach Ernie Howren, whose team faces Powell in the Class 4A state championship game Saturday in Reno. "The guy's an absolute stud. Such amazing footwork."
Sanchez, in his third season at Gorman, described Powell as "the type of kid we want to represent this school," and said one story epitomizes that.
"His junior year, our fullback was banged up. Shaq walks into my office and says, 'I'll play fullback,' " Sanchez recalled. "How many kids would say, 'Give the ball to a sophomore?' "
Did Sanchez take Powell up on the offer? "No!" he said. "We went to one back and handed him the ball."
Powell, who has rushed for 2,302 yards and scored 40 total touchdowns this season, said he is proudest of the legacy he and his senior teammates helped to create at Gorman.
"I feel like I've been part of something great here," Powell said. "I'm a pretty good guy, so I hope people remember me."
Contact reporter David Schoen at dschoen@reviewjournal.com or 702-380-4555.
In-depth high school sports coverage