Gaels pull away in second half to rout Crusaders
December 10, 2008 - 10:00 pm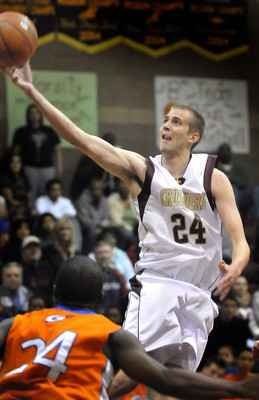 Feeling his team was being "outmuscled and outworked," Bishop Gorman boys basketball coach Grant Rice issued a halftime challenge to his players Tuesday night.
"We basically had a gut check at halftime and said, 'You know guys, let's go out there and see who's stronger,' " Rice said.
His Gaels responded by turning a wobbly 39-37 halftime lead into a convincing 81-59 win at Faith Lutheran.
After watching Crusaders post player Brett Lubbe score 14 points in the first half, Gorman began fronting the 6-foot-3-inch sophomore in the paint in the second.
It worked to the tune of a 21-8 edge in the third quarter and 42-22 for the second half.
"We fronted Brett, and then we wanted to keep everybody out of the middle, so we forced everybody baseline," said Gorman junior point guard John Loyd, who scored a game-high 23 points.
Freshman forward Shabazz Muhammad added 15 points for the Gaels (1-1), and Taylor Spencer and Anson Winder chipped in 11 apiece.
Lubbe had 19 points and five rebounds for Faith Lutheran (1-4), which is gunning for a fifth straight Class 3A state title but returns no starters from last season.
Chase Saunders scored 18 points and Greg Thomas added 11 for the Crusaders, who were only 2-for-13 from 3-point range.
"We didn't come out after the break and play well in the first couple minutes," Faith Lutheran coach Bret Walter said. "And after that tone was set, we didn't have any guys who were able to change the flow of the game at that point."
Gorman played without senior guard Kylel Coleman, a Division I prospect who was not listed on the team's roster Tuesday.
Rice said Coleman remains on the team, "is fine and in good graces" and would return to practice today.
Rice would not comment on Coleman's absence other than to call it a "coach's decision."
Even without Coleman, the Gaels' starting backcourt totaled 29 points.
Contact reporter Tristan Aird at taird@reviewjournal.com or 702-387-5203.
NevadaPreps.comIn-depth high school sports coverage
TUESDAY'S HIGHLIGHTS
BOYS
• Brett Hoisington had 15 points, including a rebound basket to force overtime, in Coronado's 67-65 home win over Centennial. He also had 10 rebounds.
• Desert Pines' Tyler Larson had 25 points and 20 rebounds as the Jaguars outran visiting Bonanza, 115-107.
• Legacy's Sam Johnson had 22 points, 17 rebounds and five blocked shots as the Longhorns beat visiting Las Vegas, 81-67.
GIRLS
• Jazmine Jarvis logged 30 points, 10 assists and 10 steals to lead visiting Green Valley to a 74-45 win over Mojave.
• Caiti Forrester had 27 points and nine assists as host Boulder City downed River Valley (Ariz.), 54-27.
• Basic's Michaela Thomas had 17 points and 15 rebounds as visiting Basic defeated Arbor View, 38-31.