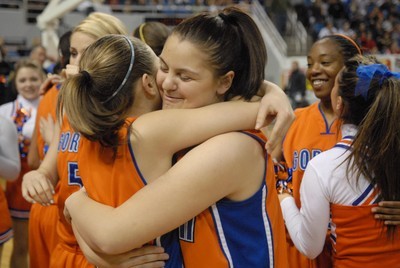 RENO — Down 23-19 at halftime against Reno in the Class 4A girls state basketball championship game Friday night, Bishop Gorman was frustrated, frazzled and fuming.
Things just weren't going their way — the Huskies were controlling the tempo, banging the boards and playing near-perfect perimeter defense.
Then the third quarter started, and Reno's Abby Boorman hit two 14-foot shots to stretch the lead to eight.
Eh, no big deal.
The Gaels went on a 23-0 run in the next six minutes and never looked back, taking their third straight state title, 65-48 at Lawlor Events Center.
At halftime, coach Sheryl Krmpotich was flustered: "I just wanted halftime to come so I could tell them exactly what I wanted."
And forward Kiara Belen was harried: "It was really important for (Krmpotich) and the coaches not to be negative. As a team, we were kind of frazzled at the half."
But guard Darriel Gaynor was just plain angry: "I wasn't sad or frustrated, I was pissed off. We just couldn't get anything to flow."
Then Ashley Gayle grabbed a rebound on a Gaynor missed free throw and muscled her way in for a basket, sparking the run. Gayle scored seven of her game-high 18 points in the sequence, notching her third straight triple-double with 16 rebounds and 10 blocks.
But Krmpotich was especially impressed with her 6-foot-4-inch center's offense, as the defensive stalwart started demanding the ball, taking advantage of a height advantage in the post alongside 6-4 Dannielle Diamant.
"They have one 6-3 kid, and the other one is 5-8," Krmpotich said. "I told them, 'Do the math. Get it to the one guarded by the 5-8 kid.' We did that and kind of adjusted."
But Reno coach Shane Foster was more impressed with Gayle's defense.
"We spread the floor and attacked, we tried to get into her body, we couldn't get into her body — I mean, we did everything we could," Foster said. "You could put her on a mediocre team, and they're sitting right there, right now. That's how good she is."
The Huskies (29-4) built their lead to eight after falling behind early, cracking Gorman's full-court press midway through the second quarter. After committing four turnovers to start the quarter, falling behind by six points, Reno opened up its offense as forward Sarah Finlay grabbed six rebounds.
"I thought we gave them the confidence in the first half," Krmpotich said. "We were rattled and not playing good 'D'. But once we made the adjustment, it was a different game."
Maybe things clicked for the Gaels (29-4) at halftime or when they made adjustments.
Or maybe it all started three years ago.
After a double-digit loss to Reno in the 2005 state semifinals, three brash freshmen approached Krmpotich, broken, crying. They pulled her aside in the locker room of the Orleans Arena and made a promise.
Three straight state championship rings.
Those three freshmen blossomed into seniors — Gaynor, Gayle and Belen — and they kept that promise.
"I looked at them at halftime and I said, 'You promised me three, and I'm not leaving without this one,' " Krmpotich said. "'Even if I have to stay out in the middle of the court.' "
Contact reporter Jon Gold at jgold@review-journal.com or (702) 380-4587.