Gaels set fast pace, beat top-ranked Sierra Vista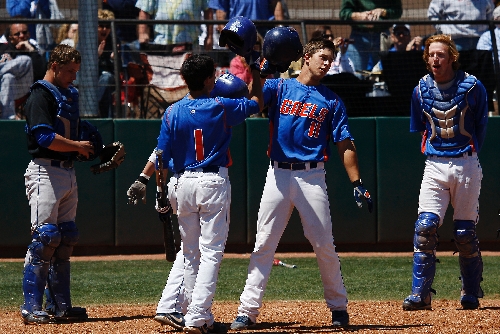 Bishop Gorman's baseball team needed a seventh-inning rally Friday to beat a Pahrump Valley team that has been eliminated from the playoffs.
But the Gaels wasted no time jumping on the area's No. 1 team Saturday.
Gorman got two runs in the first and scored in each of the first four innings on its way to a 6-3 home victory over top-ranked Sierra Vista (29-1, 13-1).
With their 12th straight victory, the Gaels (26-4) tied the Mountain Lions (29-1) atop the Southwest League at 13-1.
"We came out ready to go," Gorman coach Nick Day said. "We've been swinging the bats well, and we've been ready for this game. We didn't waste any time. Guys came out swinging the bats early."
Sierra Vista, ranked No. 4 nationally by ESPN Rise, had beaten Gorman 8-5 on April 9. If both teams finish out the regular season with one league loss, the Gaels would claim the league's top playoff seed because they won the second meeting.
Cody Roper powered the victory with two home runs and was the winning pitcher with six solid innings.
"It feels good to keep the win streak going," he said. "We just had a lot of intensity from the beginning of the game, and now we just need to keep it going through the playoffs."
Johnny Sewald led off the bottom of the first with a double and scored on a single by Jerrell Latham. After Latham was picked off first, Joey Gallo lined his 20th homer, a shot to right for a 2-0 lead.
The early cushion helped Roper relax.
"It's really important," he said. "It feels good to get some runs and then I can settle down, throw strikes and do what I have to do."
Roper allowed two earned runs on seven hits. He struck out one and didn't walk a batter. Roper cruised through four innings, retiring the minimum 12 batters on only 36 pitches.
"That's why we threw Cody," Day said. "He's always around the strike zone, always throwing strikes. He's been our go-to guy, so we went with him, and he was right around the plate all game."
Batting in the No. 8 slot, Roper hit a towering two-run homer to right in the second inning and a line-drive solo shot to right in the fourth to make the score 6-0.
"I don't think Roper is really an eight-hole type hitter, but because of the way our lineup is, that's kind of where he's fallen," Day said. "To get that kind of production out of your eight hole is huge."
Sierra Vista finally got to Roper in the sixth, scoring on RBI singles by Scott Tomassetti and Blair Goldsack.
"The scary thing about (Sierra Vista) is you know they're never out of a game, so it's seven innings of butterflies," Day said. "One of the best things they do is they don't strike out very much. So they're always putting balls in play, always putting pressure on the defense and always getting guys on base. And it seems like when they get guys on base, they usually score them."
The Mountain Lions started the seventh with back-to-back singles before Joey Gallo replaced Roper.
Gallo allowed Armando Perez's RBI single through the right side, but got Alex Estrella to ground into a double play and Jake Hager to ground out to short to end the game.
The double play was one of three by Gorman, including an inning-ender in the sixth that stranded a runner in scoring position.
"The double-play balls were huge that got us out of a couple innings that could have been big for Vista," Day said. "It seemed like the ball went our way a little bit more today."
Kenny Meimerstorf was 2-for-4 with a solo homer, and Justin Jones and Sewald each added two hits for the Gaels.
Conner Klein and Billy Santiwan each went 2-for-3 for Sierra Vista.
Contact prep sports editor Damon Seiters at dseiters@reviewjournal.com or 702-380-4587.
In-depth high school sports coverage