Gage's HR finally settles Palo Verde win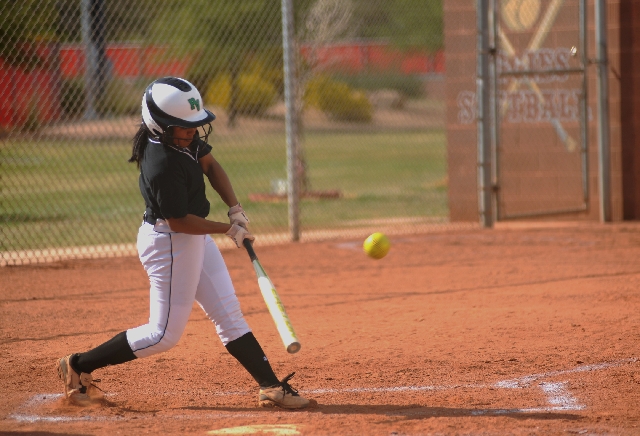 Dejanae Gage didn't hit a ball out of the infield in her first four at-bats Thursday. The Palo Verde sophomore had no such problem her fifth time up.
Gage lined a tiebreaking, two-run homer in the top of the seventh inning to cap an 11-pitch at-bat, and the Panthers held off host Arbor View 15-14 in a wild Northwest League softball game.
"I went up with a positive mindset and told myself, 'I can do this,' " Gage said. "I was surprised it went out. I was just trying to hit a gap shot and get on."
Gage fell behind 1-2 and fouled off five pitches before finally connecting on a full count against Arbor View reliever Letty Valenzuela. The long ball was a fitting climax to a marathon game that lasted nearly 2 hours, 40 minutes and in which the teams combined for 290 pitches, 29 runs, 33 hits and nine errors.
"It was a phenomenal at-bat for her to battle through like that," Palo Verde coach Kelly Glass said. "It's a blessing to have her come to our program."
The second-ranked Panthers (11-4, 2-0 Northwest) led 2-0, 9-2, 12-8 and 13-12, but Arbor View rallied each time. Dacia Sykes, the Aggies' No. 9 hitter, ripped a homer to left in the sixth to tie it at 13.
The No. 4 Aggies (13-8, 0-2), who forfeited Tuesday's win over Sierra Vista, loaded the bases with nobody out in the seventh. Courtesy runner Adrianne Drewniak scored on a fielder's choice by Kellie Anderson before Palo Verde reliever Melissa Lacro got the final two outs to end the threat.
The Aggies stranded nine runners, leaving the bases loaded in the third.
"We were leaving runners on base, which is something we've struggled with all season," Arbor View coach Maria Yoder said. "We came back four times. We did a good job being selective in pitches and moving runners."
The Panthers scored five times in the third to take a 9-2 lead. Rachel Williams had a run-scoring single and, after Rachael Turner walked with the bases loaded, Breanna Beatty drove in two runs with a double to center.
Beatty, who was 2-for-5, added a two-run homer in the fifth to push the Panthers' lead to 12-8. Williams, Turner and Brooke Stover finished with three hits each for Palo Verde.
Arbor View tied the game at 12 in the fifth as Karli Lehr hit a bases-clearing triple and Valenzuela followed with a run-scoring bloop single to center.
Lehr (five RBIs) and Valenzuela (two) both went 4-for-4.
Contact reporter David Schoen at dschoen@reviewjournal.com or 702-387-5203. Follow him on Twitter: @DavidSchoenLVRJ.
THURSDAY'S HIGHLIGHTS
BASEBALL
■ Green Valley's Michael Hillcoat hit an RBI single in the top of the eighth inning to lift the Gators to a 6-5 win at Silverado.
■ Bishop Gorman's Cole Krzmarzick was 4-for-4 and hit for the cycle in an 11-1 home win over Cyprus (Utah).
■ Shadow Ridge's Bradly Liuzza hit a pair of two-run homers in an 11-5 win at Sierra Vista.
SOFTBALL
■ Las Vegas' Kristina Nelson pitched her second straight no-hitter, striking out 16 and walking one in a 5-0 home win over Valley.
■ Green Valley's Fenixx Henderson homered twice in the Gators' 10-8 win at Silverado.
■ Spring Valley's Michaela Hood pitched a four-hitter in the Grizzlies' 2-0 win at Durango.