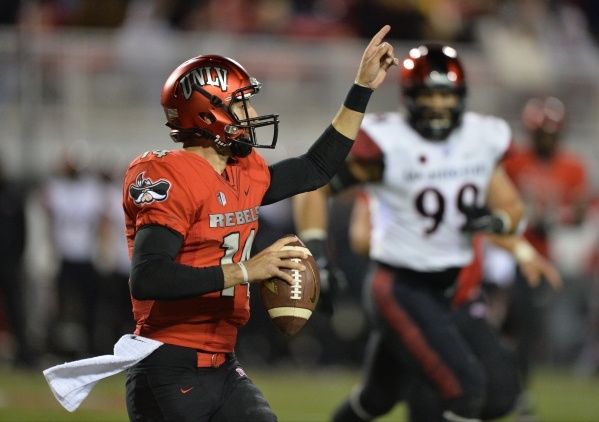 It was a rough night for the UNLV Rebels on Saturday in their 52-14 loss to the San Diego State Aztecs.
Here's how Tony Sanchez' Rebels grade:
Offense: F
The Rebels tied a season high with four turnovers and also allowed a season-high seven sacks. UNLV mustered only seven first downs and 113 first-half yards against San Diego State's first-team defense, and were outscored by the Aztecs' second-team offense in the second half.
Sophomore quarterback Kurt Palandech accounted for three of UNLV's four turnovers, and didn't throw a touchdown pass until the Rebels were down 31-0.
The Rebel running game was non-existent. UNLV running backs Keith Whitely, Xavier Campbell and Lexington Thomas rushed for a combined 76 yards, only 18 of which came in the first half.
Defense: D+
It's hard to put too much blame on a team's defense when the offense has three first half turnovers, two in their own territory.
But the Rebels gave up 131 first-half rushing yards to Aztec running back Donnel Pumphrey, and failed to stop San Diego State all night on short yardage plays.
The Rebels' closest call to a defensive stop came on the first of Pumphrey's two touchdowns, in the first quarter. On a fourth-and-goal from the two-yard-line, Pumphrey appeared to be taken down short of the goal line, earning the Rebels possession of the football. After a brief UNLV celebration, the play was reviewed and Pumphrey's hands were ruled to have crossed the goal line with the football.
San Diego State's running backs had running lanes when they needed them, totaling 280 yards on the ground Saturday. Aztec quarterback Maxwell Smith completed 65 percent of his passes, thanks in part to poor coverage from the UNLV secondary.
Special Teams: D
The Rebels special teams avoided an F only because Aztec returner Damontae Kazee appeared to have motioned for a fair catch before taking back a third quarter UNLV punt 66 yards for a touchdown. The Rebels also failed a third quarter onside kick.
Only two extra points and no field goal attempts says more about UNLV's offense than its special teams' unit, but no bonus points here for the kicking game.
Rebel punter Nicolai Bornand only had two punts on the night, and averaged a meager 31.5 yards per punt.
Coaching: D-
The Rebels were overmatched talent-wise, and would have had to play their best game of the season to compete with San Diego State.
But enthusiasm only gets a team so far when its offense has four turnovers, its defense can't stop the run and its special teams lets a punt returner go untouched to the end zone.
The Rebels played better in the second half against San Diego State's backups. But UNLV didn't offer any competition at all to the Aztecs' first team.
Contact Chris Kudialis at ckudialis@reviewjournal.com or 702-380-4593. Find him on Twitter: @kudialisrj