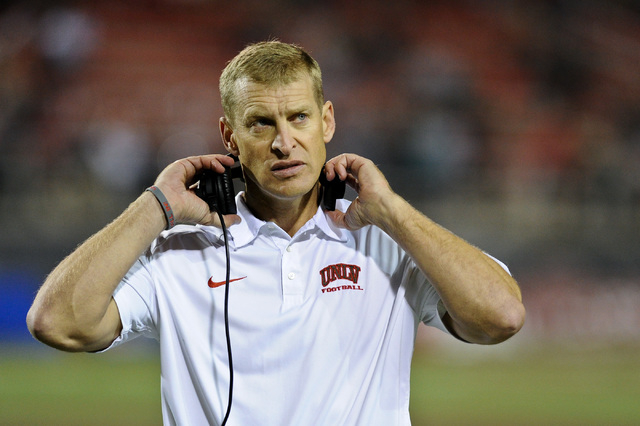 GAME DAY GRADES
Quarterbacks: B
Caleb Herring showed confidence throwing the football and good decisions for the most part. He'd like to have that third-quarter interception back when he tried to go over the middle from the Utah State 1 and locked in on his receiver. But other than that, he was smart with his throws and his passes outside the numbers were fairly accurate.
Overall, Herring was 17 of 39 for 252 yards and a pair of TDs. He also suffered a three-and-out midway through the fourth quarter trying to nurse a three-point lead and that wasn't what UNLV was looking for in that situation.
He also averaged 3.3 per run and picked his spots well in terms of when to keep it. He continues to use his legs to extend plays which is what good quarterbacks need to do. However, late in the game when he was trying to rally the Rebels, he took a big sack on second down. Of course, he made up for it with a big heave to Devante Davis for a first down on the next play.
The play-calling in the final series was dubious. But all Herring can do is execute what comes in from the sidelines. And in the end, he was unable to come through.
Running Backs: B
Tim Cornett can always be depended upon to run hard and he allowed the Rebels to have some much-needed balance offensively. He scored in the second quarter to put UNLV ahead 17-14 and he forced Utah State to respect the run.
Cornett finished with 115 yards on 29 carries and had a 4-yard touchdown run. He was responsible for helping UNLV maintain a balanced attack (42 rushing attempts to 39 pas attempts).
Adonis Smith may not see a whole lot of snaps as a backup but he made a big play in the second quarter when he picked up a blitzing linebacker and allowed Herring enough time to hook up with Devante Davis for a 35-yard pass play. The Rebels failed to cash in thanks to some special teams buffoonery (more on that below), but when the running backs are doing their job, be it carrying the football or staying in to block as part of max protection for the quarterback, the offense can make positive things happen.
Receivers/Tight Ends: A-
Marcus Sullivan is going to demand extra attention from opposing defenses at some point. But until then, he'll continue to be a go-to guy for Caleb Herring. Sullivan had another strong effort, finishing with five catches for 83 yards and scoring UNLV's first TD.
Maika Mataele played well in last week's loss to San Jose State and he continued to come up with big grabs against Utah State. The senior had five catches for 49 yards
Devante Davis is going to do his thing and Utah State tried to keep him in check. The talented junior had three catches, one going for 35 yards, another for 34 yards to keep the final drive alive.
Offensive Line: C+
The Aggies have the best defense in the Mountain West and they put a lot of pressure on this unit. Still, they gave Herring enough time most of the night to hook up with his receivers and opened just enough space for Cornett to run for 115 yards.
But they also had trouble all night with Utah State's blitz packages. Herring was sacked twice on the final drive and was under duress late when the Aggies knew he was going to throw.
Defensive Line: C
In a word — inconsistent. One play, they're getting great pressure on the quarterback Darrell Garretson, the next, they're letting him run by them and getting big chunks of yardage and first downs.
Tackle Mark Garrick came up with an early fumble recovery which led to the Rebels' first score.
And while the line didn't let running back Joey DeMartino go crazy, they did a poor job against the Utah State "Wildcat" package which saw receiver Bruce Natson gash them for 71 yards and two TDs, including the game-winner in the fourth quarter.
Linebackers: B-
Even though they weren't facing the elusive Chuckie Keeton, freshman backup QB Darrell Garretson proved to be a handful as well. However, they forced him into mistakes and had four sacks.
But like the D-Line, the linebackers struggled when Utah State went Wildcat. They were unable to get the stops when they needed to and when Garretson was forced to run with the ball, he managed to elude being tackled and keep some of the Aggies' drives alive.
Defensive Backs: C
The fact Garretson managed to throw for 288 yards makes the secondary somewhat culpable. But in fairness to UNLV, it was without free safety Frank Crawford, its leader in interceptions, for the entire second half after being hurt late in the second quarter.
Travis Reynolds proved to be a handful to cover as was Travis Van Leeuwen. They combined for 11 of Utah State's 16 total grabs and 241 of the Aggies' 288 passing yards. It put added pressure on corners Ken Penny and Tajh Hasson and as a group, they were unable to pick off Garretson.
Special Teams: D
Where to begin? The roughing the punter penalty in the first quarter? The fake field goal that went nowhere in the second quarter? The kickoff out of bounds after taking a 24-21 lead in the fourth quarter?
But just when it would be easy to unload on Bob Hauck the special teams coach, they were the recipients of a running into the kicker penalty against Utah State which allowed the Rebels to keep possession late in the third quarter and eventually score to take the lead.
Still, there were plenty of negatives. Running fake field goals is always a risky proposition especially when there was no need to do so when a field goal would have pulled UNLV within 14-13. Instead, Nolan Kohorst was tackled for an 11-yard loss.
And what's the deal kicking out of bounds and giving Utah State good field position after the go-ahead TD in the fourth quarter? Is there no faith in your coverage guys?
Fortunately, that gaffe didn't come back to haunt UNLV as the Aggies decided to try a 50-yard field goal that would've tied it only to see it go wide right.
But that second-quarter fake field goal will come back and haunt Hauck and the Rebels in a game they could have won at the end, ironically enough, by kicking a field goal. But when you're down four instead of one, you don't have the option of winning with a field goal.
RELATED: UNLV stalls in red zone, loses to Aggies 28-24
Top Performers: UNLV vs. Utah State
UNLV loses second chance at bowl game; Twitter loses its collective head
Fake field goal comes back to haunt UNLV