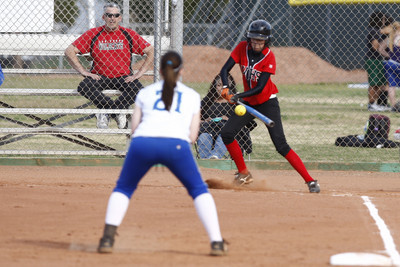 Green Valley's annual softball season opener against Las Vegas High didn't carry any postseason implications Thursday.
But that's not what Gators coach Lauren Taylor was selling to her players.
After dropping scrimmages last week to Cimarron-Memorial and Santa Margarita (Calif.), Green Valley "absolutely" had reason to begin the season with a sense of urgency, Taylor said.
The Gators responded with a five-run third inning on the way to a 9-2 home win over the Wildcats.
"They really needed it," Taylor said. "Our preseason (schedule) is kind of stacked. We had a very abrupt end to our (2008) regional.
"Our season ended very quickly, and our girls came out here knowing they have a goal this year."
The Gators were 24-10 last season, eventually losing 3-1 to Foothill in the Class 4A Sunrise Region title game.
Ten letter-winners, including five seniors, are back from that team. And they have used the Foothill loss as motivation, senior second baseman Jacqui Cappuccilli said.
"Our team should be good this season, so it's good to get the kinks out in the preseason," Cappuccilli said. "I definitely want to take region; it's my senior year."
Cappuccilli went 2-for-3 with a double, triple, two RBIs and a walk. Carly Aughney was 2-for-2 with two RBIs and a double for Green Valley, and Annamarie Smith drew three walks.
Aughney's two-run double to right-center field with two outs ignited the Gators' five-run third. Cappuccilli followed with an RBI double to left, and Carly Smith's two-run single to center gave the Gators a 5-0 lead.
Tiffani Taylor was 2-for-3 with two RBIs and a triple to lead Las Vegas, which returns seven players from last year's 12-0 Northeast League team. Brianna Guzman was 2-for-4 for the Wildcats.
Katie Stewart earned a complete-game win. The senior scattered five hits, walked four and struck out three.
Contact reporter Tristan Aird at taird@ reviewjournal.com or 702-387-5203.
In-depth high school sports coverage
Slideshow
THURSDAY'S HIGHLIGHTS
BASEBALL
Silverado's Braden Keathley hit a two-run double with two outs in the top of the seventh to give the Skyhawks a 4-2 win over Bishop Gorman, which is ranked No. 1 in the nation by Baseball America.
Spring Valley's Chase LaComb doubled home the winning run with one out in the eighth to give the Grizzlies a 7-6 home win over Coronado.
Chad Whiteaker hit an RBI single with one out in the bottom of the seventh to give Green Valley a 3-2 win over Las Vegas.
Angel Escobedo struck out 17 in a three-hitter as Desert Pines beat visiting Western, 8-4.
SOFTBALL
Elisa Dawson tossed a one-hitter and struck out 14 to lead Clark to a 7-1 home victory over Chaparral.
Kaitlin Patterson tripled home the tying run, then scored the winning run on a passed ball as Faith Lutheran nipped White Pine 7-6 at the Colorado River Invitational in Needles, Calif.
LAS VEGAS REVIEW-JOURNAL