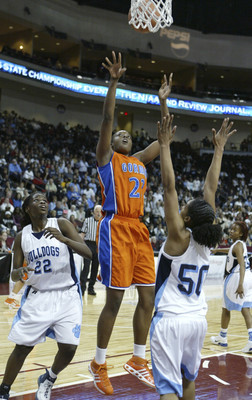 Most high school athletes lucky enough to be recruited by multiple schools take a similar tack during the recruiting process.
They use up all five allowed campus visits, taking advantage of the chance to travel the country and observing all that each school has to offer.
Bishop Gorman's Ashley Gayle is an exception.
Gayle needed only one visit to decide her future, orally committing to Texas after a visit last weekend. She canceled visits to Georgia, Vanderbilt, Kansas and California.
"People told me I would get a feeling when I get to the school that I want to be at," Gayle said. "And when I got there, I just knew that was where I wanted to be."
It didn't hurt that the Longhorns had Gail Goestenkors.
Goestenkors took over as Texas' head coach in April, replacing legendary coach Jody Condradt, who retired after winning 900 career games.
Goestenkors compiled a 396-99 record in 15 seasons as the head coach at Duke before coming to Texas, leading the Blue Devils to four Final Four appearances since 1999.
"I'm definitely excited about being a part of the whole new team, the new kind of situation, especially with Coach G being there," Gayle said. "I've always wanted to play for her. It's going to be an honor to play for her in college."
Gayle, a 6-foot-4-inch post player, averaged 11 points, 8.4 rebounds and five blocked shots last season in helping the Gaels to their second consecutive state championship and earning first-team all-state honors.
She is ranked as the No. 40 senior in the nation by hoopgurlz.com.
"Ashley is, in high school, the best defensive player in the country, hands down," Gorman coach Sheryl Krmpotich said. "At the college level, she is going to create havoc because of her long arms."
Gayle hopes to show an improved offensive game this season and in the future.
"I think it's coming along, but ever since I've started playing basketball, I've been known as a bigger defensive threat than offense," Gayle said. "I'm going to try and help my offense catch up with my defense."
According to Krmpotich, ending the recruiting process early should help Gayle live up to her offensive potential, which she demonstrated by scoring 21 points in last year's state title game.
"Because she signed and because it's done, I think she's going to relax a little more," Krmpotich said. "She's her own worst enemy sometimes, because she wants to be perfect. This year, she's going to really explode offensively just because of all her hard work in the offseason and in the summertime.
"She can dominate. Once she sets her mind to it, I don't think there's anybody that can stop her. Ashley stops Ashley, in my opinion."
Gayle isn't the only local girls basketball player getting plenty of recruiting attention.
She played with Durango senior Lindy La Rocque, Mojave senior Chelsea Hopkins and Cheyenne junior Monique Oliver with the West Coast Elite in the summer, and all four were heavily recruited.
La Rocque committed to Stanford over the summer after averaging 21.6 points, 6.7 rebounds and 5.9 assists as a junior.
Hopkins, who averaged 27.3 points, 7.9 rebounds and 7.8 assists as a junior, is ranked No. 61 in the senior class by hoopgurlz.com.
She also visited Texas over the weekend. Her father, Mojave boys basketball coach Tony Hopkins, said his daughter also has visited Southern California and has visits scheduled with Temple, Duke and Georgia Tech.
Oliver, a 6-3 junior, is ranked No. 5 in the junior class by hoopgurlz.com.
"It was a lot of fun," Gayle said of playing with the other local stars. "I played with Lindy, Chelsea and Mo before. It was just fun to have all of us from the same city kind of putting Vegas on the map."
Preps Central