German Klinsmann has grown closer to U.S. throughout life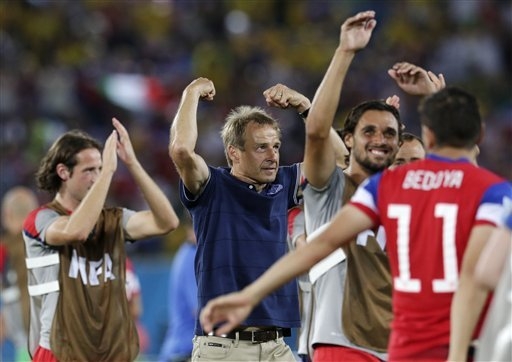 SAO PAULO — Jurgen Klinsmann was 19 years old and playing for his hometown Stuttgarter Kickers in Germany's second division when he touched down in the United States for the first time.
The team president had wanted to challenge his players to achieve more in 1983-84.
"So he came into the locker room after the first part of the season and said, 'You know, guys, if you end up in the top 10 out of 18 or 20, I get you 10 days in Miami, because I have a house in Fort Lauderdale, book you a nice hotel,' " Klinsmann recalled with a smile. "We finished eighth."
The son of a baker, Klinsmann arrived in sunny south Florida and was shocked.
"They took us on a boat ride and I said, 'My gosh, I didn't know that this kind of a planet exists.' And so we had a blast for 10 days," he said.
As soon as he got home, Klinsmann headed right back to the U.S. with a teammate. He visited New York and Chicago, then went west with a couple of California addresses of his older brother's acquaintances.
"And that's how my kind of American journey began," Klinsmann said. "I never had an idea that later, years, years later, that I'd bump into a California girl in Europe."
Now, he's coaching the U.S. at the World Cup, trying to educate his adopted country with the knowledge gained as a star forward over nearly two decades. He turns 50 on July 30 and has spent nearly one-third of his life living in America.
When his playing career ended in 1998, Klinsmann moved to Orange County with his wife, the former model Debbie Chin. He became the U.S. coach-in-waiting until finally succeeding Bob Bradley in July 2011, after the Americans struggled in the CONCACAF Gold Cup.
Even while coaching Germany's national team from 2004 through the 2006 World Cup, Klinsmann commuted nine time zones to work. He did relocate for 1½ years while coaching Bayern Munich from 2008 to 2009.
During the 2006 World Cup, media crowded into his family's bakery to ask questions of his relatives. That's not the existence Klinsmann wanted.
"If he would live in Germany, he would not have the same privacy like he has here in the States, and I think it's very important for him to have, let's say, a normal life with his family," U.S. assistant coach Andi Herzog said.
In the U.S., Klinsmann is looked at as a German by some. In Germany, he's viewed as an American. As a player, he drove a 1967 Volkswagen Beetle convertible with a sticker of Snoopy in a rowboat with the words: "Ist es noch weit bis Amerika? (Is it much farther to America?)"
"He's more American than a German," said Berti Vogts, former coach of Die Mannschaft and now a U.S. team special adviser. "Jurgen is always positive. That's an American way of life."
At Bayern, Klinsmann was criticized by team president Uli Hoeness for purchasing computers to develop PowerPoint presentations. He brought in an Arizona company to modernize conditioning. He hired non-German assistants and appointed Dutch midfielder Mark van Bommel as Bayern's first non-German captain. Former U.S. coach Bruce Arena called him "a modern thinker … not willing to accept what's been done in the past."
Sitting outside the U.S. locker room at Stanford, Calif., on a crystal-clear afternoon last month, Klinsmann thought back to his playing stints outside Germany with Inter Milan (1984-89), AS Monaco (1992-94), Tottenham (1994-95 and 1997-98) and Sampdoria (1997). His ears and eyes opened as he learned the cultural difference.
"You start to listen to their shouts and their words," he said. "Then you watch them, how they live their life, what they eat, what they drink, what they do and how it functions and how the traffic goes in Milano, instead of the very nice organized way in Germany."
For instance, time doesn't have the same meaning in Italy as in Germany.
"The favorite was, oh, I'm coming in two minutes — due minuti," he said. "That could be a good half an hour."
Throughout, Klinsmann was always affirmative, exhorting players in training and during matches. Having lived in the U.S. for so long, he comes across to American players as one of them, not in the exotic foreigner role Bora Milutinovic played from 1991 to 1995.
"I think it's a natural process that everyone of us goes through when he lives over a longer period of time in a different country," he said. "You kind of melt more and more into that lifestyle, the approach. You understand a lot more behind the scene and underneath kind of the surface. I think the longer you are in a place, the deeper you are able to dig in with people, with topics, with whatever methods."