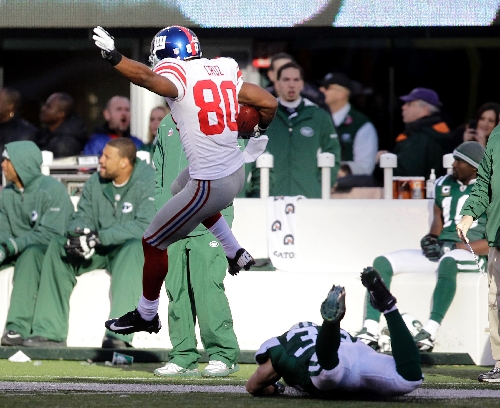 By DENNIS WASZAK Jr.
THE ASSOCIATED PRESS
EAST RUTHERFORD, N.J. — Rex Ryan was brash and confident all week, insisting his Jets were the kings of New York.
Well, the Giants shut up the Jets coach in a big way Saturday — taking the city bragging rights and setting up an even more important showdown with the Dallas Cowboys next weekend with a 29-14 victory.
"I hate to use that cliche, but this is a huge one," Giants left tackle David Diehl said. "This is about the city, the city of New York and what team wants to be responsible. They have talked all week and said what they wanted to say. From Day 1, they're our big brother and other stuff. We went out there and played our game and showed whose stadium this is."
Ryan said the Jets were the better team the last two years, based on their consecutive trips to the AFC Championship Game and the Giants missing the postseason. Giants coach Tom Coughlin responded by saying, "Talk is cheap. Play the game."
It was the Giants who did.
"They were the better team today, and they're the better team this year," a humbled Ryan said. "Clearly, I was wrong."
The Giants kept their postseason hopes alive, helped by Victor Cruz setting two franchise receiving records and Ahmad Bradshaw running for two touchdowns. While neither team looked much like playoff material, the Giants (8-7) are now in position to win the NFC East with a victory at home Jan. 1 against Dallas.
"Given everything that was at stake, and all the noise that has been coming out of Florham Park," Giants co-owner John Mara said, "yeah, it means a little more."
Running back Brandon Jacobs said he had an exchange with Ryan after the game in which the coach approached him, used an expletive and said, "Wait till we win the Super Bowl."
Added Jacobs: "And I told him I'll punch him in the face. I told him out of all these Giants players on this team you're talking to the wrong one."
Ryan acknowledged that he and Jacobs "had a private conversation. He doesn't like me; I respect him."
The back-and-forth went on in the hours before the game, when Jacobs and kicker Lawrence Tynes both removed black curtains placed by the Jets over the Giants' Super Bowl logos. The Jets said it was their standard practice to cover those logos for every one of the team's home games, regardless of opponent, because it is the players' entrance.
"We knew early what we were going to get no matter what happened as soon as he had the opportunity to run his big, fat mouth," Jacobs said of Ryan's boasts throughout the week.
Meanwhile, the Jets' playoff hopes took a devastating hit, and at 8-7 they'll need to win at Miami next week and get major help from several teams. They have to hope for Cincinnati and Tennessee to lose, and have either Oakland or Denver lose.
"I mean, we don't deserve to control our own destiny," Jets linebacker Bart Scott said. "We haven't played good enough football to do that. We need to try to finish strong, but if you don't make it to the playoffs, you've got nobody to blame but yourself."
Cruz, who had three catches for 164 yards, broke Amani Toomer's season mark for yards receiving — and the team record for longest touchdown reception, a 99-yarder that gave the Giants the lead for good in the second quarter.
"It's just amazing," Cruz said, "and to beat the Jets in the process is added incentive."
It was a brutal game at times, with both offenses sluggish and prone to mistakes. The Jets also were penalized 10 times, including a late hit call on defensive end Aaron Maybin, who plowed into running back D.J. Ware in the fourth quarter — a play on which Coughlin was injured out of bounds. Coughlin needed to be checked out on the bench before limping back to the sideline.
"Never better," a smiling Coughlin said when asked how he was feeling.
Eli Manning finished 9 of 27 for 225 yards for the Giants. Mark Sanchez completed 30 passes on a career-high 59 attempts but put up only 258 yards and was intercepted twice. The Jets were a brutal 4-for-21 on third-down conversions.
"I left a lot of completions out there," Sanchez said.
N.Y. GIANTS 29
N.Y. JETS 14
■ KEY: Victor Cruz had a 99-yard touchdown reception, and Ahmad Bradshaw scored twice to keep the Giants in the hunt for the NFC East title.
■ NEXT: Cowboys at Giants, no line; Jets at Dolphins (-1 1/2)
COWBOYS-GIANTS TO GET PRIME-TIME SLOT IN FINALE
The NFL has moved the Dallas Cowboys' game at the New York Giants to decide the NFC East title to prime time on New Year's Day.
The game will kick off at 5:20 p.m. PST. Both teams are 8-7, and the winner will go to the playoffs while the loser will go home.
Also on Jan. 1, Baltimore at Cincinnati, Cleveland at Pittsburgh and Tampa Bay at Atlanta have been moved to 1:15 p.m. PST. No times have been set for Carolina at New Orleans and Chicago at Minnesota.
THE ASSOCIATED PRESS