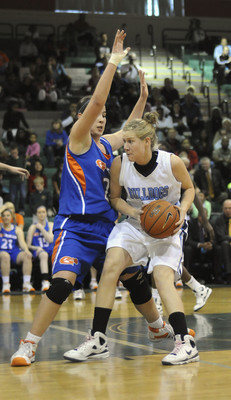 A simple message is printed across the back of the Centennial girls basketball team's warm-up shirts: "We will not lower our standards to raise yours."
That's one of the reasons the Bulldogs are back in their accustomed spot in this week's state tournament.
The same can be said for Bishop Gorman, Centennial's rival on the other end of Hualapai Way.
The Bulldogs (29-2) will face Reno (22-5) in a Class 4A state semifinal at 6:20 p.m. today at the Orleans Arena. Gorman (28-4) plays Green Valley (28-3) in the first semifinal at 3 p.m. The winners return at 6 p.m. Friday for the state final.
Centennial and Gorman have dominated opponents in nearly every league and playoff game this season. It makes both teams simultaneously the most hated and most popular girls teams in town.
After all, three-time defending champion Gorman and Centennial have combined to win the last seven state titles.
"You can't have (all the teams) equal and yet still have the team that everybody comes to watch," Centennial coach Karen Weitz said. "You can't have it both ways.
"People want you to be competitive against the teams like Gorman at the end, but they want you to be nice to everybody along the way."
Weitz and Gorman coach Sheryl Krmpotich's teams were barely tested during league play. Gorman won 16 league games by an average of 44.9 points and Centennial won 14 by an average of 48.9.
Excluding Centennial's 74-60 win over Gorman in last week's Sunset Region final, the teams combined to win their playoff games by an average of 38.8 points.
All season long, Weitz and Krmpotich faced a dilemma in trying to prepare their teams to play competitively for 32 minutes when many of their league games were decided in the first quarter.
"It's difficult," Krmpotich said. "My kids are playing sometimes half a game. We feel like we're not able to prepare as well."
It is a double-edged sword.
Is it right for the best teams to go all-out against opponents that can't keep up, and what do they really gain by winning by 30, 40 or 50 points — sometimes more? At the same time, if the better teams take it easy on opponents, they risk falling into bad habits.
"The kids don't like to make mistakes and look bad," said Weitz, who isn't afraid to call a timeout with a big lead if she feels her team isn't playing up to its standards. "Whether they're up by 50 or down by two, they want to look good. Nobody wants to look bad."
Weitz, especially, and Krmpotich have taken heat in the court of public opinion for the lopsided scores. Critics question the sportsmanship of a team still playing aggressively when it has a 50-point lead.
To some, the scores and style of play are inexcusable. To others, it's part of the game.
"It does factor in," Krmpotich said. "I get barked at a little bit by my administration about the scores, but sometimes if your second- and third-stringers are scoring, there's not much you can do."
But with the season down to arguably the top four teams in the state, every team is expected to be at its best, no matter what it took to get there.
"You really value the importance of your practices," Weitz said. "You have to make the most of the two or 21/2 hours you have in there and make it as competitive as it can be."
Contact reporter Bartt Davis at bdavis@ reviewjournal.com or 702-387-5230.
In-depth high school sports coverage