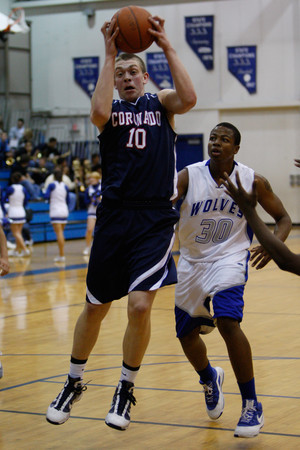 Many young basketball players spend countless hours shooting jumpers as they try to improve their game.
Coronado senior Brandon Glanz spent his offseason working on a far less exciting part of his game: conditioning.
The foray into fitness has paid huge dividends for Glanz, who has emerged as a nearly unstoppable force for the Cougars this season.
The 6-foot-5-inch, 235-pound senior center has averaged 25.4 points, 16.4 rebounds and 4.2 blocked shots in leading Coronado to a 16-5 record.
"I put in a hard summer, a really hard summer," Glanz said. "My goal was to get a Division I scholarship. I just try to keep working hard every day to try to accomplish that goal."
Glanz had a solid junior season, but hardly the kind that would make Division I coaches take notice. He was the Cougars' fourth-leading scorer (8.0 points) and leading rebounder (7.4 rebounds). Those numbers now are a disappointing half of play for Glanz.
"It's hard to describe," Coronado coach Paul Berg said of Glanz's transformation. "He's really come a long way. He finally bought into hard work and getting after it. It's just been a pleasure to watch his growth."
Glanz said he worked with a personal trainer in the offseason, focusing on improving his foot speed and overall agility.
"We worked about five times a week over the summer, just trying to get me prepared for the season," Glanz said.
Glanz said he's seen the work pay off on the court.
"I'm jumping higher and moving faster," Glanz said.
Berg said his senior leader also is stronger and has improved his overall conditioning.
"He gets a lot of minutes, and I can see (his stamina) in the third and fourth quarter," Berg said. "He's still moving, and they're kind of looking up at him as he's putting the ball in the hole.
"His stamina is incredible right now."
Glanz has scored at an incredible clip this season. He's reached double figures in all 17 games he's played, topping 30 points six times with a season high of 36 against Del Sol.
Glanz didn't ignore his basketball skills while working on his fitness level. He's also improved his jump shot, making him a bigger threat facing the basket.
"Recently he's really worked on the jump shot, and it's really paid off because now he's even hitting 3-pointers," Berg said. "A lot of big guys can back you down. Brandon can now back you down or face up and hit a shot, so it's made a huge difference."
While Glanz's offensive numbers are impressive, his rebounding has been almost mind-boggling. He's reached double figures in rebounds in all but one game, with five games of 20 or more — a ridiculous figure in a 32-minute game.
"Those aren't just balls that are landing right in his lap," Berg said. "He's going and getting them. He's getting after it. That's impressive. Those are hard stats."
Glanz said his improved athletic ability and increased effort have led to the added rebounds.
"I just go to the glass hard and try to get every rebound that I can," Glanz said.
Berg said rebounding is about more than just athletic ability.
"You can see him going after balls, and he really gets after it and he doesn't quit anymore," Berg said. "At some point — yeah, you're fast, yeah, you're strong — but it's absolutely desire, and he's got it."
Berg thinks that desire has made Glanz into a legitimate Division I prospect, even if he is a bit undersized to play inside at that level.
"They're going to get a kid that works hard and does what the coaches tell him to do," Berg said. "That's a guy you want in your program. I think he's definitely a prospect.
"He's got a tremendous upside, and his potential, we're just tapping into it."
Contact Prep Sports Editor Damon Seiters at dseiters@reviewjournal.com or 702-380-4587.
In-depth high school sports coverage