Global Legends Series gives Landon Donovan comeback thoughts
February 19, 2016 - 11:49 am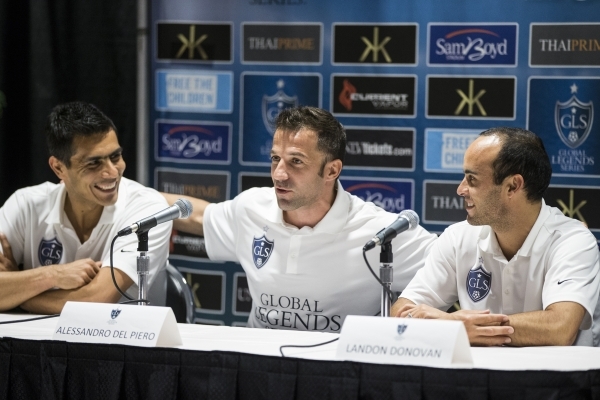 It has been about a year since Landon Donovan stepped away from the pitch.
The 33-year-old U.S. soccer legend admitted he still wonders if he should return to Major League Soccer or the national stage.
"I have moments where I definitely miss it, and I definitely think to myself what if I tried it again, but those moments are fleeting," Donovan said.
Donovan doesn't see a return to MLS, but he'll soon be on the same field with 28 of the greatest soccer players in the sport's history.
The Global Legends Series hits Las Vegas for an all-star match at 4:30 p.m. today at Sam Boyd Stadium between retired soccer stars captained by Donovan and Luis Figo.
"I'm happy with my life right now, and maybe a game like this gives me the opportunity to compete a little bit and get the juices going again without being involved in a full way," Donovan said.
Las Vegas is the second stop on the GLS tour. The first destination was Bangkok, when Team Fabio Cannavaro defeated Team Figo 8-5 in 2014.
Cannavaro was originally scheduled to be a captain again, but the Italian standout decided to offer the gig to Donovan on his home soil.
"It says a lot about Cannavaro," Donovan said. "It was his gesture to offer that, and I think it says a lot about how far we've come in American soccer that we're having a game of this type in America in the entertainment capital of America. That we have an American player playing in. I think it's really cool."
Donovan wasn't surprised Cannavaro asked him to take the leadership role.
"Players around the world are very respectful and very aware of things like that," said Donovan, who won five MLS Cups with the Los Angeles Galaxy and one with the San Jose Earthquakes. "(David) Beckham was always that way with the Galaxy in special games for certain players or different events for certain people that it mattered to and went out of their way to make them feel special."
There's a requirement to compete for the GLS. Players must have won either a World Cup, a European Championship or a Champions League or have made at least 50 appearances for their country in international competition.
Donovan will lead a group of legends that includes Cannavaro (Italy), Jared Borgetti (Mexico), Robert Pires (France), Andryi Shevchenko (Ukraine) and Fredrik Ljungberg (Sweden). Figo, a Portuguese legend, guides a squad that includes Oswaldo Sanchez (Mexico), Cafu (Brazil), Alessandro Del Piero (Italy), Deco (Portugal) and Paul Scholes (England).
"It's going to be fun for the fans," Donovan said. "We'll give people a chance to see some players they would otherwise never get to see."
Donovan recently welcomed his first child with wife Hannah Bartell, an actress. Donovan has spent plenty of time helping out with their newborn son and wasn't sure how his wife would take it if he ran off to Las Vegas for a soccer match.
"It wasn't an easy convincing job, that's for sure, but she said this was a special opportunity and one that may never come around again," Donovan said. "We both decided once we have time for our first trip since the baby was born, it would be to Vegas. It worked out. We both love Vegas."
Don't expect a friendly match between the soccer legends. Donovan, one of the youngest on the GLS tour, wants to show his foreign opponents he can still play and represent the U.S. well.
"I always take it seriously and represent what American soccer is and has become and will be," Donovan said. "I'm not going to be up there slide-tackling people or trying to win at all costs, but I do want to play well and continue to show people that American soccer is showing strides."
Contact Gilbert Manzano at gmanzano@reviewjournal.com or 702-383-0492. Follow him on Twitter: @gmanzano24