Ryan Carpenter helps out at both ends in Golden Knights' win
February 4, 2018 - 1:30 pm
Updated February 5, 2018 - 12:25 am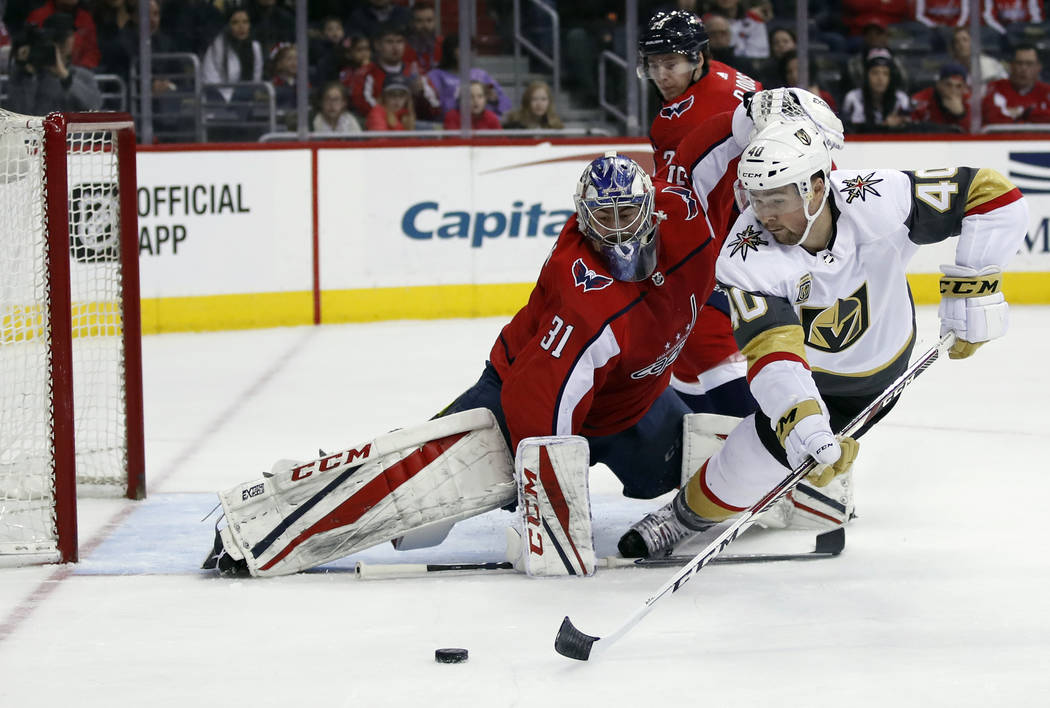 WASHINGTON — Ryan Carpenter no longer has the distinction of being the lone goal-less Golden Knights regular.
The forward scored his first of the season and third of his NHL career in the first period Sunday in the Knights' 4-3 win over the Washington Capitals.
"The monkey's off the back," said Carpenter, who also had an assist on Alex Tuch's game-winner. "But it's just nice we got a win and to be part of it."
Carpenter has appeared in just 22 games and has shuttled between the third and fourth lines, so he doesn't get a lot of scoring opportunities. But he made no mistake in taking Pierre-Edouard Bellemare's cross-ice feed to beat Philipp Grubauer to tie the game 1-1 16:06 into the contest.
But it was his defensive play in the final minute that was equally as important. Carpenter deflected a pass that was heading to an open Brett Connolly as the Caps were seeking the equalizer.
"I was just trying to make a good read on the play and I managed to get my stick on the puck before it got to (Connolly)," Carpenter said. "It always feels good to be able to contribute."
Defenseman Jason Garrison has yet to score but has played only eight games.
Carrier injured again
Forward Will Carrier suffered an undisclosed injury late in the first period and did not return. He played just three shifts with a total ice time of 1:15 before departing to the locker room.
"He took a pretty good jolt but I don't think it's anything serious," coach Gerard Gallant said of Carrier, whose status is day to day.
Carrier missed 16 games from late November to early January with an upper-body injury. He has one goal and two assists in 33 games playing on the fourth line with Bellemare.
Schmidt's D.C. return
The smile on Nate Schmidt's face was as wide as the National Mall is long.
The Golden Knights defenseman returned to Washington for the first time since leaving the Capitals. He received a warm welcome from the fans at Capital One Arena and he appreciated it.
"It was good to see some familiar faces," said Schmidt, who had an assist in the win. "I loved my time here. It was an absolute blast. A lot of people gave me a lot of support and it was a lot of fun here so it means a lot to me."
Capitals coach Barry Trotz, who knew what it was like to go to an expansion team as the first coach of the Nashville Predators in 1998, called Schmidt after the Knights had selected him and told him to embrace the opportunity.
"I said, 'You're going to enjoy that experience,' " Trotz said. "You only get to go through something like this once."
Contact Steve Carp at scarp@reviewjournal.com or 702-387-2913. Follow @stevecarprj on Twitter.