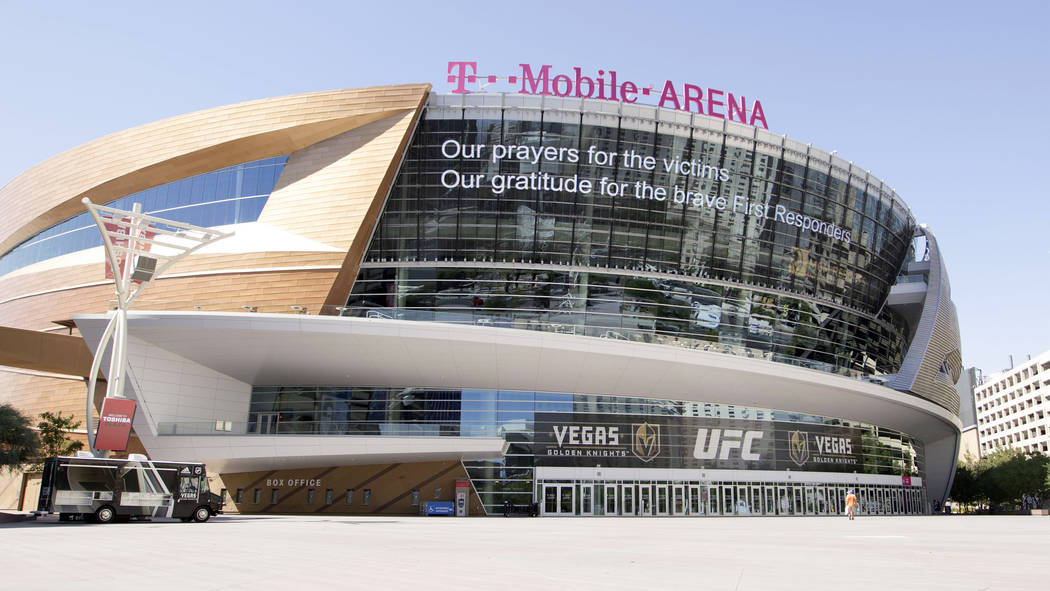 If you're one of the fortunate NHL fans to have tickets to the Golden Knights' home opener against the Arizona Coyotes on Tuesday at T-Mobile Arena, be prepared to run through a gamut of emotions.
And be prepared to show patience.
You're going to cheer and you're going to boo. You're going to laugh and you're going to cry. One minute, you'll be exhilarated watching Marc-Andre Fleury making a save in the Knights' net. The next, you're going to be exasperated over the team's struggling power play which is 0 for 11 through two games.
But as coach Gerard Gallant said: "I'm not worried about that number. The number I like is 2-0 and four points."
With that in mind, here's a primer to help you get through all those emotions:
Arrive early
The opening face-off is scheduled for 7:30 p.m. You'll want to get there no later than 7:15 if you want to take in the elaborate pregame ceremony. NHL commissioner Gary Bettman will be part of it as will majority owner Bill Foley.
The Knights will pay tribute to the 58 shooting victims and the close to 500 injured in the Oct. 1 mass shooting on the Strip, as well as honoring the first responders, local law enforcement, fire and medical personnel who acted heroically during and immediately after the attack. A moment of silence will be observed.
An MGM spokesman said there is heightened security in effect and all fans entering the arena will go through metal detectors and all bags and purses will be searched prior to entry. So plan for that, too.
Travel plans
Whether you're driving or taking the bus or getting dropped off, give yourself plenty of time to get to the arena.
If you have pre-purchased parking, know the route to your garage and take the surface streets rather than rely on Interstate 15. If you did not purchase pre-paid parking, it will cost you $25 at the New York-New York garage or $20 at the MGM Grand garage.
If you're taking the express bus service from the Regional Transportation Commision, be aware that it will take anywhere from 25 to 45 minutes from the time you leave to the time you arrive, depending on the location. The bus, which costs $2 each way, will drop riders off at the Excalibur garage. From there, it's a 5- to 10-minute walk to the arena.
Golden Knights Express Bus service will be offered from Summerlin (Route 605 from the J.W Marriott and Rampart Casino), from Henderson (Route 606 from PT's Ranch, 2430 East Pebble Road), from Centennial Hills (Route 607 from Centennial Hills Transit Center and Park & Ride, 7313 Grand Montecito Parkway) and from the Southwest (Route 608 from Born & Raised Las Vegas, 7260 South Cimarron Road).
Buses leave two hours; 1 hour, 40 minutes; and 1 hour, 20 minutes from Summerlin; 1 hour, 45 minutes; 1 hour, 25 minutes; and 1 hour, 5 minutes from Henderson; 2 hours, 5 minutes; 1 hour, 45 minutes; and 1 hour, 25 minutes from Centennial Hills; and 1 hour, 50 minutes; 1 hour, 30 minutes; and 1 hour, 10 minutes from the Southwest.
Buses will return 20, 30 and 45 minutes after the game ends. Exact fare is required and riders can pay for their ticket either with cash or electronically using the rideRTC app.
If you're taking a shared ride such as Uber or Lyft, the designated drop-off/pickup point is at the Excalibur garage on Frank Sinatra Drive.
There is free parking at the MGM Grand garage but you have to be an M Life member with Pearl status or higher to avoid the $20 charge.
Be aware, there is heightened security at all garages in addition to the arena and there may be delays getting into them.
Toshiba Plaza
If you're arriving early — the gates will open at 5 p.m.— there are food and beverage options in The Park which leads from Las Vegas Boulevard to T-Mobile Arena. In addition, the Knights plan to have music, games and other entertainment.
The NHL's Centennial Fan Arena opens at 2 p.m. and is essentially a rolling hockey museum with exhibits, videos. The Stanley Cup also will be on display. There will also be a street hockey rink for kids.
For fans who want to greet the team, there will be a "Gold Carpet" starting at 3:30 p.m. at the entrance to the arena from Toshiba Plaza.
Food and beverage
Hungry? There are plenty of food options inside T-Mobile Arena. Shake Shack for burgers and milkshakes; Pizza Forte for, well, pizza; Pink's hot dogs; Chronic Tacos. Pink's is serving a special Vegas corn dog at its locations at Sections 5 and 17 while a Giant Turkey Leg is available at the Carvery cart by Section 8.
For those who are thirsty, there's a special Golden Knights drink, "Behold the Gold" consisting of Patron Resposada, Canton Ginger Liqueur, pineapple, passion fruit, lemon and agave. The drink is available at all bars inside the arena.
Gear
Been waiting to buy your Golden Knights jersey? The Armory, the team store at T-Mobile Arena, offers the largest selection of Golden Knights clothing and souvenirs. It opens at 10 a.m. and will be open throughout the game.
March to the T
Fans who want to be among the first to enter the building can participate in the team's Opening Night March which will start at the Brooklyn Bridge at New York-New York. Be there at 4:45 p.m. to participate.
Entertainment
The national anthem will be performed by members of the Route 91 Harvest festival team who were at the event when the mass shooting took place Oct. 1.
Cirque du Soleil will perform during the first intermission.
TV/radio
For those of you who won't be there, Tuesday's game will be televised on NBC Sports Network. NBCSN is available through all television providers in the Valley (Cox Communications, DirecTV, DISH, CenturyLink Prism and U-verse). Check with your distributor to make sure you have the proper level of service to receive NBC Sports Network.
The game also will be broadcast locally on Fox Sports Radio (1340 AM and 98.9 FM).
More Golden Knights: Follow all of our Golden Knights coverage online at reviewjournal.com/GoldenKnights and @HockeyinVegas on Twitter.
Contact Steve Carp at scarp@reviewjournal.com or 702-387-2913. Follow @stevecarprj on Twitter.
Leave it home
T-Mobile Arena has a long list of prohibited items. They include the following:
— Cameras with interchangeable/detachable lens or external flash (No Professional Photography)
— Audio/Visual Recording Devices (includes GoPro, Google Glass, Spectacles, etc.)
— Selfie Sticks, Tripods, Monopods
— Outside Food, Beverage, or Alcohol
— Cans, Metal/Glass/Plastic Containers, Bottles, or Flasks (empty or sealed bottles included)
— Laptops, Tablets, Personal Computers, or Two-Way Radios
— Weapons, Firearms, Pepper Spray, Pocket Knives or Mace
— Illegal Drugs or Substances
— Flammable Liquids, Aerosol Cans, or Permanent Markers
— Flashlights, Laser Pointers, Flares, or Fireworks
— Noise Making Devices (i.e. Air Horns, whistles, bells, vuvuzelas, etc.)
— Coolers, Ice Chests, Folding Chairs, or Pointed-Tip Umbrellas
— Masks, Chains, or Studded Belts/Bracelets
— Drones (without prior written consent from Arena Management)
— Animals or Pets (accommodations made for trained, harnessed, and housebroken service animals)
— Clothing, garments, or signs displaying explicit language, profanity, or derogatory characterization toward any person(s)
— Signs, Flags, or Banners exceeding 11″ x 17″ or attached to a pole/stick. Signs must be relevant to event. Signs may not contain or display obscene or offensive language and/or pictures as determined by T-Mobile Arena Management.
Source: T-Mobile Arena