Avalanche coach Jared Bednar engineers impressive turnaround
January 13, 2018 - 5:26 pm
Updated January 13, 2018 - 5:33 pm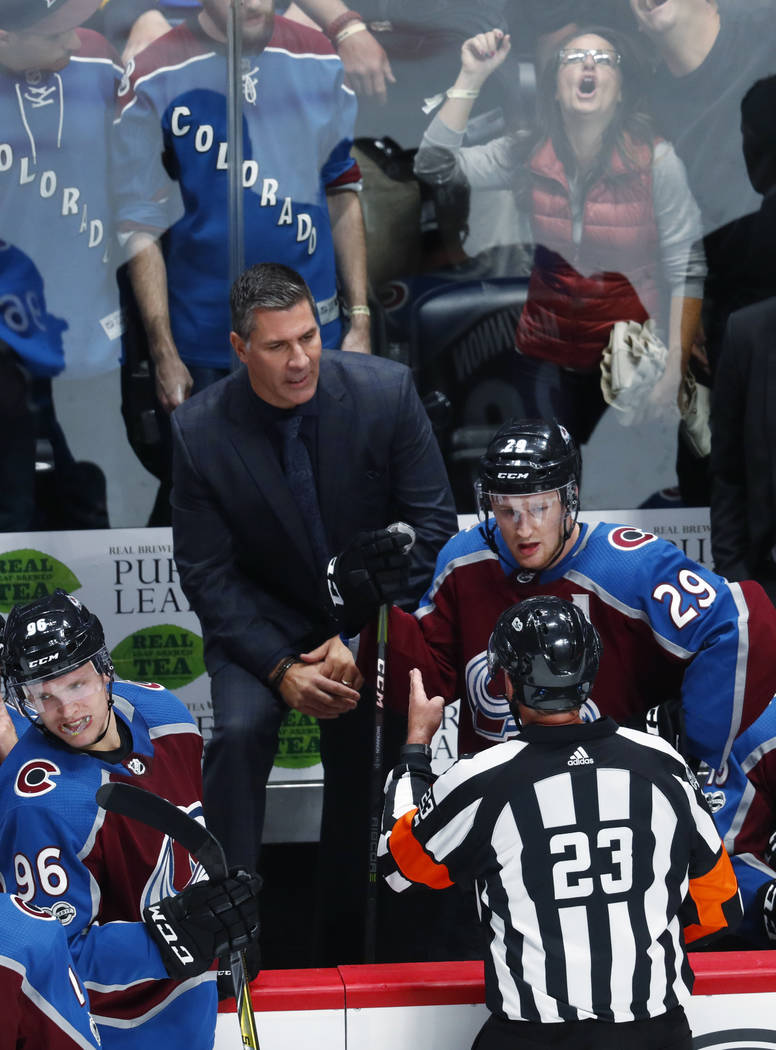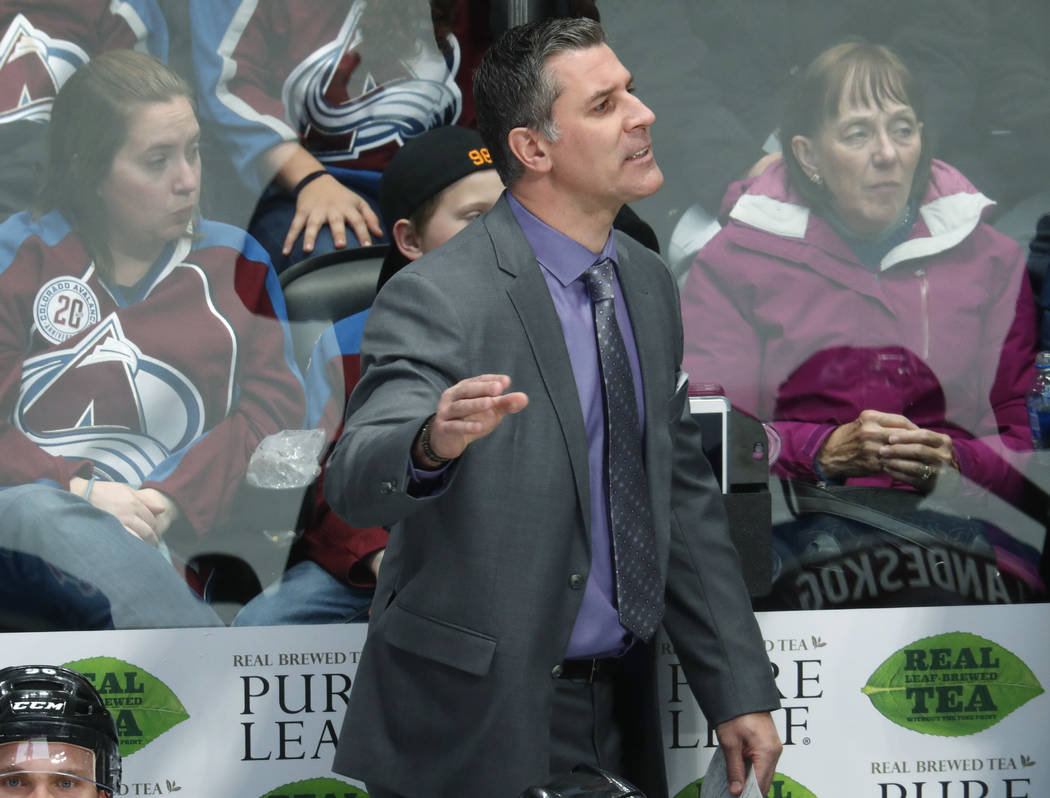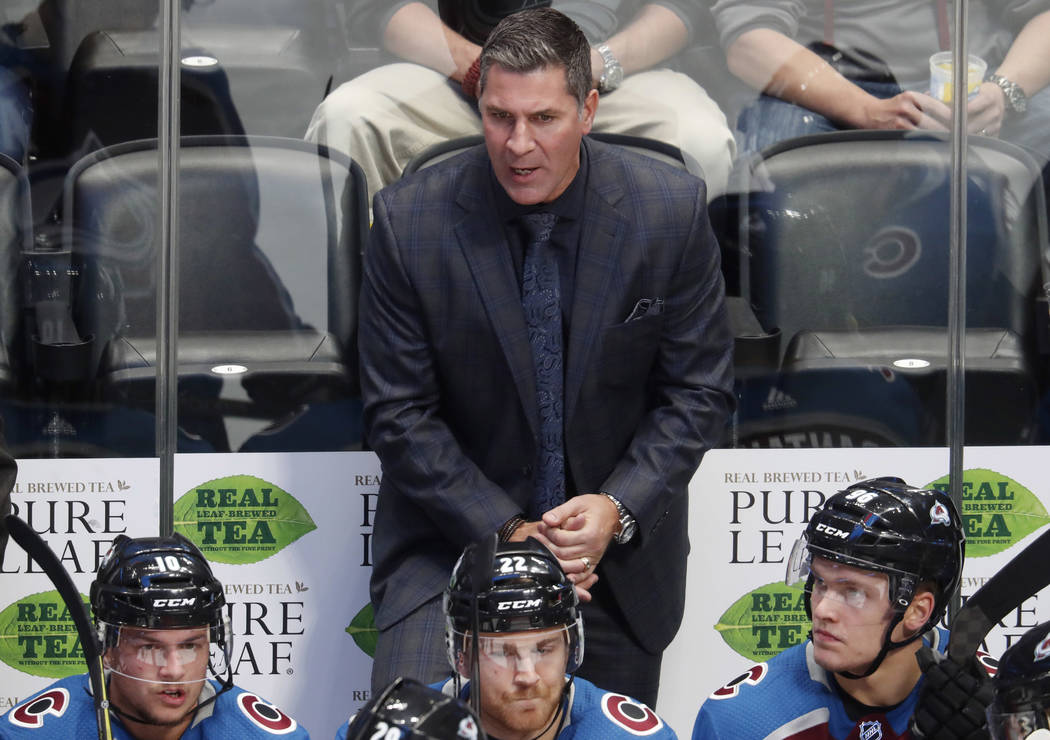 Jared Bednar stands virtually no chance to win the midseason Jack Adams Award as the NHL's coach of the year. Gerard Gallant of the Golden Knights has that thing on lockdown.
But the Avalanche's second-year coach quietly engineered an impressive turnaround in Colorado.
The Avalanche are in the thick of the Western Conference wild-card chase one season after posting the worst record in the league.
"We're happy with where we're at, but the most important hockey is still to come," Bednar said after Colorado entered its bye week on a five-game winning streak after a 7-2 victory over Minnesota on Jan. 7.
"Our motto kind of coming into this year was we had to be a team that started earning some respect from the league, that came to the rink every day to prove ourselves every day."
Bednar was hired less than a month before training camp in 2016 and endured a rocky first season. Colorado's 22-56-4 record was the worst in the NHL since the 1999-2000 Atlanta Thrashers.
The Avalanche had 22 wins entering Saturday's game at Dallas, and their 47 points in 41 games is one fewer than they posted all of last season.
Colorado was three points behind Chicago for the final wild card with three games in hand entering Saturday's games.
Forward Matt Duchene, whose trade request in December 2016 contributed to last season's chaos, finally was shipped out in November in a three-team deal.
After a slow start, 22-year-old center Nathan MacKinnon was tied for second in the league in scoring with 52 points entering Saturday and is gaining traction as an MVP candidate.
"I think our guys should be proud of themselves and the first half of the season and what we have accomplished at this point in the season," Bednar said. "I think there is a lot of positives out of it. I think it's a time for our players and coaches and everyone to reflect on what we need to do better, and the things we have done really well that have given us some success."
Other midseason award winners:
Hart Trophy (MVP) — Alex Ovechkin, Washington. On pace for a 50-goal season and has the Capitals on top of the Metropolitan Division.
Norris Trophy (best defenseman) — Drew Doughty, Los Angeles. Leads the league in average time on ice (27:10) along with 30 points through 42 games.
Vezina Trophy (best goaltender) — Andrei Vasilevskiy, Tampa Bay. Has a league-high 27 victories and six shutouts.
Calder Trophy (best rookie) — Brock Boeser, Vancouver. His 22 goals through 41 games are tied for fifth in the league.
Historic low
The merits of plus-minus rating continues to be debated, but Arizona all-star defenseman Oliver Ekman-Larsson set a dubious mark for the statistic nonetheless.
After his minus-3 in Friday's 4-2 loss to Edmonton, Ekman-Larsson has an NHL-worst minus-37 rating.
According to TSN's StatsCentre, that is the worst plus-minus rating through 44 games in the past 30 years.
Johnson on block
Columbus Blue Jackets veteran defenseman Jack Johnson requested to be traded before the Feb. 26 deadline, according to The Athletic.
Johnson, who turned 31 on Saturday and had a much-publicized bankruptcy four years ago, becomes an unrestricted free agent July 1.
Johnson has played the past seven seasons with the Blue Jackets after starting his career in Los Angeles. He was made an alternate captain by the Blue Jackets earlier this season but has seen his ice time diminish.
Contact David Schoen at dschoen@reviewjournal.com or 702-387-5203. Follow @DavidSchoenLVRJ on Twitter.
Three stars of the week
1. Johnny Gaudreau, Calgary — Had six points (two goals, four assists) in three games to help the Flames extend their winning streak (6-0-0).
2. Tyler Johnson, Tampa Bay — Notched four goals, including a hat trick Tuesday against Carolina, and an assist in three games.
3. Philipp Grubauer, Washington — The Capitals' backup goalie went 2-0 with a 2.00 goals-against average and .948 save percentage.