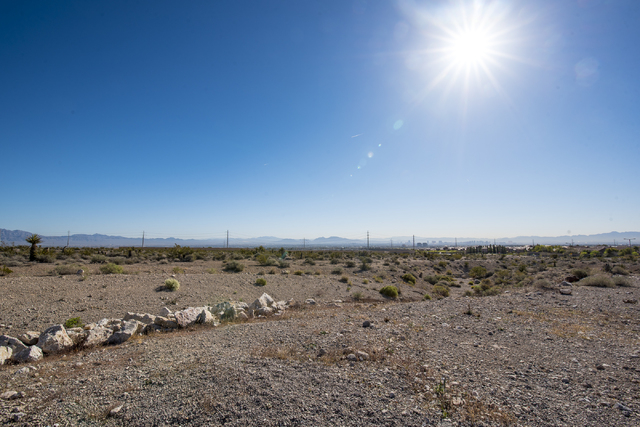 While he awaits word that the NHL is expanding to Las Vegas, Bill Foley has shifted gears in finding a place for his team's practice facility.
The billionaire businessman, who is behind the Las Vegas expansion team bid, plans to build a two-sheet facility off Far Hills Avenue near Interstate 215 in Summerlin on land that is owned by the Howard Hughes Corporation and is in the city of Las Vegas.
Originally, Foley was looking at a site at Warm Springs Road and Durango Drive off I-215 and was going to partner with Clark County at that site. But with the process going slower than he had anticipated, Foley decided to go in a different direction.
He wants his practice rink ready for the 2017-18 season, the target date for Las Vegas to begin play if the NHL decides to approve expansion.
Foley said he didn't want to comment until the project is finalized in a few weeks. A source close to the situation who wasn't authorized to be identified said there are still several issues to resolve before the project can proceed.
Foley made his decision about three weeks ago and informed the county of his intentions to go elsewhere. Howard Hughes Corporation spokesman Tom Warden said the company had no comment about the project and partnership with Foley.
The proposed practice facility could be expanded to include four ice sheets. There will be locker rooms, coaches offices, a video room and bleachers. The plan is to have youth and high school hockey use the rinks when the team isn't practicing in keeping with Foley's commitment to help grow the game at the grassroots level.
Las Vegas City manager Betsy Fretwell said the plan still needs approval by the city council but that the city isn't getting into the hockey rink business.
"The beauty of it is it's a private-private deal," Fretwell said. "We don't own the proposed facility nor would we be running it.
"We still have to work out an agreement with Howard Hughes Corporation, and things still have to be worked through procedurally. But we've been talking to both the Foley group and Howard Hughes, and we're hoping we can get everything done in the next few weeks so the project can move forward."
According to Fretwell, that land Howard Hughes owns off Far Hills is already zoned for building a recreational project such as a skating rink.
Clark County commissioner Steve Sisolak said the move caught him by surprise.
"We had been working very hard with Bill on this, and I even wrote (NHL commissioner) Gary Bettman a letter about the project," Sisolak said. "I thought the Warm Springs-Durango location was a great spot for his practice facility. It's disappointing, but I still hope we get a team, and I'm not giving up my season tickets."
Sisolak said a soccer complex probably would be built on the Warm Springs-Durango site, which also is zoned for recreational use.
Contact reporter Steve Carp at scarp@reviewjournal.com or 702-387-2913. Follow him on Twitter: @stevecarprj
RELATED:
One year later, Bill Foley admits he was 'naive' about NHL process
Foley patiently waits for puck to drop on Las Vegas NHL franchise
Las Vegas NHL bid standstill doesn't hold back Foley
NHL suitor Bill Foley would love to share Las Vegas with NFL
Like Sports News on Facebook: