Bill Foley to stay low key as wait for Las Vegas NHL team is almost over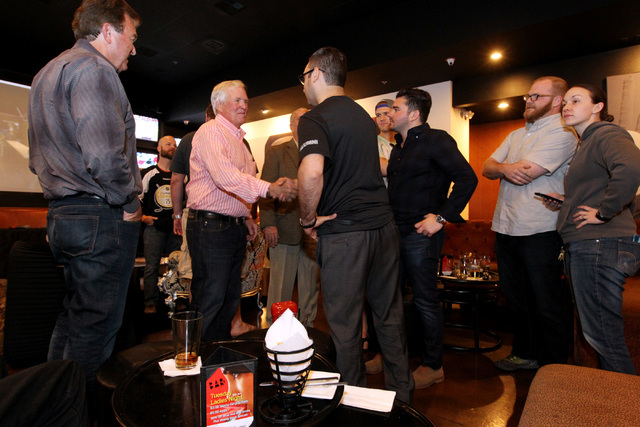 If you thought Wednesday's expected news that Las Vegas is finally getting major league professional sports will trigger a mass celebration, guess again.
Bill Foley, the billionaire businessman who has waited 2 1/2 years for the NHL to grant him a team, has a matter of hours left to lay low before he and the city can rejoice. The league's 30 owners will be arriving in Las Vegas on Tuesday and will meet Wednesday morning at Encore to deliberate, then vote on expansion to Las Vegas. Foley, who is prepared to pay $500 million to join the NHL, will lead the league's 31st team and begin play in 2017-18.
"We're almost there," Foley said last week. "I don't want to say or do anything to upset the owners. We've come this far. So the less I say right now, the better."
In a perfect world, the NHL would have been able to keep the anticipated news under wraps. But word eventually got out and it sparked headlines across North America. Even commissioner Gary Bettman said on the eve of the Stanley Cup Finals that he doubted the June 7 recommendation of the league's nine-member Executive Committee would stay a secret until Wednesday.
But that doesn't mean Foley has been given the green light to throw a party for Southern Nevada. He said there's a time and a place to hold a proper celebration and Wednesday is not the time. While good news is expected in Las Vegas, the same can't be said for Quebec City, which has been Las Vegas' partner on this expansion journey since July when both cities applied.
The NHL is expected to put the Quebec City bid on hold and Foley probably doesn't think it's right to have a party the day the other expansion applicant gets turned down.
His plan is to wait until the team's nickname, logo and colors are approved by the NHL. At the moment, the leader in the clubhouse for a name is either "Black Knights" or "Knights." However, other names are supposed to be sent to the NHL. That process is under way and should be concluded in a few weeks after the team and league lawyers get everything copyrighted and signed off.
Then a public celebration will be planned inside T-Mobile Arena, the team's 17,500-seat home. It would also be the first opportunity for fans to purchase team jerseys, hats, T-shirts, pucks and virtually anything that might have the team's logo on it.
So how will Foley celebrate the anticipated good news? He will have a small gathering of his "Founding 75" group along with other local businessmen and politicians Thursday night at his Summerlin office. It will be a private, low-key event.
But a public party is planned for Wednesday beginning at 4 p.m. at O'Aces Bar and Grill, 4955 South Decatur Boulevard. The Sin Bin Vegas blog is hosting the event, which is free.
By Thursday, Bettman, deputy commissioner Bill Daly and the other 30 owners will be heading to Buffalo, New York, for Friday's 2016 NHL Entry Draft. It is an exercise in which Foley's team will participate in a year.
Foley will be shifting into hire mode later this week. He needs to add a president of hockey operations, a general manager, a scouting staff, an office staff including sales people, marketing and public relations staffers. Opening night will be less than 16 months away.
Contact Steve Carp at scarp@reviewjournal.com or 702-387-2913. Follow on Twitter: @stevecarprj
RELATED
NHL committee picks Las Vegas for expansion
NHL executives say Las Vegas can be competitive in first season
Here's what's next for Las Vegas' NHL team
NHL team will take Las Vegas sports to next level