Brendan Leipsic's 1st goal of season excites Golden Knights teammates
December 29, 2017 - 4:55 pm
Updated December 29, 2017 - 7:39 pm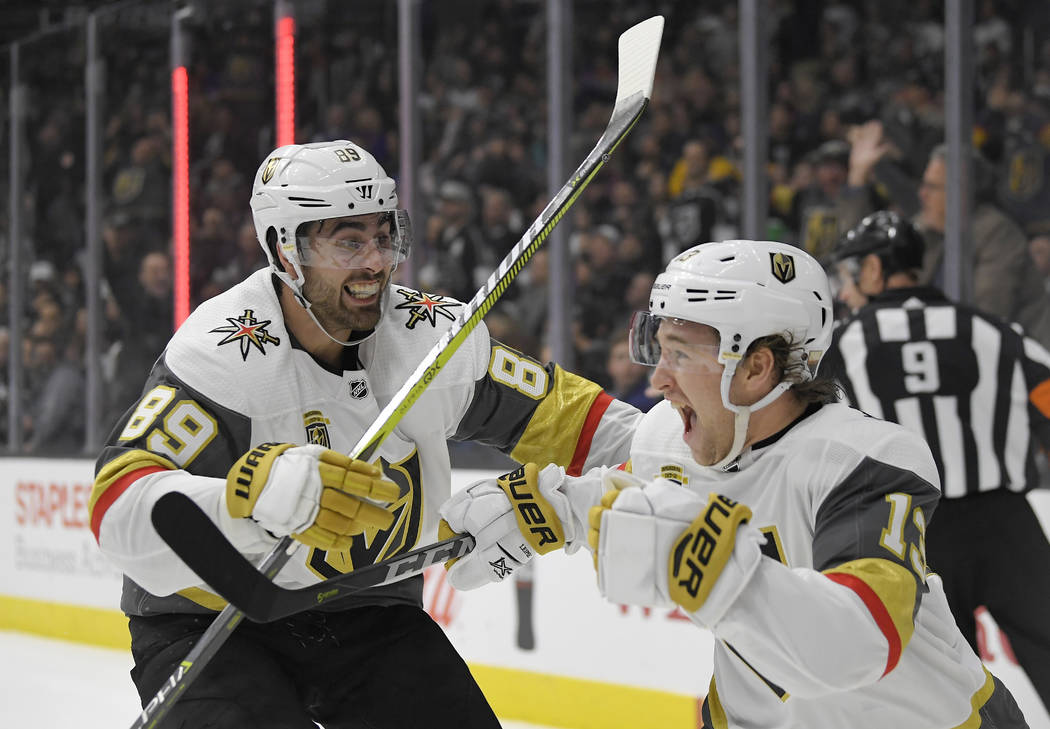 One of the favorite locker room pastimes of Golden Knights players has been ribbing Brendan Leipsic for not scoring a goal.
Now that Leipsic finally is on the scoresheet, they'll have to find another reason to give him a hard time.
"They'll find a way," Leipsic said Friday following the Knights practice at City National Arena. "I've already been getting some today from this guy right beside me (James Neal). It doesn't take much around here, but it's all in good fun."
Leipsic, who didn't have a goal in his first 27 appearances for the Knights, jammed home a rebound in the third period of Thursday's 3-2 overtime victory at Los Angeles to the delight of his teammates.
"Everyone was really excited to see him get one," said Neal, whose locker is next to Leipsic's. "He's been playing hard and he's been getting some good looks, so to see him finally get one was a good feeling. And you could see how excited he was. It was a big goal at the time, too, so it was nice to see."
The snakebitten Leipsic had numerous chances this season to end his scoring drought, including a breakaway against Washington on Dec. 23 that was turned away by goaltender Braden Holtby.
But Leipsic was in the right place at the right time against the Kings, pouncing on a loose puck at the top of the crease to give the Knights a 2-1 lead with 8:50 remaining in regulation.
It was the second career goal for the old rookie, 23, who scored for Toronto in his first NHL game on Feb. 13, 2016.
Defenseman Brad Hunt is the lone skater on the Knights' current roster to play this season and not score.
"I just went out there and played with energy, you know. Just kept shooting the puck," Leipsic said. "I had some breakaways, and I had some chances I probably would have liked to see go in. I just focused on playing my game and not holding the stick too tight, I guess."
Leipsic's family was at Staples Center for the game Thursday, along with another special visitor.
Hockey Hall of Famer Teemu Selanne greeted Leipsic with a congratulatory hug before the Pacific Division-leading Knights (25-9-2) flew back to Las Vegas ahead of Sunday's 12:30 p.m. matinee against the Maple Leafs (23-14-1).
Leipsic's mother, Kathleen, is close friends with Selanne's wife from their time in Winnipeg, Manitoba. Leipsic wears No. 13 in honor of "The Finnish Flash," who played three-plus seasons with the Jets before he was traded to Anaheim in 1996.
"He's a family friend of ours from days back in Winnipeg, so it was cool to see him there," Leipsic said.
Leipsic has seen his ice time fluctuate this season while he continues to work on his defensive game. He played a season-low 9:24 against Toronto on Nov. 6 and was a healthy scratch the next three games.
Leipsic recorded an assist Nov. 16 in a 5-2 win at Vancouver and hasn't been out of the lineup since, a span of 19 straight games.
The left wing has 11 assists in 28 games skating on the Knights third line with center Cody Eakin and right wing Alex Tuch.
"He's played well. He's competed," Knights coach Gerard Gallant said of Leipsic. "The line's played real well the last couple games. They've scored key goals for us. It's a line that plays well and works hard and the more they play well, the more they're going to play."
Contact David Schoen at dschoen@reviewjournal.com or 702-387-5203. Follow @DavidSchoenLVRJ on Twitter.