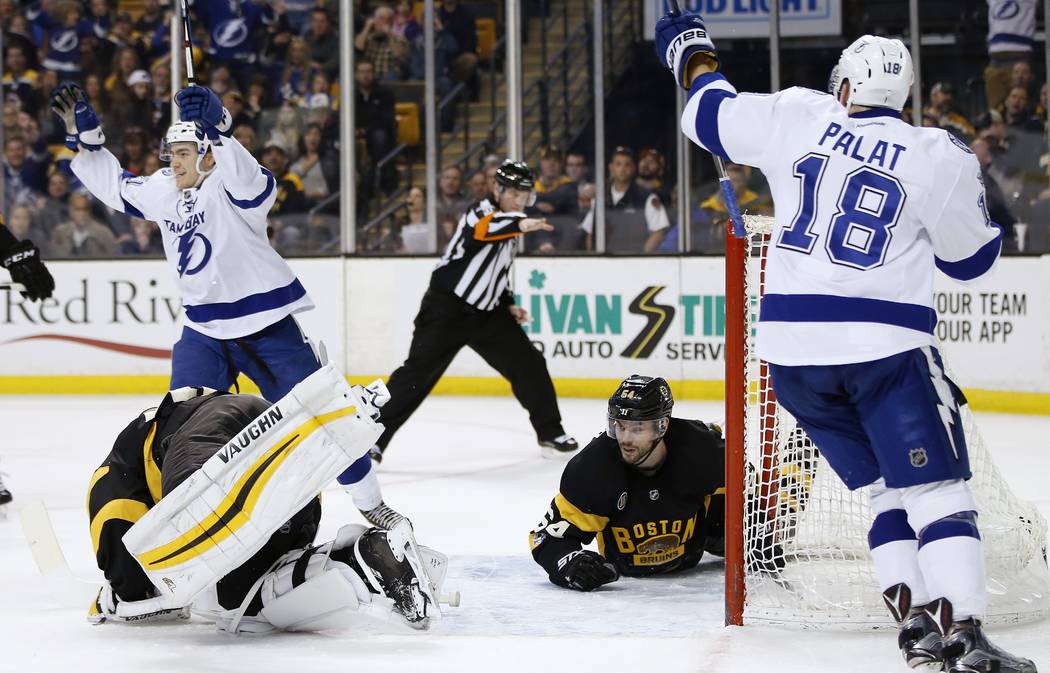 This has been a crazy season for the Boston Bruins.
They were in good shape to make the playoffs but decided to make a coaching change when they let Claude Julien go in early February. Interim coach Bruce Cassidy got off to a strong start, winning eight of his first 10 and the team's postseason spot seemed secure.
Suddenly, the Bruins are struggling and in danger of missing the playoffs. They've been caught and passed by Toronto for the third spot in the Atlantic Division. The Bruins did beat the New York Islanders 2-1 on Saturday in Brooklyn to take over the eighth and final Eastern Conference wild card spot by two points over the Islanders. But the Isles do have a game in hand.
If that's not enough, Tampa Bay and Carolina are making late pushes, too. Tampa is three points behind the Bruins with a game in hand. The Hurricanes have registered at least one point in each of their last 10 games and have 79 points, five behind Boston.
What happened?
Boston is having trouble defensively. Before winning Saturday, the Bruins had allowed an average of five goals in losing four consecutive games. Plus, goaltender Tuukka Rask missed Saturday's game against the Islanders with a lower body injury. Anton Khudobin got the start.
But it's the giveaways and sloppy play in the defensive zone that has put Boston in its tailspin. Cassidy would like to see things tighten up the way they were when he first took over.
But that's easier said than done, and with the games dwindling to a precious few, it may be tough to turn it around this late. Especially given Boston's remaining schedule.
The Bruins have to play Nashville, Dallas, Florida, Chicago, Tampa Bay, Ottawa and Washington. The good news for them is only the game with the Blackhawks, on April 2, is on the road.
CHINA UPDATE
The NHL has worked out its deal to have two teams play a pair of preseason games in China this September.
A news conference is scheduled for Wednesday in Beijing to announce the league will partner with China on several hockey initiatives tied to the 2022 Winter Olympics. It also is expected to announce that the Los Angeles Kings and Vancouver Canucks will play in Beijing and Shanghai in mid-September.
It impacts the Golden Knights because they have games tentatively scheduled with the Kings in Las Vegas and at Vancouver. With the games in China a go, those preseason games get pushed back to later in the month.
HONORING BOB MILLER
The Kings will honor longtime broadcaster Bob Miller on April 8 at Staples Center. Miller, 78, who has spent 44 seasons calling Kings games, is retiring for health reasons after suffering a stroke during the all-star break. Miller sat out a good portion of last season following open-heart surgery. He will call L.A.'s game against Chicago on the 8th, then call his last game the following day when the Kings play the Ducks in Anaheim.
Miller announced he was retiring last month.
OVI'S GREAT SKATES
Too bad the NHL is so rigid with its uniform policy. Alex Ovechkin's specially designed skates for the Capitals' Russian Heritage Night on Thursday were limited to the pregame warmup.
Ovechkin had the skates specially designed to represent Russia, the country he grew up in, and the U.S., where he earns his pay. The plan was to auction off the skates and donate the money to charity.
One skate had St. Basil's Cathedral and the Russian flag. The other had the U.S. Capitol and an American flag.
"Obviously I want to play with them, but the league said no," Ovechkin said. "I think they're sick. They're pretty cool. It's something new. Nobody done it before. It's nice to be the first guy."
The NFL allowed its players to have specially designed cleats for use in a game with the players using personal charity causes to represent. Those cleats raised hundreds of thousands of dollars for charity. Ovechkin was merely following the football players' lead. Too bad the NHL wouldn't set aside one night a year to allow its players to do the same.
One problem. It might be too much work for artists Napoleon "Polo" Kerber and Nicholas Avery of Buffalo, New York, to paint hundreds of pairs of skates. Ovechkin's took a week to prepare.
Steve Carp's weekly NHL notebook appears Sundays. Contact him at scarp@reviewjournal.com or 702-387-2913. Follow @stevecarprj on Twitter.
WEEKS' THREE STARS
1. Nikita Kucherov, Tampa Bay. Has seven goals in last four games to lead Lightning's run at playoff berth.
2. William Nylander, Toronto. He has an 11-game point streak working as Leafs zero in on postseason spot.
3. Adam Cracknell, Dallas. Former Las Vegas Wranglers forward notched first NHL hat trick Friday in win vs. Sharks.