Capitals defensive focus causing havoc among Knights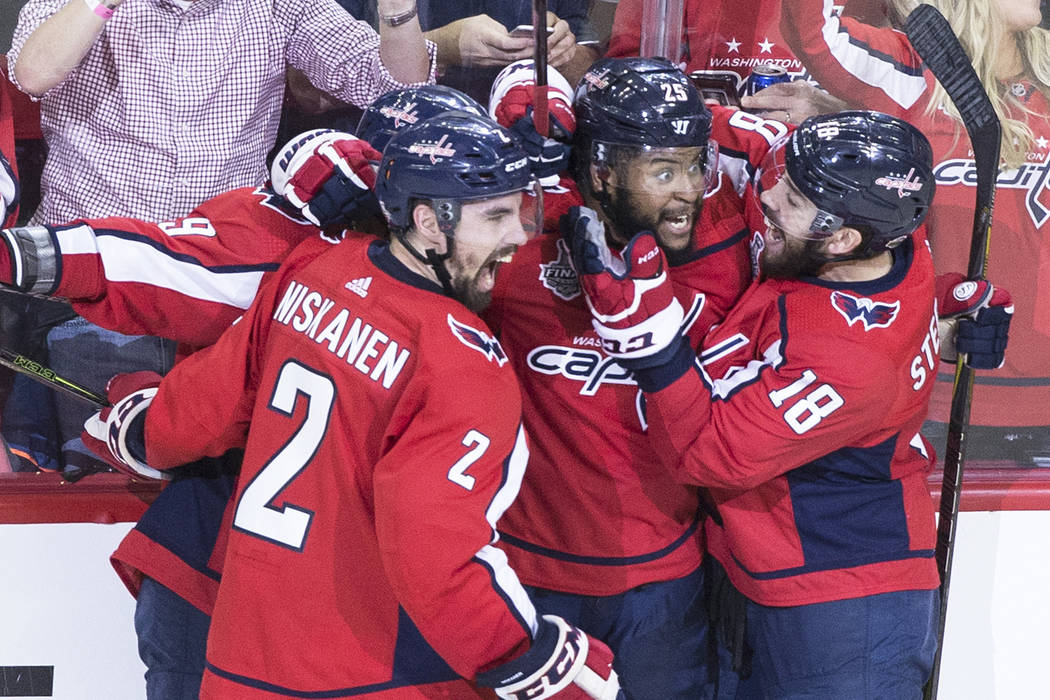 ARLINGTON, Va. — The Capitals are largely identified by a top line featuring the most prolific goal scorer of this generation playing alongside one of the game's most talented young stars.
Alex Ovechkin and Evgeny Kuznetsov have certainly had an impact on the first three games of the Stanley Cup Final, yet it's largely defense that has allowed Washington to seize a 2-1 lead in the best-of-seven series.
If the Capitals weren't aware of the speed and skill the Golden Knights possess entering the series, they got a first-hand lesson when they surrendered six goals in the opener.
They have shut the door by clogging the neutral zone and crowding the Vegas puckhandlers ever since.
"Offensive teams have certain tendencies, certain routes that they take through the neutral zone, plays they like to make, so if you can be on top of them and turn over some pucks, stifle them, make it hard for them to gain entry with possession, that frustrates skilled players," Washington defenseman Matt Niskanen said Sunday.
"You ask any skilled player, they want to have the puck with possession and speed, so if you can be in their face, just standing in the way, it's amazing what that does. Make them move the puck sooner than they want to, hold the blue line, make them dump it and then you have numbers back for good breakouts.
"We've done a good job with that."
The Capitals were excellent at it in Game 3. The Knights mustered just 22 shots on goal and the only one that went in came on a bad turnover by goalie Braden Holtby from behind his net.
The commitment to defense goes back to a meeting coach Barry Trotz had with his team late in the regular season. Washington has consistently been one of the most potent offensive teams in the league and a dominant force in the regular season for the better part of the last decade.
Trotz knew it was going to take even more to avoid another disappointing early exit in the postseason and he has certainly gotten it from his team.
"We just knew there was another level we could get to," Trotz said Sunday. "We worked on it for a big part of the last quarter of the season and it started showing results.
"We just talked about having numbers and layers and making it difficult. A lot of the man-on-man coverages you see get broken down, and there are big gaps, and we just wanted to make sure that we didn't have gaps. This game is about mistakes, and those mistakes can lead to scoring chances. So we wanted to have levels of insulation. We wanted to insulate certain areas of our game and we did it."
It has been a full team effort as the Capitals forwards have made the Knights work hard just to get the puck in the offensive zone before filtering them to spots where the defenders can more easily manage the threat.
Washington's ability to smother the Knights before they can find an offensive rhythm is just one part of the turnaround. Even more pronounced has been the Capitals adjustments around their own net.
Vegas swarmed goaltender Braden Holtby in Game 1, peppering him with shots and creating chaos by getting bodies all around him for second and even third chances.
The Capitals have been much more forceful in clearing out that area to give Holtby a much cleaner space in which to work and he has been terrific in the two wins.
"It's just to a man doing your job better than we did in Game 1," Niskanen said. "Whatever the circumstance or for whatever reason, we weren't very good in that area from Game 1, and they capitalized on some chances. In front of your net, it's pretty barbaric sometimes. You've got to be mean, you've got to be skilled and determined and we've won our battles there the last couple games and made it harder on them to get screens and second opportunities."
The Capitals certainly like where they stand right now.
Contact Adam Hill at ahill@reviewjournal.com or 702-277-8028. Follow @AdamHillLVRJ on Twitter.