Capitals' Lars Eller returns to haunt Golden Knights in Game 2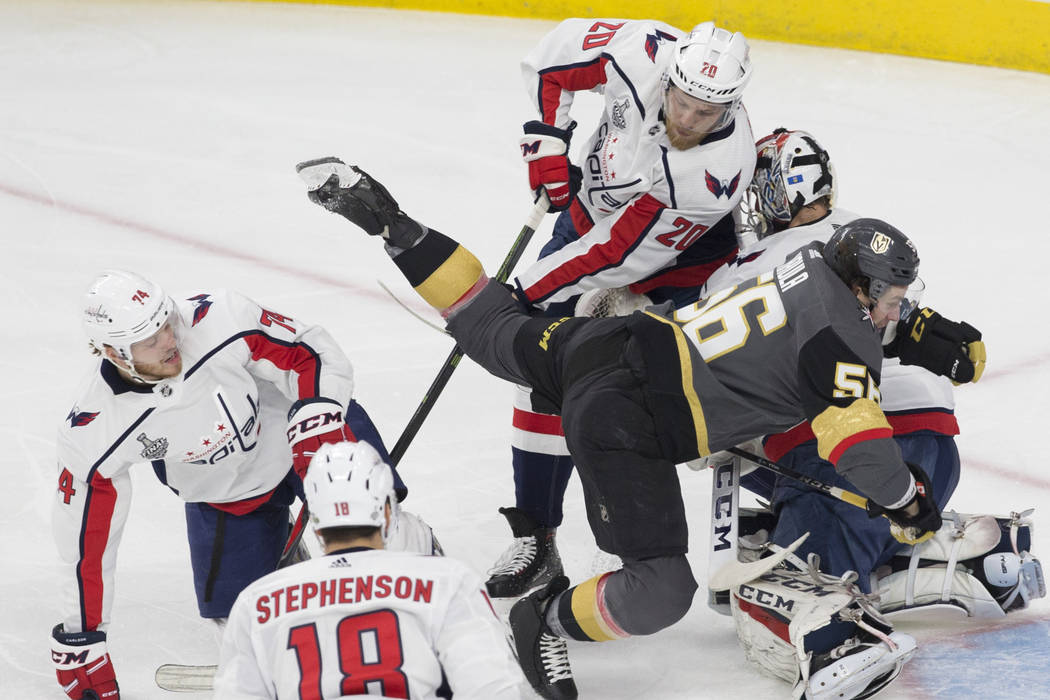 Washington center Lars Eller was so close to being a hero in Game 1 of the Stanley Cup Final. But his shot in the final minute was altered by Brayden McNabb and he was denied a chance for a game-tying goal.
It didn't take him long for redemption.
Eller was thrust into an expanded role in Game 2 after forward Evgeny Kuznetsov was injured by a McNabb hit in the first period and didn't return.
Eller, a 29-year-old journeyman, scored a goal and had two assists as Washington evened the best-of-seven series with a 3-2 win at T-Mobile Arena.
Capitals coach Barry Trotz knew what to expect when he bumped Eller up in the rotation after he had filled the same role for several games when Nicklas Backstrom was injured earlier in the playoffs.
"Number one, he's a good player," Trotz said of Eller's ability to rise to the occasion. "That's where it starts. He's not shy to take on the responsibility. He knows he's got to fill big shoes and he knows he's got an opportunity. I think he relishes it. He takes the opportunity to showcase what he's able to do and he knows we're relying on him. He's one of the most popular guys in our room for sure and he just elevates his game when we need it."
Trotz provided no information on the status of Kuznetsov, but Eller helped by taking added shifts and making the most of his time on the ice.
"The more I am out there the better I feel with the puck, better flow in my game. I knew from the Tampa series that I have really good chemistry with (second-line forwards Jakub) Vrana and (T.J.) Oshie, so it wasn't really a surprise for me when we did some good things when we were put back together," Eller said. "We just play on instincts. Like I said, the more I am out there the better I feel."
Backstrom moved up to fill Kuznetsov's spot on the top line with Alex Ovechkin and Tom Wilson.
"He was outstanding," Backstrom said of Eller. "He had a great game and he's had a great playoffs so far. It's fun to watch and it's what we need. We need everyone on this team to step up and he really did it for us tonight."
Eller, a 2007 first-round pick of the St. Louis Blues out of Denmark, had a role in all three goals.
After winning a faceoff, Eller took a cross-ice pass from Michal Kempny and buried a one-timer before Marc-Andre Fleury could get back across the net, tying the game in the first period.
Eller helped give Washington the lead on the power play early in the second period. He found Ovechkin on a pass from the side of the net, which Ovechkin put past Fleury for his first career Stanley Cup Final goal.
"He's a guy who is kind of our secret weapon," Ovechkin said of Eller. "It's hard to play (against him) when he's on top of his game and when he feels the puck, when he creates the moment for us, he was pretty big for us."
Eller made another spectacular play when he cleared space for veteran Brooks Orpik and dropped it back to him on the right wing for what proved to be the game-winning goal midway through the second period.
It was his 11th assist of the postseason to go with six goals.
He insists he'll be ready to fill an expanded role once again in Game 3 if Kuznetsov is unable to return for Saturday's Game 3.
"He's just given more responsibly, and he thrives on it," forward Jay Beagle said. "That shows the type of person and player that he is. Character. It's a character thing."
More Golden Knights: Follow all of our Golden Knights coverage online at reviewjournal.com/GoldenKnights and @HockeyinVegas on Twitter.
Contact Adam Hill at ahill@reviewjournal.com or 702-277-8028. Follow @AdamHillLVRJ on Twitter.