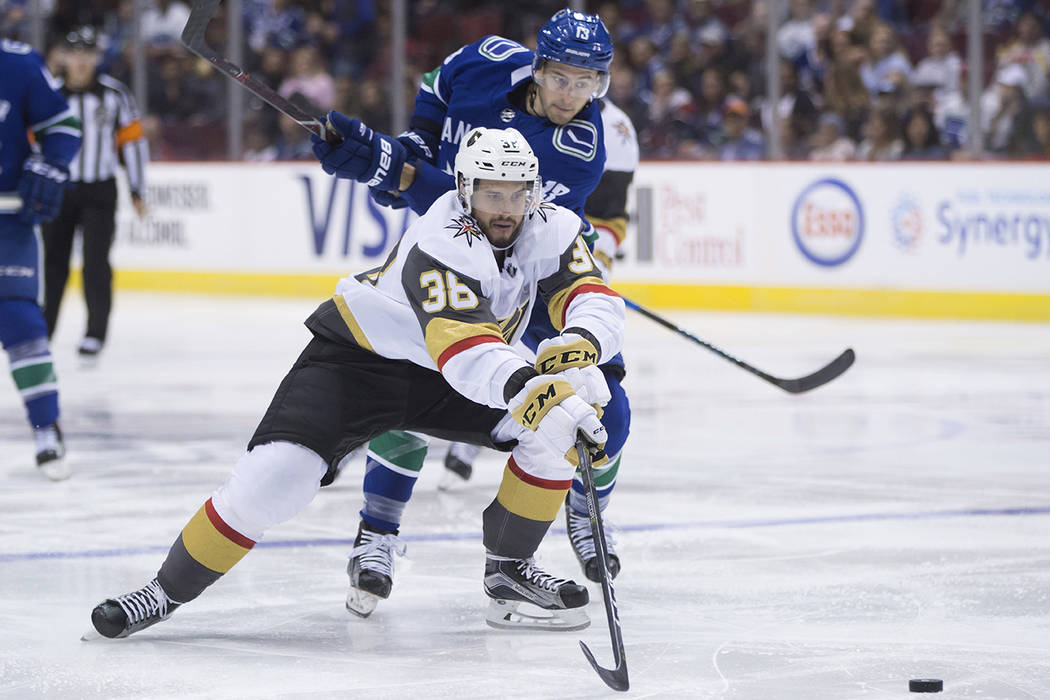 The Chicago Wolves haven't looked the best on paper this season.
The team had six wins through 23 games and languished near the bottom of the American Hockey League standings — but coach Rocky Thompson never doubted his players.
Now they haven't lost since Dec. 9, fashioning a league-best five-game winning streak in which results appear to be finally matching the Wolves' effort.
"We've been getting steadily better without a doubt," Thompson said. "When you stick to it and you work, and I think our guys have as a 20-man unit, they're starting to be rewarded for their efforts in all areas of the game."
The team faced a challenge with three games in three days last weekend, but answered in a big way — Chicago defeated its opponents by a combined score of 16-8.
"We played well before, we just couldn't finish it with two points or the win," forward Tomas Hyka said. "Everyone knows how important it is to play 60 minutes, not just 20 minutes of the game, and that's what happens if you play 60 minutes right."
Chicago started its streak on the road, where the Wolves were previously 1-9. But by the time they returned home that record improved to 4-10 (they lost the first game of the roadtrip, before reeling off those five wins in a row).
Chicago is just shy of a .500 record (11-12-4-1) and has jumped from last to fifth in the Central division. The Wolves' slow start had included eight consecutive losses, but now a new goal has been set.
"We lost eight in a row," forward Teemu Pulkkinen said. "Let's make it eight in a row with wins."
Roster shifts boost confidence
Tomas Hyka's return to the Wolves was anything but subtle.
The forward recently came off an injury in Chicago and made an immediate impact — he totaled five points in back-to-back games, which included the game-winning goal against Iowa. It was enough to get him noticed by Vegas for a short call-up that ended Wednesday.
"He's a very dynamic player who was injured for quite an extended period of time, and he's come back in and I don't even think we've seen his top game yet," Thompson said. "I'm saying that as a positive, because I think when he gets in a rhythm and a groove, there's more of a ceiling there."
Meanwhile, as the long-awaited return of Marc-Andre Fleury arrived, Maxime Lagace's time in Vegas went. Chicago's previous starting goaltender returned to the Wolves on Dec. 10 and has been in net for three of Chicago's last five wins.
Tynan emerges as a leader
T.J. Tynan has proved the biggest spark in the Wolves' surge.
The forward had 11 points prior to Chicago's win streak, but has taken his play to a higher level. He tallied six points in the last four games, which included a hat trick that doubled his goal total on the season — two out of three were shorthanded.
Tynan, a free agent pick-up by the Golden Knights, has played in three full AHL seasons and has posted over 40 points in each, a mark he's on pace to meet again. He also was promoted to assistant captain.
"Over the last two weeks, his game has really started to elevate and he's really kind of getting into his zone right now," Thompson said. "I think he feels pretty good and really confident … When you win, you feel better about yourself and your game."
Contact Emily Polglaze at enpolglaze@gmail.com. Follow @enpolglaze on Twitter.