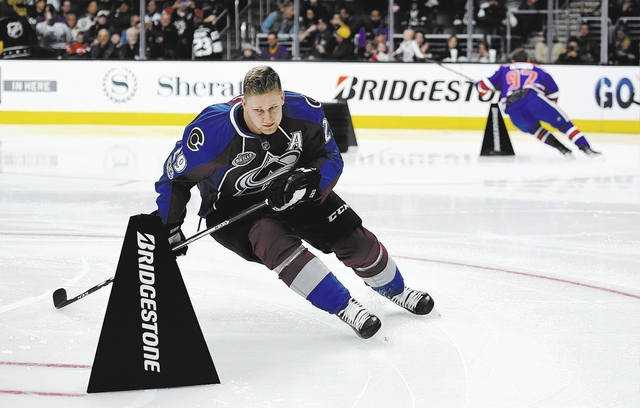 LOS ANGELES — A week ago, they were trying to beat each other. On Sunday, Connor McDavid and Johnny Gaudreau are teammates again, if only for a day.
McDavid, the Edmonton Oilers' captain and NHL scoring leader, and Gaudreau, the Calgary Flames' star forward, played for Team North America at the World Cup of Hockey in September. On Sunday, they are reunited as members of the Pacific Division All-Stars and figure to be flying all over the Staples Center ice at the NHL All-Star Game.
The game, employing a 3-on-3 tournament format for the second consecutive year, plays to both players' strengths as skaters.
"I think it's going to be a lot of fun," said McDavid, who is the captain of the Pacific squad, which will meet the Central Division All-Stars in the first period, followed by the Atlantic and Metropolitan Divisions playing in the second period. "I think the format suits our style, and we can use our speed and skill to create scoring chances."
Gaudreau said: "I love 3-on-3. It's a fun way to play, and it's going to be great being back with Connor."
Team North America failed to make the medal round, but its performance grabbed the attention of the hockey world. McDavid said it was a group of guys that meshed well because of similar skills and a common goal.
"We weren't together very long, but everyone got along and played for each other," he said. "It was a great experience for me, and it's great to see a lot of those guys are here for the All-Star Game."
McDavid has led the NHL in scoring most of the season and sits at the top with 59 points. Gaudreau, who missed 20 games with a broken finger, hasn't had the kind of season he would like, amassing 11 goals and 31 points.
"We're in a better spot as a team," said Gaudreau, downplaying his lack of scoring. "You think you can be better performing, but we're contending for a playoff spot and we have a great room. The guys are pulling for each other, and there's all of the second half still to go."
McDavid, who missed last year's All-Star Game with a broken clavicle, said he's excited about having more freedom in Sunday's game than he's been getting during the regular season when opposing defenses try to slow him.
"I notice it more in the neutral zone, " he said. "I don't get as much free time with the puck as I did before. But it's almost a compliment when teams try to come up with ways to slow you down."
The "Young Guns," as Team North America was known because the players were all under 23, took notice Friday when the NHL announced its top 100 players of all time. McDavid and Gaudreau know they are the new generation of NHL players and accept the responsibility of moving the game forward.
"It was cool to see all the great players announced," McDavid said. "I wanted to take it all in."
Gaudreau said: "I think it's going to give the young guys here a lot of incentive to work hard and represent the game the way the guys on the (top 100) list did."
On Sunday, it will be McDavid's and Gaudreau's turn to impress the top 100. They have added incentive, as the winning team gets to split $1 million. But neither was talking money Saturday. Instead, it was about being back together, if only for one day.
"It's nice that we can experience this together," McDavid said.
Contact Steve Carp at scarp@reviewjournal.com or 702-387-2913. Follow @stevecarprj on Twitter.
NHL ALL-STAR GAME
When: 12:30 p.m. Sunday
Where: Staples Center, Los Angeles
TV: KSNV-3
Format: Three 20-minute periods of 3-on-3 competition between divisions. First period: Central vs. Pacific. Second period: Atlantic vs. Metropolitan. The winning divisions from the first two periods meet in the third period for the championship. $1 million to the champion.