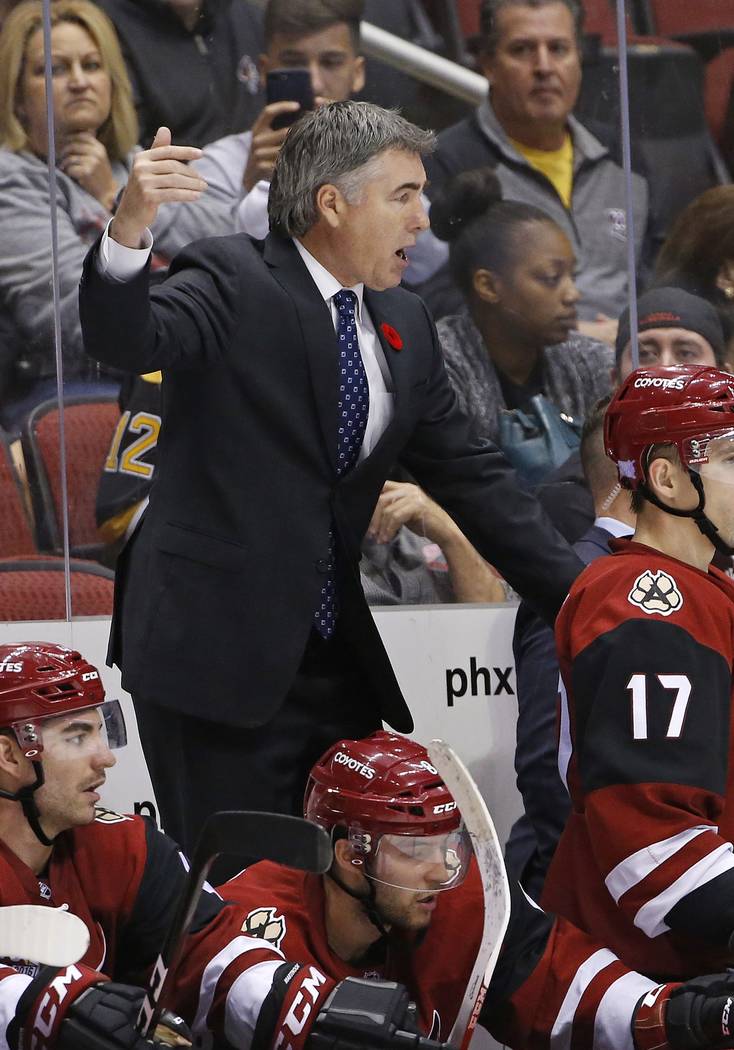 CHICAGO — While the hockey world was fixating on Las Vegas and what the Golden Knights were doing in the NHL Expansion Draft, weird things were happening in another part of the Southwest.
The Arizona Coyotes were in full reboot mode. Andrew Barroway bought out his partners and took over full control of the franchise. On Monday, he informed team captain Shane Doan, the face of the franchise and clear-cut fan favorite, that his services no longer were required.
But it didn't end there. On Thursday, Dave Tippett, the team's longtime coach and vice president of hockey operations, was suddenly out. The news release said the two sides agreed to mutually part ways.
Sure they did.
This all came in the wake of the NHL Entry Draft. The Coyotes traded their seventh pick in Friday's first round to the New York Rangers, obtaining Antti Raanta, who will replace Mike Smith in goal, and center Derek Stepan.
It's clear Barroway has a different vision of the franchise's future. Does it mean 27-year-old general manager John Chayka has full control?
It was eight tough years as coach for Tippett. The external issues with management, arena talk, losing Don Maloney as his general manager a year ago and working with Chayka, who is big on analytics. Plus, a team that lost its heart and soul and popular goalie when Smith was dealt June 17 to Calgary.
Tippett was 282-257-83 with the Coyotes. He should have no problem finding a job.
Chicago proud
The NHL's move of the draft to Chicago was a huge success. Blackhawks fans turned out along with fans from the other 30 franchises.
Attendance was announced at 47,500 for the two days at the United Center.
Hamonic's new home
Islanders defenseman Travis Hamonic won't have to commute to Brooklyn anymore. The Isles sent Hamonic to Calgary on Saturday in a blockbuster deal that saw the Flames give up their No. 1 draft pick in 2018 and a No. 2 in 2018 and 2019. The 2019 second-rounder is a conditional pick.
The Flames get a top-four defenseman to play in front of Smith. The Islanders, who hope to re-sign captain John Tavares, now have two firsts and two seconds in 2018, expected to be a deep draft.
Golden Knights schedule
Closer examination of the Golden Knights' schedule reveals back-to-back games 11 times.
The first time is opening night Oct. 6 in Dallas, then at Arizona the following night. On Oct. 30 and 31, the team will stay in New York, playing the Islanders in Brooklyn, then the Rangers at Madison Square Garden.
The Knights are in Toronto on Nov. 6 and Montreal on Nov. 7. They will play San Jose on Nov. 24 at T-Mobile Arena, then travel to Arizona the next night.
The team will play Dec. 8 in Nashville, then travel to Dallas the next night. The Knights will meet the Ducks in Anaheim on Dec. 27 and the Kings at Staples Center on Dec. 28.
Vegas will play at St. Louis on Jan. 4 and at Chicago on Jan. 5. The Knights will head to Florida to play the Lightning on Jan. 18 and the Panthers on Jan. 19.
The team will play at Winnipeg on Feb. 1 and at Minnesota on Feb. 2. The Knights will play at the Kings on Feb. 26, then host Los Angeles on Feb. 27.
The final back-to-back games will be March 30 against the Blues and March 31 against the Sharks, both at T-Mobile Arena.
"They were very fair to us," Vegas general manager George McPhee said of the schedule makers. "We asked them to move a couple of things around, and they were able to help us."
This is the final edition of the Sunday NHL notebook until early September. Contact Steve Carp at scarp@reviewjournal.com or 702-387-2913. Follow @stevecarprj on Twitter.
Key free agents
The NHL's free agency period began Saturday. Here's five players who could be popular among teams:
— Washington D Kevin Shattenkirk ($5.2 million salary in 2016-17). Caps probably can't afford him. Other teams can.
— Montreal RW Alexander Radulov ($5.75 million). He's only 30 and a double-digit scorer (18 G, 54 points). He'll find a new home.
— Calgary D Michael Stone ($4 million). With Travis Hamonic now with the Flames, it's unlikely Calgary will re-sign Stone.
— Toronto F Brian Boyle ($2 million). Maple Leafs got good use of the 32-year-old veteran making run to playoffs. Could he be Vegas-bound?
— Philadelphia D Michael Del Zotto ($4 million). He's only 27. With the right fit, he's a productive guy.