Deryk Engelland rides out NHL career on Canadian prairie
November 17, 2016 - 11:21 pm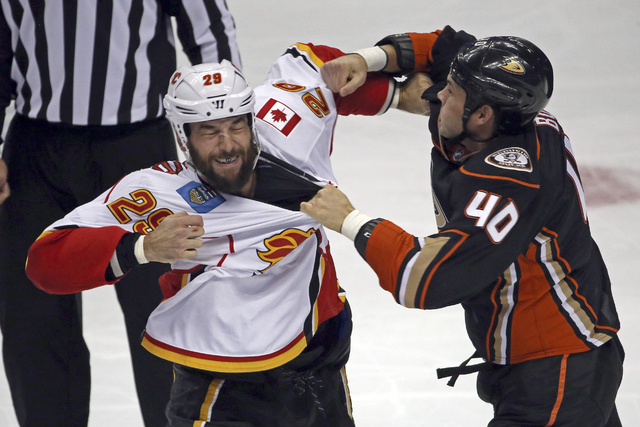 CALGARY, Alberta — For someone who came into pro hockey not being a great skater, Deryk Engelland has carved out an impressive career.
Don't look at the offensive statistics. The Calgary Flames' 6-foot-2-inch, 214-pound defenseman never claimed to be Bobby Orr. So his 19 goals and 74 points in eight NHL seasons isn't going to wow anyone.
But here's a number that tells the tale of Engelland's NHL career: 406 games played. Not bad for someone who was trying to gain a foothold with the Las Vegas Wranglers of the ECHL during the 2003-04 season.
"I always took pride in trying to be the best player I could," said Engelland, who played two seasons for the Wranglers. "I knew I had to be a better skater if I was going to make it to the NHL. But Jeff Sharples helped me a lot when I was in Vegas. It was an eye opener for me and got me going in the right direction.
"I'm still working on it. I'm trying to have quick feet. The coaches work with me after practice. So I'm very proud of what I've accomplished."
So is his coach, Glen Gulutzan, who also coached him in Las Vegas. Back then Engelland was in an enforcer's role, racking up 168 penalty minutes in the 2004-05 season.
But Gulutzan also saw someone who could use his size to help thwart the opposition's attack, whether it was winning battles in front of the net, blocking shots or making good decisions with the puck.
"He's come a long way," said Gulutzan, whose team is 7-10-1. "When we had him in Vegas, he was just learning the game. Here with the Flames, he's a reliable part of our defense, a great guy in our locker room and a great representative of the team in the community.
"I'm very proud of Deryk. He knew what he had to do to get better, and he worked at it. He's earned his way here."
Engelland, 34, still knows his way to the penalty box. He has 434 career penalty minutes, and he will drop the gloves when necessary, as was the case Tuesday in St. Paul, Minnesota, when he and Chris Stewart of the Minnesota Wild fought during the first period of the Flames' 1-0 win. As an established player, Engelland can afford to pick his battles these days.
"I think as you get older, you learn," Engelland said. "You want to be a good teammate and someone the coach can trust.
"For me, having Gully back coaching has been great. I love playing for him. And everyone in the (dressing) room has his back."
Gulutzan has been hearing it from the fans after the Flames started slowly. But with Calgary having won two straight and bringing a 7-10-1 record into Friday's game with Chicago at the Scotiabank Saddledome, perhaps the team can build off the momentum created earlier this week.
"We've got the talent to turn the season around," Engelland said. "It's still early."
Engelland has maintained a home in Las Vegas since playing for the Wranglers. He's likely to be left unprotected by the Flames in the June expansion draft. Could he find himself back playing in Las Vegas?
"You never know what can happen," he said. "I love it here in Calgary. It's a great place to play. But it's great they have a team in Vegas, and I'm looking forward to playing there next season, either as a visitor or whatever."
Contact Steve Carp at scarp@reviewjournal.com or 702-387-2913. Follow @stevecarprj on Twitter.