Despite losses, Golden Knights winning the ratings game
Updated June 5, 2018 - 5:08 pm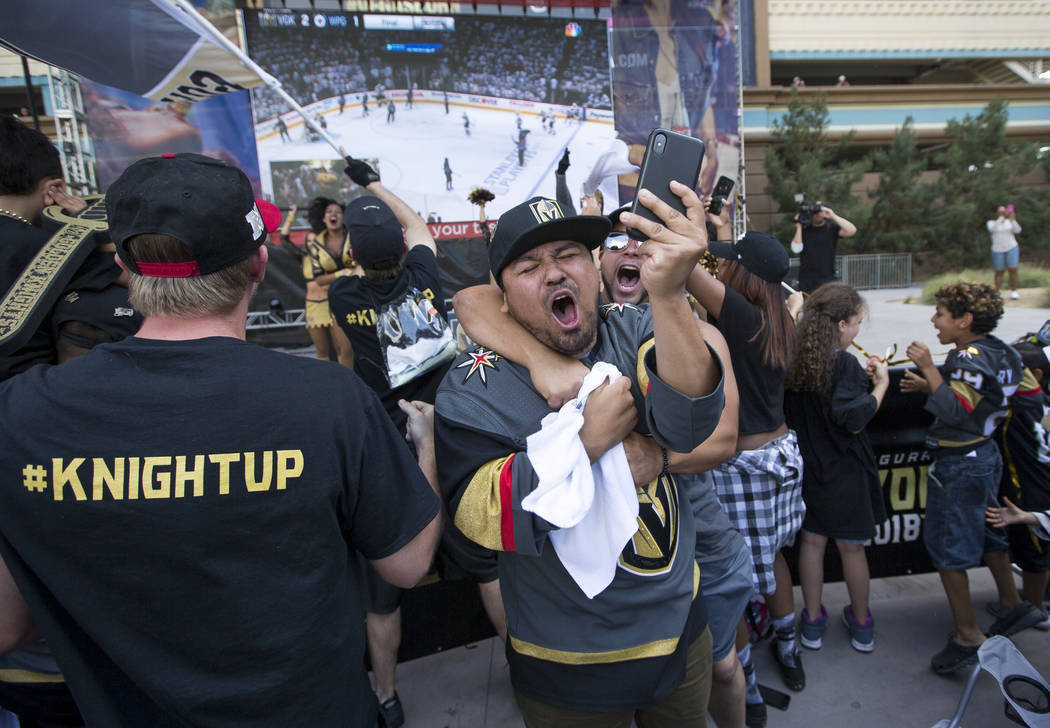 Sam Flood was rooting for a Game 7 of the Stanley Cup Final from the start.
It just took Game 2, Game 3 and Game 4 for Golden Knights fans to join him.
Flood, the executive producer who oversees all aspects of sports production for NBC and NBC Sports Network, can't get enough of the ratings the team is generating during its historic postseason run. "You think of any comparatives," he said, "there are none."
Even after the Knights' first three-game losing streak of the playoffs, Monday's Game 4 broadcast on NBC earned a 20.5 local rating, meaning of all the households in Las Vegas with televisions, 20.5 percent of them were watching.
That's down from the astonishing 28.1 local rating for Game 1, also on NBC, although Washington's 3-0 first period outburst en route to a 3-1 series lead likely contributed to the decline. Game 2 and Game 3 drew local ratings of 19.8 and 18.3, respectively, on cable's NBCSN, which is available in far fewer homes.
"I think the Vegas numbers are in a league of their own," Flood said. "This is a remarkable story, and there's no question it's changing how a nontraditional hockey market can be viewed. Last year, Nashville was a first-time finalist in a nontraditional market, and we saw real potential there."
By comparison, for its inaugural Stanley Cup Final game in 2017, Nashville had a 22.5 local rating.
"It's unbelievable," said Larry Strumwasser, general manager of local NBC affiliate KSNV-TV, Channel 3. "What's impressive, if you look at Washington's (Game 1), we crushed them. They did a 16 rating, and we did a 28. It just goes to show how this town has taken to the Vegas Golden Knights."
As the Capitals have taken control of the series, though, their local ratings have continued to rise. After a slow start, Washington's viewership finally surpassed Las Vegas in Game 4 with a 22.9 rating.
Of the cities with teams competing in the five most recent Stanley Cup Final openers, only Pittsburgh, the hockey-mad city whose Penguins date back to the NHL's original expansion in 1967, had higher local ratings than Las Vegas' 28.1 with a 35.7 in 2017 and a 30.9 in 2016. The three lowest-rated markets during that stretch were New York (10.1, 2014), Los Angeles (7.1, 2014) and San Jose (5.3, 2016).
"The only number that will exceed the Golden Knights is the Super Bowl," Strumwasser added. February's Super Bowl LII, also on NBC, drew a 42.6 rating in Las Vegas.
Local viewership of other big events on NBC wasn't even close. The opening ceremony of the 2018 Winter Olympics had a 17.7 rating, while the opening of the 2016 Summer Games did a 15.7. "Sunday Night Football," the third-most-watched show of the season, averaged a 13.3 rating, and "Thursday Night Football" averaged a 9.7. NBC's "This Is Us," the season's most-watched drama, scored a 16.8 rating locally for its post-Super Bowl episode, while a typical airing had a 6.4.
The last time any series finished a season with a national rating higher than Game 4's 20.5, it was 1998 when "Seinfeld" averaged a 22.0. To top Game 1's 28.1, you have to go all the way back to 1987 with "The Cosby Show" (34.2) and "Family Ties" (32.7).
Flood, a 21-time Emmy winner, called the local ratings "impressive and a bit surprising. But when you realize what this team has done, and what it's meant to the community, it makes more sense when you take a step back and look at the void this team filled and the bond this city has created around the team."
Now the Knights just have to find a way to extend their unprecedented season beyond Thursday's Game 5 at T-Mobile Arena.
"We always root for seven games, because it is the most drama in all of sports," Flood said. "Can you imagine what a Game 7 would be like in Las Vegas? The scene inside and outside that building? We'll sign up for that right now."
So would most of Las Vegas.
More Golden Knights: Follow all of our Golden Knights coverage online at reviewjournal.com/GoldenKnights and @HockeyinVegas on Twitter.
Contact Christopher Lawrence at clawrence@reviewjournal.com or 702-380-4567. Follow @life_onthecouch on Twitter.
Stanley Cup ratings
The Golden Knights are proving to be a popular television draw outside the valley as well.
Overall, the 2018 Stanley Cup Playoffs are the most-watched in 21 years.
Ten markets — Buffalo, Chicago, Dallas, Los Angeles, Minneapolis, Nashville, Pittsburgh, Salt Lake City, St. Louis and Tampa — recorded their highest local ratings for a Stanley Cup Final Game 1 on NBC that didn't involve their team.
NBC Sports executive producer Sam Flood credited "the curiosity that Vegas has brought for the rest of the country."
"People want to see what this crazy knight does before the game," he said. "There's a group of people who can't stand it, and they watch because they're mad about it. There's a group of people who just think it's the quirkiest, coolest, funnest, most unique way to start a hockey game. So it touches all the bases, and it makes people watch."