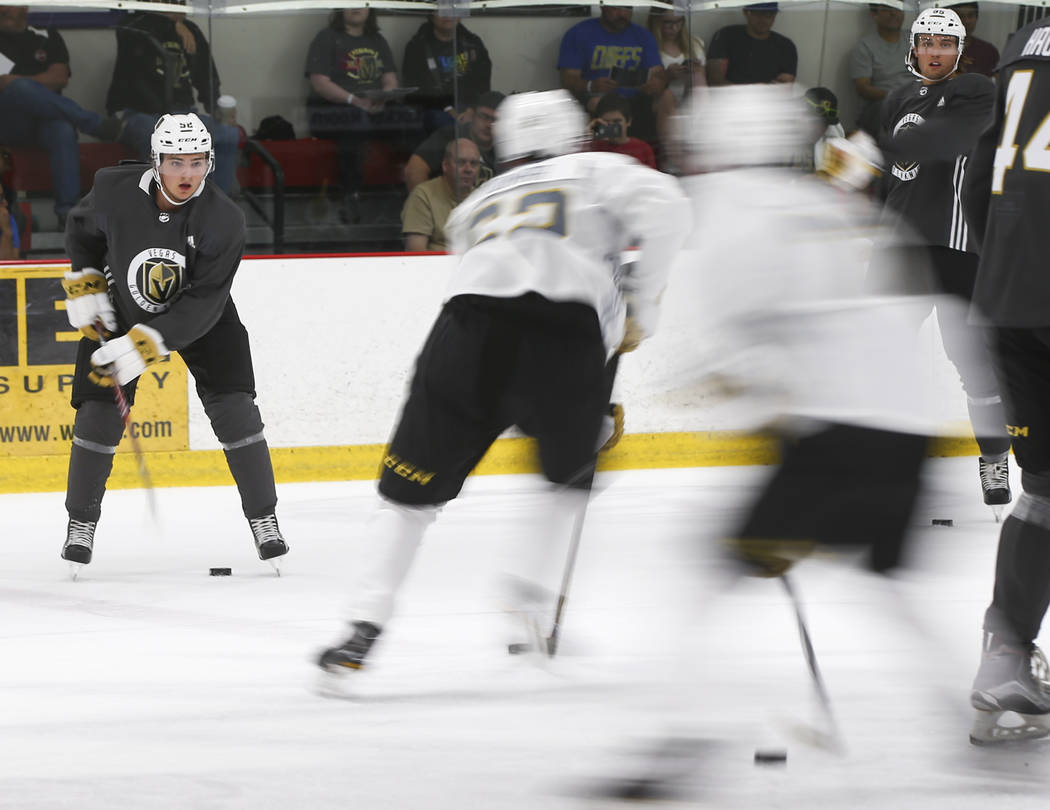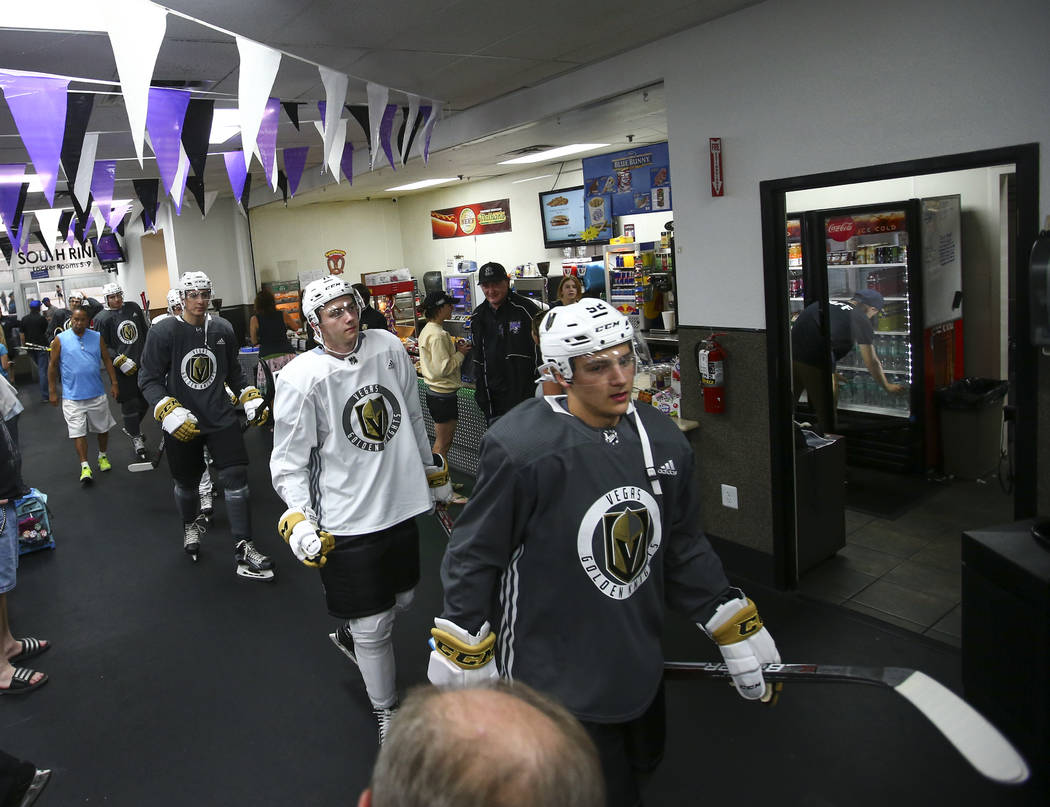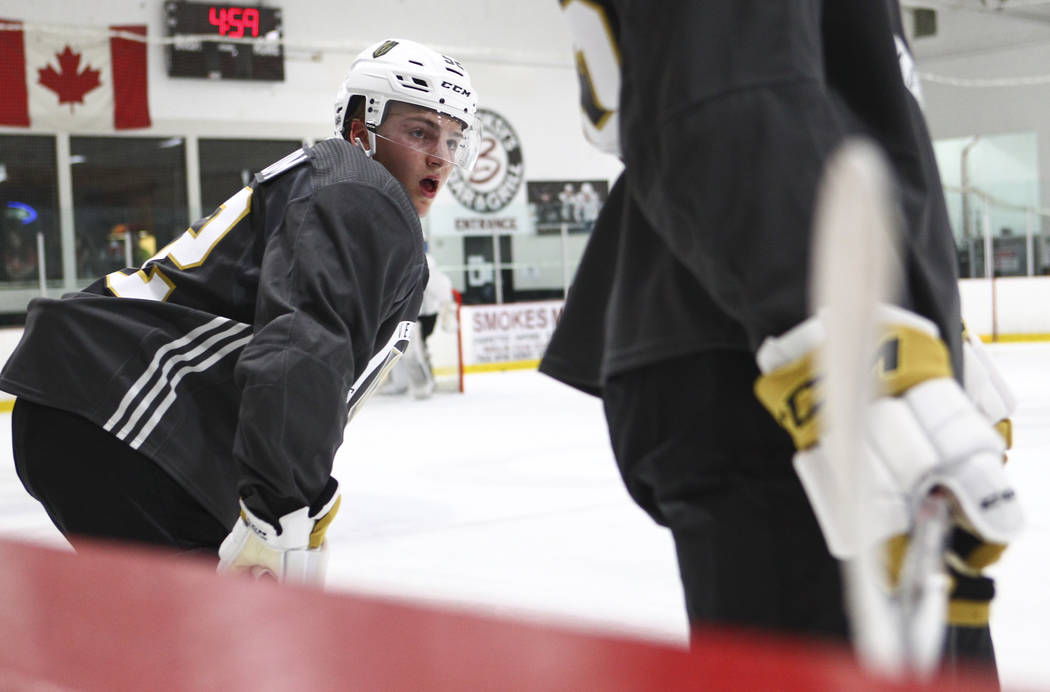 There were 45 players on the ice Tuesday when the Golden Knights opened their five-day development camp. And at 5 feet 10 inches tall, Erik Brannstrom was among the smaller skaters.
But when it's all said and done, Brannstrom hopes to be one of the biggest reasons the Knights compete for and someday win a Stanley Cup. The 17-year-old defenseman from Sweden, who was selected in the first round of last Friday's NHL Entry Draft as the 15th overall pick, has big plans.
"This is a great opportunity, to be with this team," Brannstrom said after the first-day workout at the Las Vegas Ice Center. "There's a lot of good players here."
He could be seen on the ice cozying up to Cody Glass, the center from the Portland Winterhawks who the Knights selected with their first-ever draft pick at No. 6 overall. Together, they, along with Nick Suzuki, Nicolas Hague and Jake Leschyshyn, will form part of the core of what the Knights hope will one day be a championship team.
Yet at 5-foot-10, it begs the question, why isn't Brannstrom playing center? He skates well enough. He has a quick release on his shot. Why stay on the blue line and absorb punishment and block shots and do battle with 6-foot-4 guys in the corners?
"My dad thought I'd be better off playing D," Brannstrom said. "He thought it would be better for my game given what my skills were."
The Knights weren't scared off by Brannstrom's size when they drafted him with their third first-round pick last week.
"There's a lot we like about him," said Bob Lowes, the team's assistant director of player personnel who has seen Brannstrom play in person several times. "He has high-end skill. He has a high hockey IQ. He has played against older players and dominated.
"We also like that he's strong on his skates and he doesn't shy away from contact. He'll take you on, but he does it in a smart way. He's also very good in transition and moving the puck and supporting the play, which is what today's NHL defensemen do."
Lowes said Brannstrom's game is similar to Nashville's Ryan Ellis and Boston's Torey Krug, who are smallish defensemen at 5-foot-10 and 5-foot-9, respectively. But Brannstrom said he models his game after Ottawa's Erik Karlsson, who's just 5-foot-11 but plays much bigger and is a national hero back in Sweden.
But before there's comparisons to Karlsson, Brannstrom has a lot of work to do. He says he needs to be faster. He also needs to get stronger and move the puck faster.
"The players here are very fast," he said. "Everything moved quickly (Tuesday)."
Lowes said the team is not going to rush Brannstrom, who doesn't turn 18 until Sept. 2. He'll go back to Sweden and play for HV71 Super Elite, his team from last year.
In Sweden, players get promoted to older teams if they show the ability and maturity to handle it. Brannstrom spent a good part of last year playing with 20 year olds.
"I think it helped me mature faster playing against older players," he said of playing with the Elite team. "I learned a lot. It helps you make smarter decisions because everything is moving faster than when you play against players your own age.
"My size wasn't a factor because I tried to be smarter than the bigger players and not get in trouble."
Even Tuesday's triple-digit heat didn't bother Brannstrom, who was making his first visit to Las Vegas.
"It's hot, but once you're inside the rink, everything is fine," he said.
Lowes is right. Brannstrom is a smart kid.
Contact Steve Carp at scarp@reviewjournal.com or 702-387-2913. Follow @stevecarprj on Twitter.
Erik Brannstrom file
— Position: Defense
— Height/weight: 5-foot-10/170 pounds
— Age: 17
— Drafted: First round, No. 15 overall, 2017 NHL Entry Draft
— Hometown: Eksjö, Sweden
2016-17 Team: HV71 (Swedish Hockey League)
— 2016-17 statistics: 9 goals, 14 assists, 23 points