Fleury, Golden Knights blank Nashville 3-0
January 2, 2018 - 9:42 pm
Updated January 3, 2018 - 10:12 am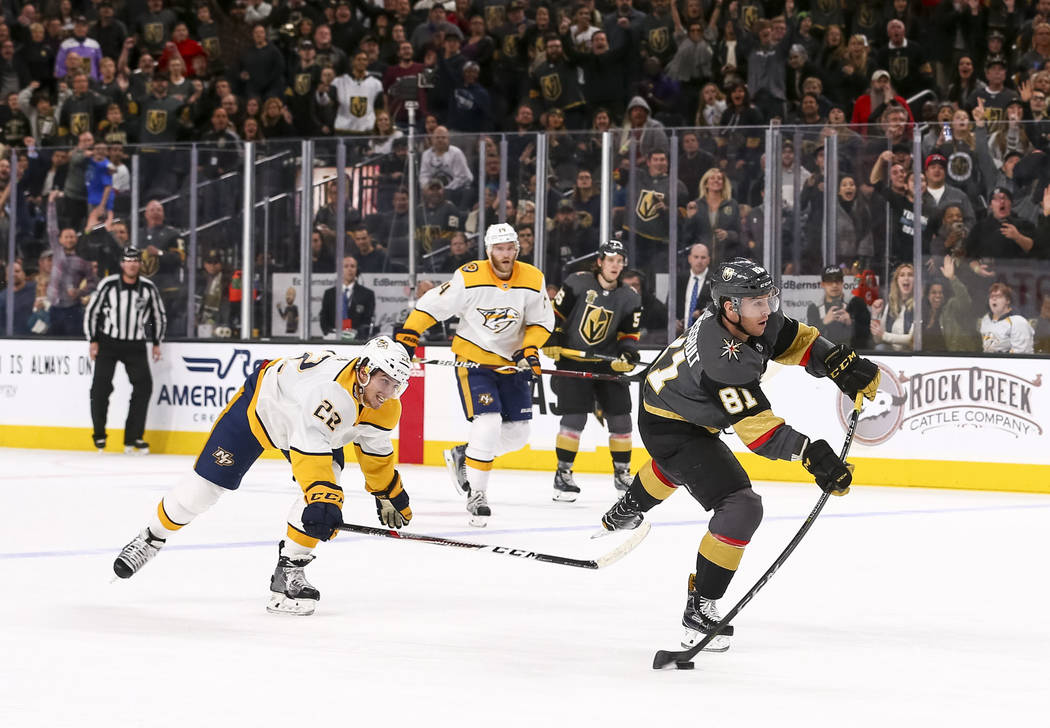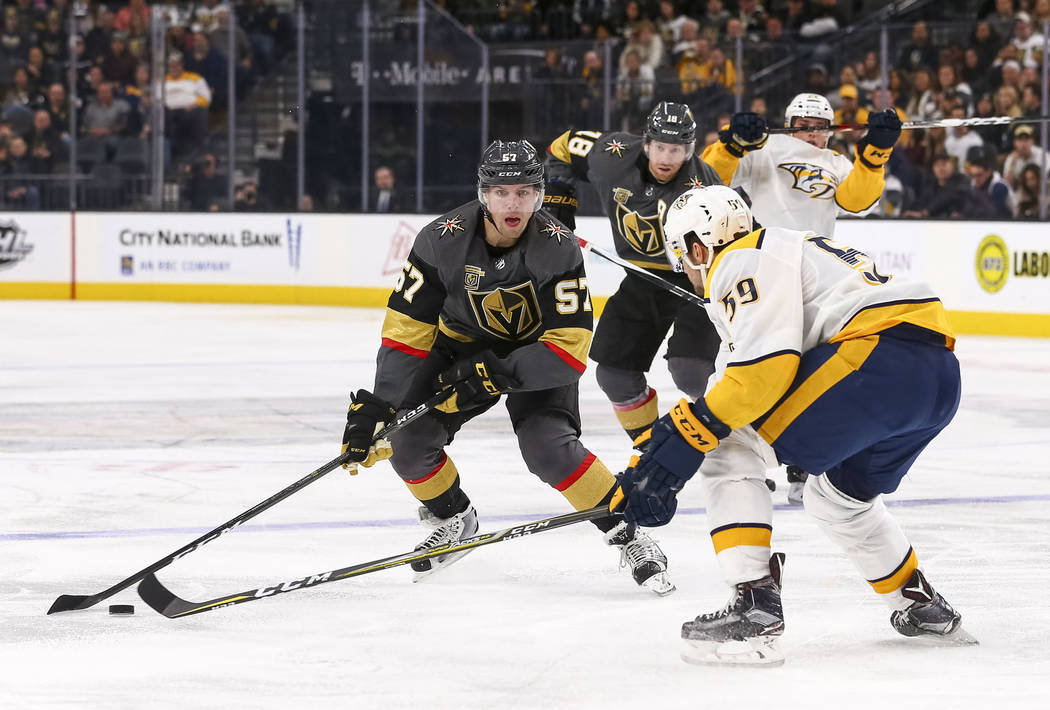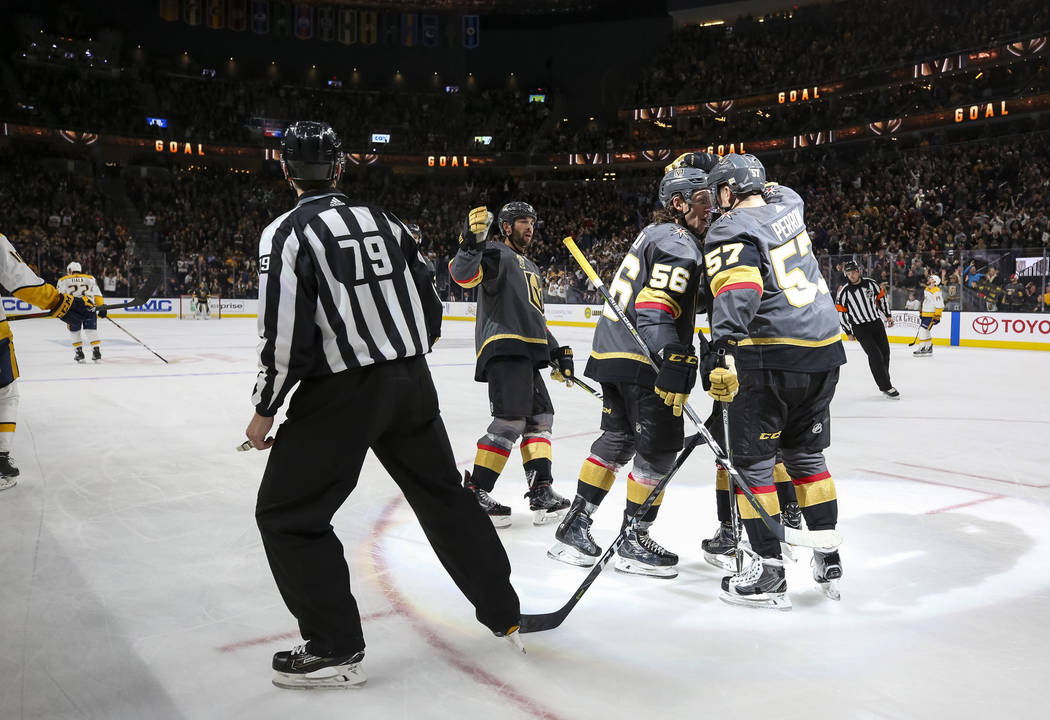 Wondering what playoff hockey is like?
The 18,171 fans inside T-Mobile Arena Tuesday witnessed in early January what goes on in mid-April as the Golden Knights outworked and held off the Nashville Predators 3-0 for their eighth straight win and 27th victory of the season in what was only their 38th game as a franchise.
"It was pretty intense," said defenseman Shea Theodore, who scored the middle of the Knights' three goals. "It definitely felt like a playoff game."
Marc-Andre Fleury, who knows a little something about life in the postseason (three Stanley Cup rings), turned aside all 28 shots he faced for his second shutout of the year and 46th of his career.
"Yeah, it was a tight game, not a lot of room," Fleury said. "I was trying to be relaxed and just stop the puck.
"They're a good skating team and the guys did a good job in front of me."
If this had been a playoff game, everyone would be saying how Fleury stole the win. He made several spectacular stops, including early in the second period when the Predators made a strong push, and had an 11-2 edge in shots on goal over the first eight minutes.
"Our goaltending has been unbelievable all season," Knights coach Gerard Gallant said. "He's the face of our franchise and he kept us in it. He stood on his head and gave us a chance to get the lead."
Reilly Smith and Theodore scored second-period goals 90 seconds apart and that was more than enough for Fleury to work with. Both goals were somewhat fluky — Smith's going off the leg of Nashville goaltender Pekka Rinne and into the net, Theodore's a slap shot from the blue line that was spinning and got through Rinne's pads and trickled over the goal line.
"I think when you're winning, you have that kind of luck," Smith said. "I was just trying to throw it to Tucher (Alex Tuch) and it went off (Rinne) and in.
"But I thought we worked hard all game and we created some good chances for ourselves. 'Flower' (Fleury) was 'Flower.' He's so experienced and he's played in so many big games. He was there when we needed him."
Jonathan Marchessault added an empty-net goal with 2:23 to go to seal the win. But the Predators were already a beaten team before the empty netter. Fleury stopped everything, be it from the point, from close in or poke-checking the puck off a pass from Nashville right wing Colton Sissons in a 2-on-1 in the second period.
How frustrated were the Predators? Left wing Scott Hartnell slammed his stick against the end boards after Fleury stopped his shot from the slot with just under 12 minutes remaining. It was that kind of night for Nashville.
"There were a couple of a good looks, a couple of scrambles, but most of the time he was in position already before I was shooting," said Predators right wing Craig Smith, who was denied three times by Fleury. "It was difficult, but he didn't necessarily have to go out of his jock to make a save. He made some good saves, but it's easy when a guy's set and he comes out at you."
That's what happens when things are going good. And for the Knights, who at 27-9-2 continue to lead the Pacific Division and have the best record in the Western Conference with 56 points heading into back-to-back road games at St. Louis Thursday and Chicago Friday, life is indeed good.
"You just want to move on and keep it going," Smith said.
Just like in the playoffs.
Contact Steve Carp at scarp@reviewjournal.com or 702-387-2913. Follow @stevecarprj on Twitter.