Fleury sensational as Golden Knights defeat Penguins, 2-1
December 14, 2017 - 9:44 pm
Updated December 14, 2017 - 11:39 pm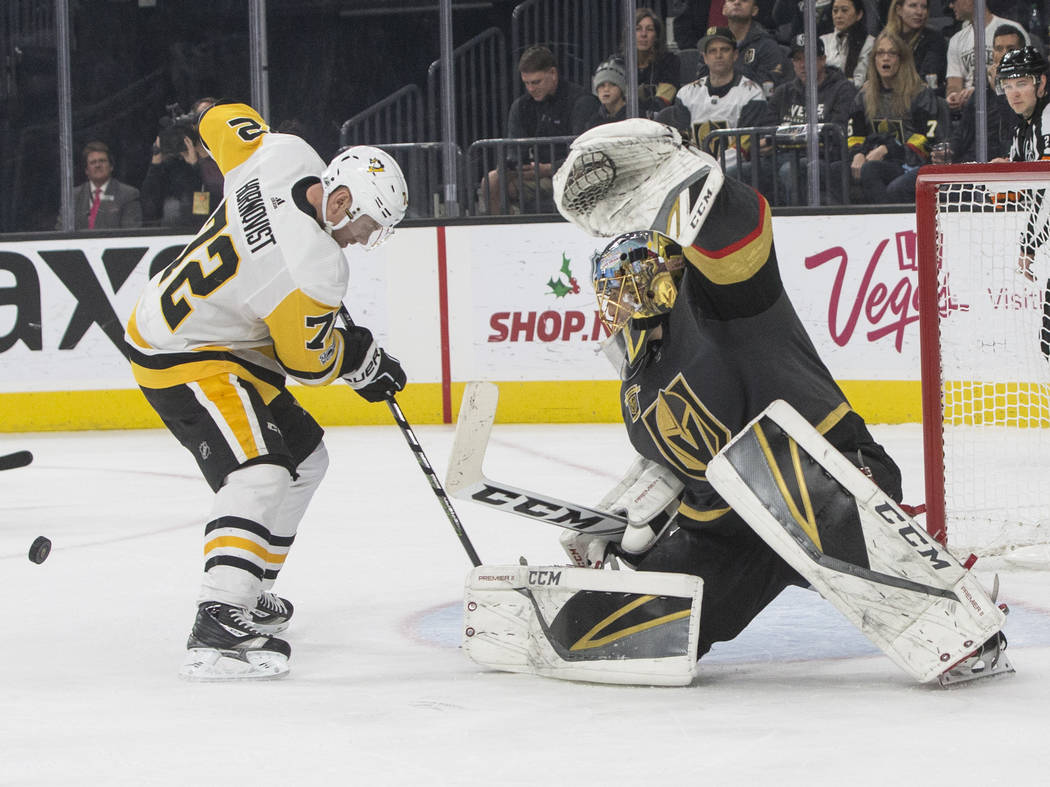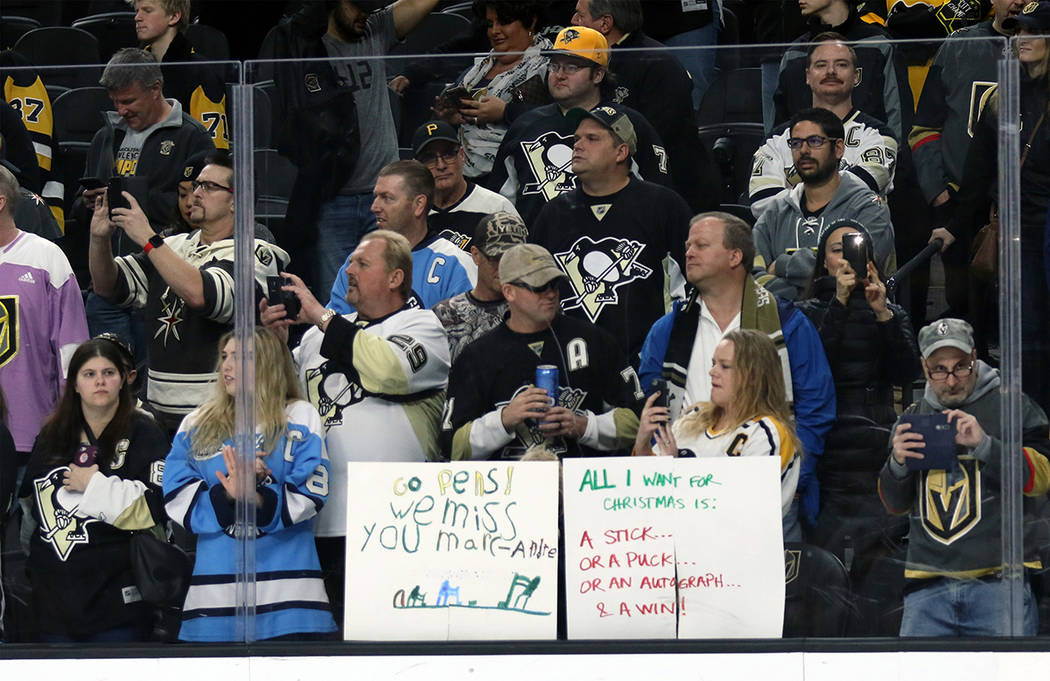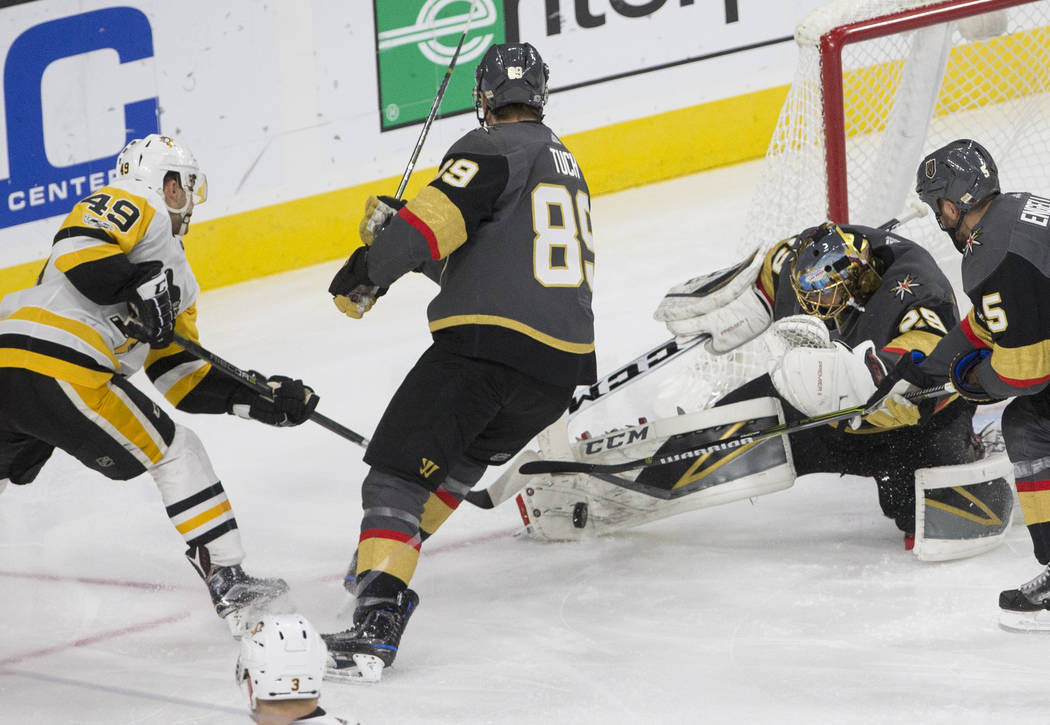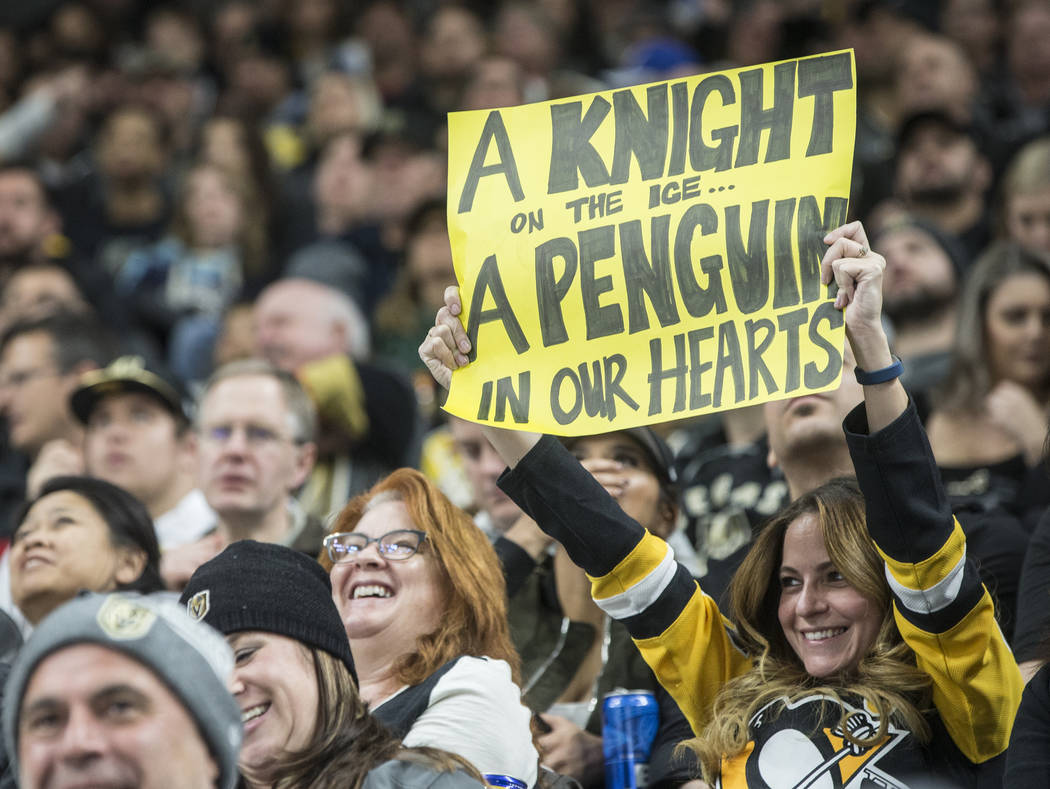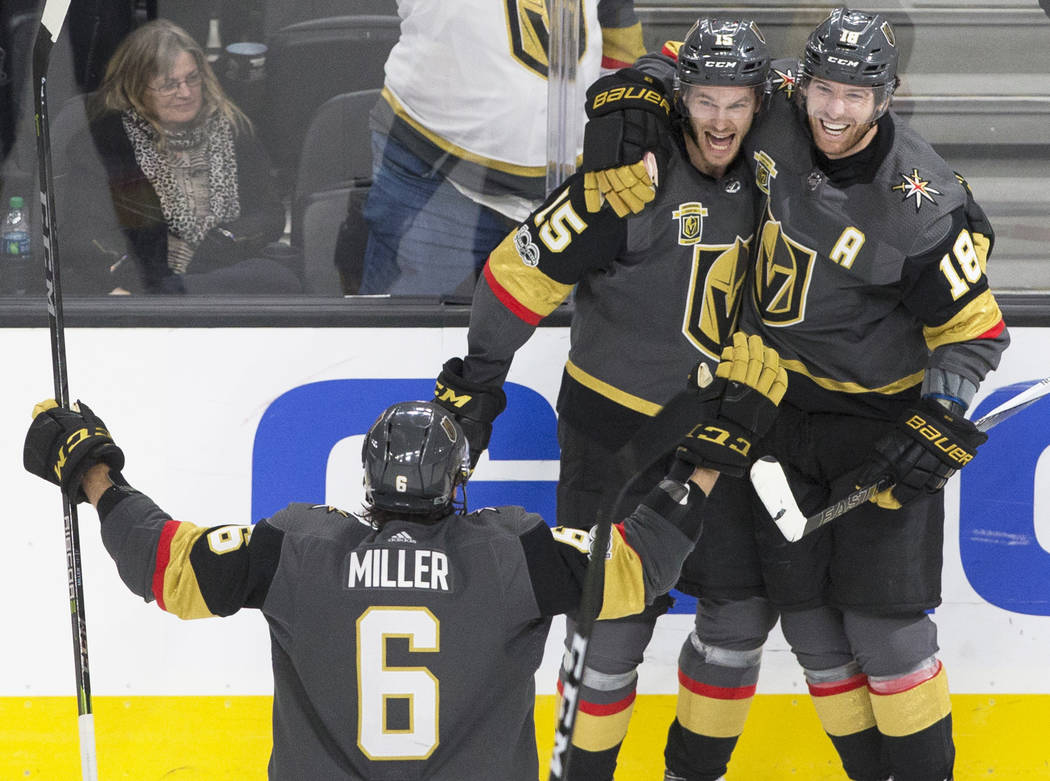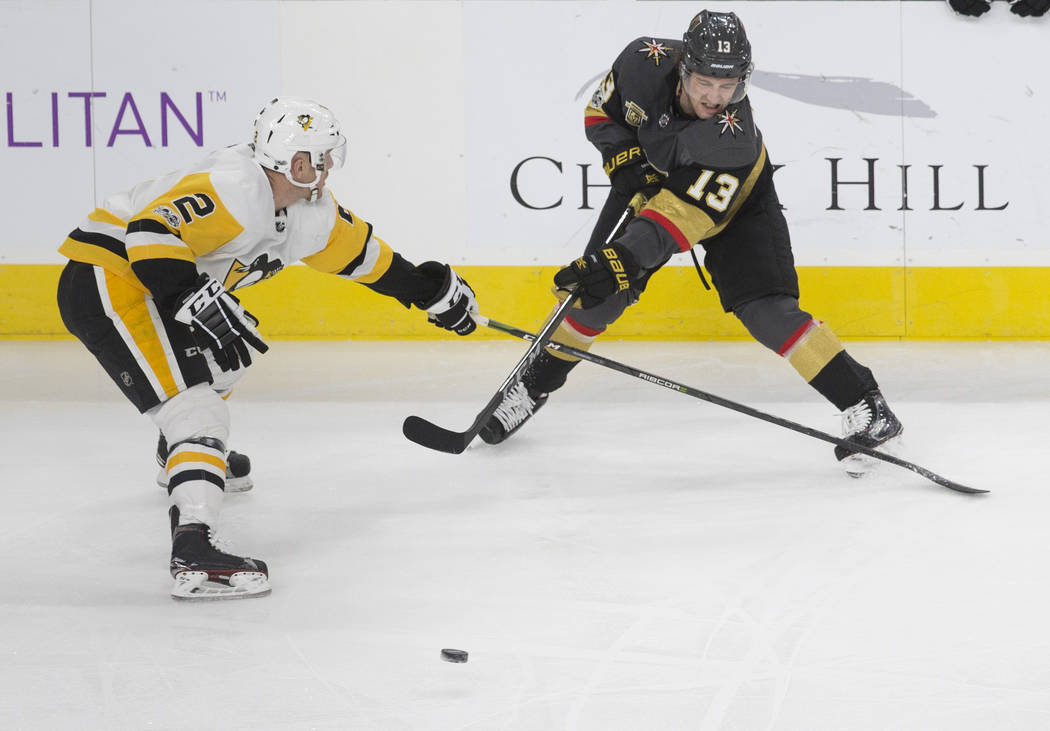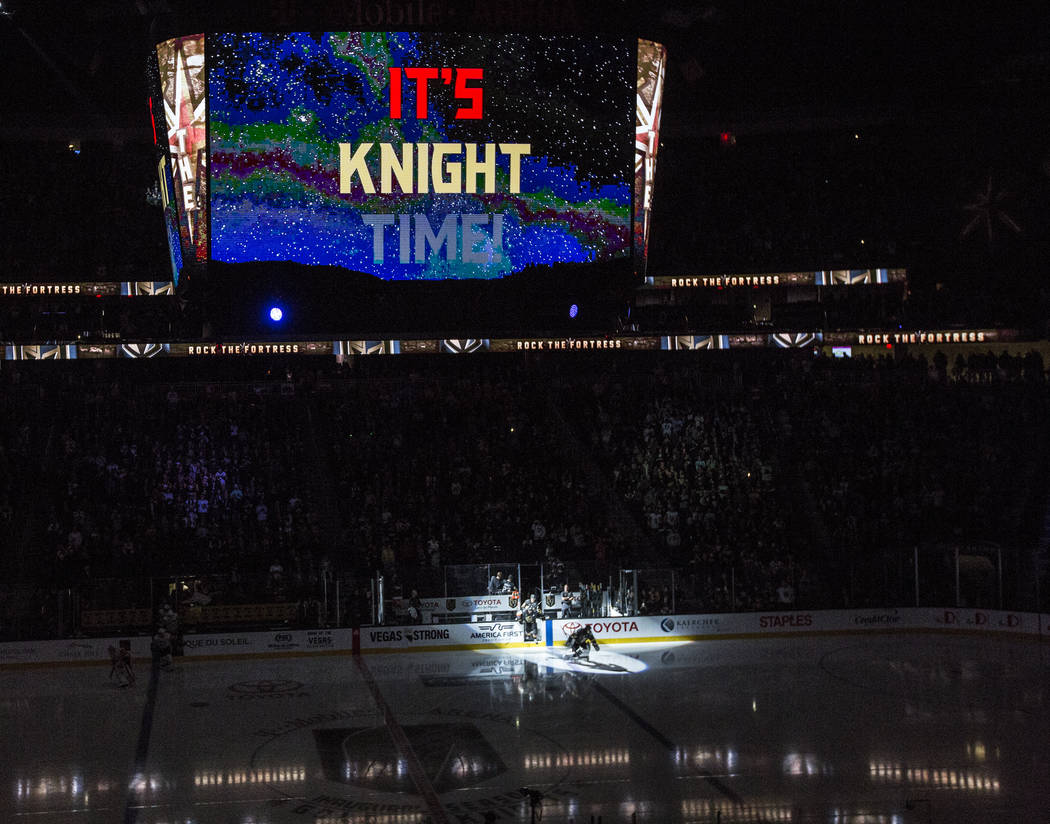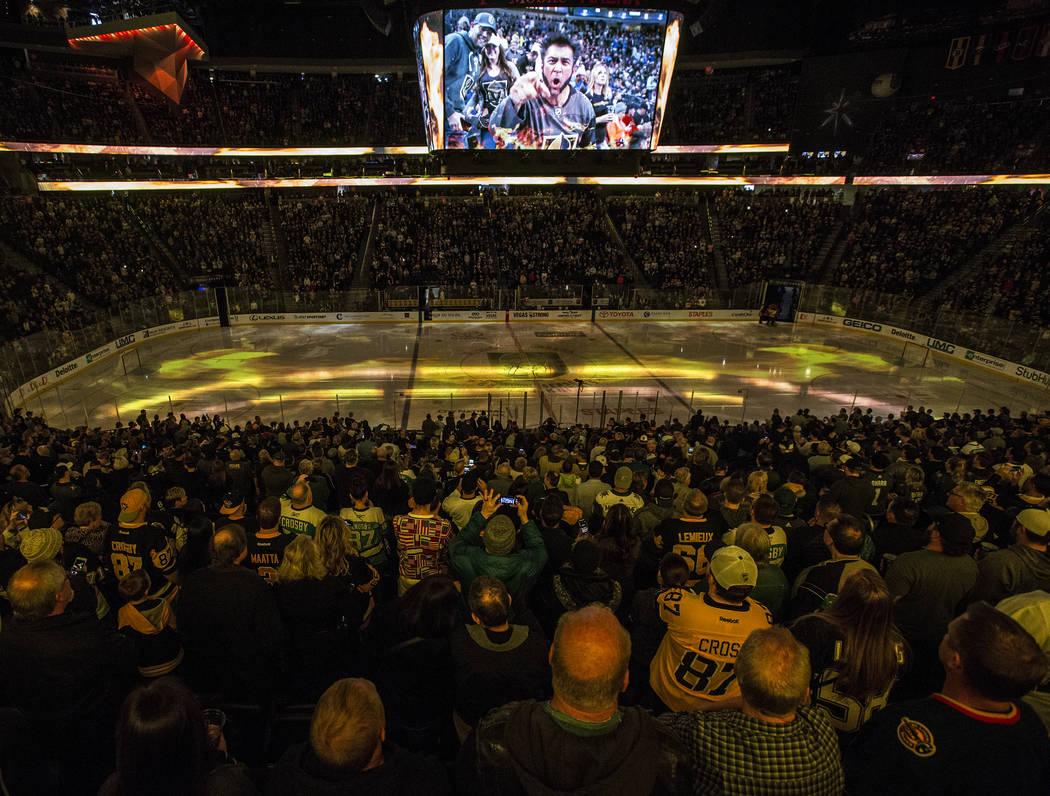 There were a couple of heroes in the Golden Knights' 2-1 win over the Pittsburgh Penguins on Thursday at T-Mobile Arena.
One was goaltender Marc-Andre Fleury. But you expected that, as he stopped 24 of 25 shots and made several spectacular saves against his former teammates and defending Stanley Cup champions. Fleury was Pittsburgh's selection by the Knights in June's NHL Expansion Draft.
The other hero was Jon Merrill, the seldom-used defenseman who broke a 1-1 tie 8:17 into the third period for what would be the game-winning goal, sending a good portion of the sellout crowd of 18,029 home happy.
The win, the Knights' 20th of the season in just 31 games as a franchise, set an NHL record for fastest to 20 wins by a first-year team. And Fleury's play in net, in what was just his second game back after missing 25 games with a concussion, was the difference as he outdueled his counterpart Matt Murray.
"A bit relieved," Fleury said. "I've been thinking about this game for a little bit. I had no clue what to expect. It was different."
Coach Gerard Gallant was happy for Fleury and even happier for Merrill, who was playing in only his sixth game of the season.
"Fleury was great, and I'm sure he's glad to put this one behind him," Gallant said. "It was a huge game for him, and it was a fun game.
"Jon has been a good soldier for us. Our bench was really happy for Jon, and I was happy with the way he played even if he hadn't scored."
Merrill, who had taken two penalties prior to delivering the game-winner and the first of this year, has only seven career goals. But he said this wasn't the first time he has been a hero.
"Most of my goals have been game-winners," Merrill said. "But this one was huge. It was a big win for us."
The Knights took a 1-0 lead just 1:41 into the contest as James Neal beat Murray from close range after Murray stopped Colin Miller's shot from the point.
"It's always good when you get the first one early," said Neal, who registered his 15th of the year, tying him with William Karlsson for the team lead in goals. "It definitely seemed to give us a boost."
But the Penguins pulled even later in the first period when Ian Cole took a pass across the front of the Knights' net from Carl Hagelin and put it over Fleury at the 12:04 mark. They had some great chances to beat Fleury again, but Fleury repelled their best efforts, including a spectacular save on Brian Dumoulin with 5:45 to play in the second period. Fleury dove across his crease and stymied Dumoulin, who was all alone at the left post and was staring at an empty net.
He had also made a thrilling play in the first period, coming out of his net to nearly the top of the faceoff circle to poke-check the puck away from an onrushing Conor Sheary.
It was a tough loss for Murray, who was making his first start after missing six games with a lower-body injury. He stopped 24 of the 26 shots he faced, and most nights that would have been good enough to win.
"I need to be a little bit crisper and a little bit more assertive maybe," he said. "My puckhandling was a little bit hesitant. That second goal, I think, I've got to stop that one. Not bad by any stretch, but mediocre I think is a good word."
He and Fleury met at center ice during pregame warmups and shared a hug.
"I just said, 'Miss you in the room. Glad that you're healthy,' stuff like that," he said. "Obviously we were pretty close, and he's a big mentor for me while we were playing together. I just wanted to let him know I missed him, I guess."
His new team missed him more, and Fleury delivered.
"I'm glad it's behind us, and I'm glad we got the win," Fleury said.
Contact Steve Carp at scarp@reviewjournal.com or 702-387-2913. Follow @stevecarprj on Twitter.