For Golden Knights' top prospects, the future is now
Updated September 11, 2018 - 9:01 pm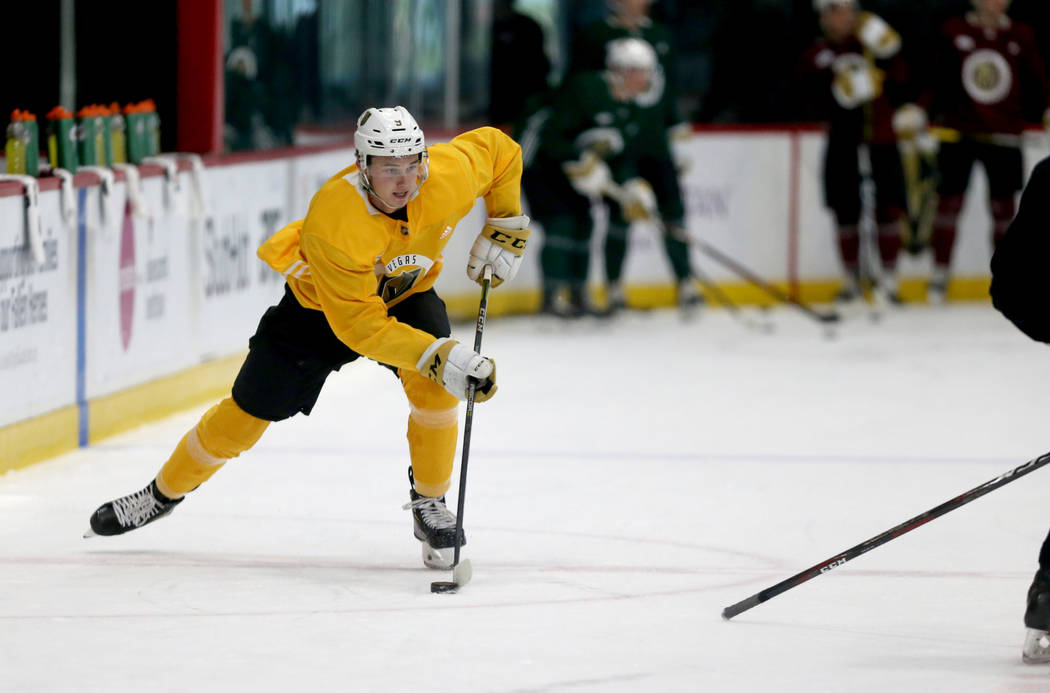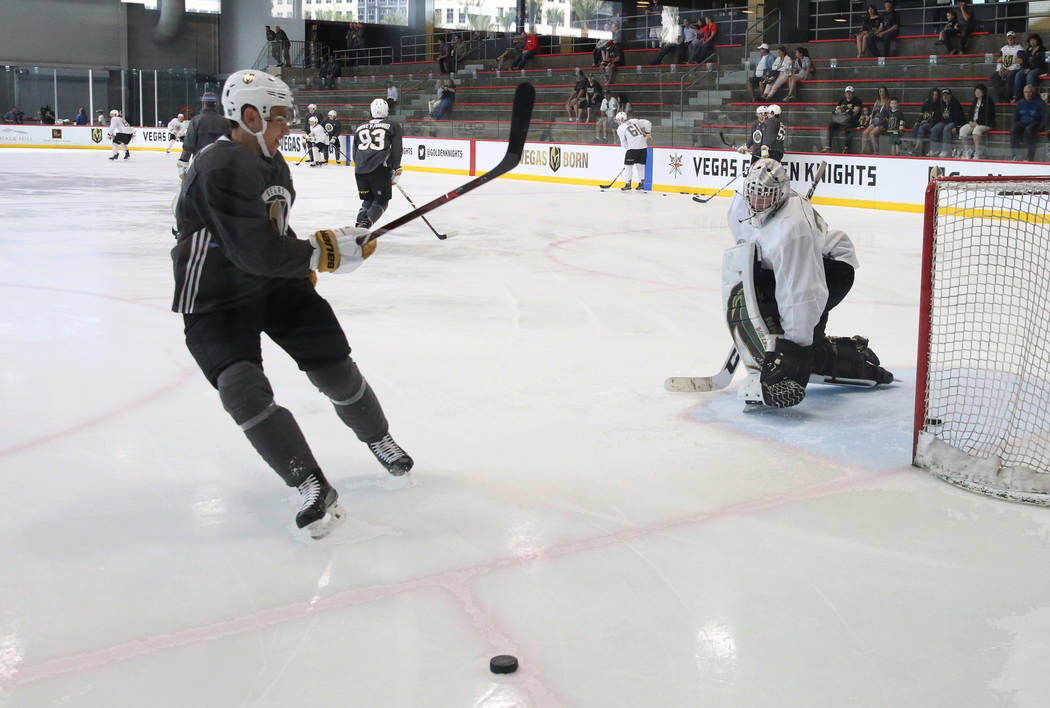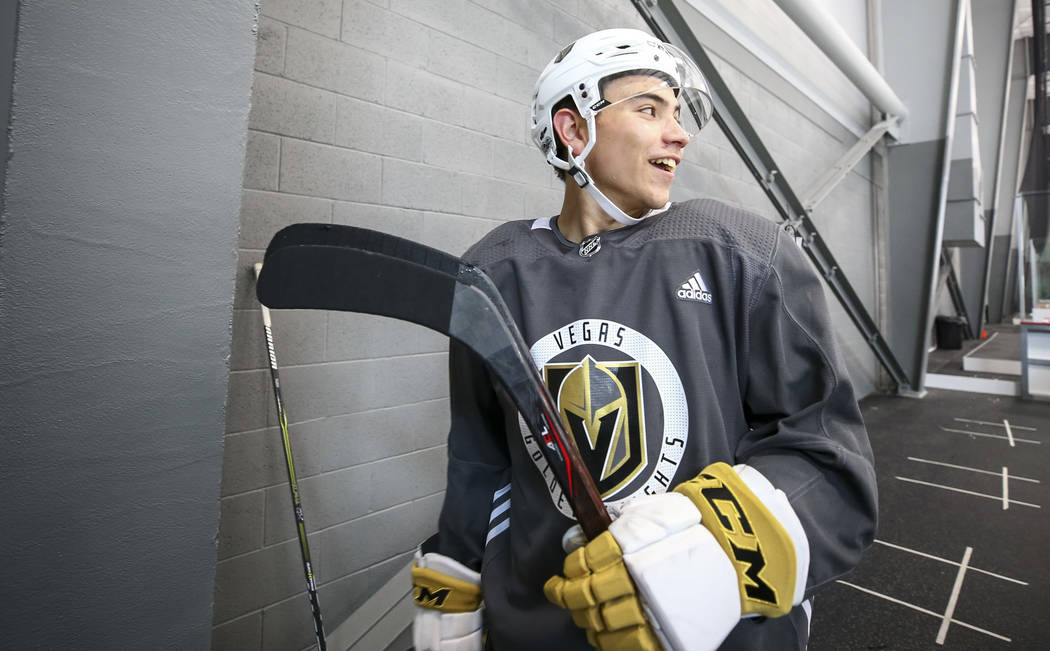 In the final two minutes of Sunday's game against San Jose at the Vegas Rookie Faceoff, Golden Knights fans were treated to a glimpse of the team's future.
For the first time, Erik Brannstrom, Cody Glass, Nicolas Hague and Nick Suzuki — the jewels of the 2017 draft class — were on the ice together during a competitive game, as the Knights tried to rally from a three-goal deficit.
The cruel plot twist, of course, is that it won't happen again.
With Suzuki off to Montreal as part of the trade for Max Pacioretty, the Knights' Foundation Four is down to three.
But the journey toward the NHL continues for the remaining members, bolstered by the friendship that's formed over the past year.
"We all have the same dream. We all want to play pro. We all want to win championships here in Vegas," Hague said prior to Sunday's blockbuster deal. "To share that whole experience and go through it every step of the way with those guys, it's cool to kind of grow with those guys."
Close but far apart
Despite playing in different junior leagues — and in the case of Brannstrom, a different country — the group bonded in development camp last summer and stayed in touch throughout the season.
They grew closer during the Knights' playoff run when they were part of the reserve "Black Aces."
"We've pretty much been through everything together," Glass said.
Unlike a year ago when they were learning to navigate professional hockey, Brannstrom, Hague and Glass enter training camp this week hoping to make the Knights' 23-man roster.
The Knights face uncertainty on the blue line with Nate Schmidt suspended for the first 20 games of the regular season and restricted free agent Shea Theodore still unsigned.
Up front, the third line appears unsettled with a spot on the wing potentially up for grabs.
The collective bargaining agreement allows players on an entry-level contract to appear in nine NHL games before being returned to their junior team, otherwise their NHL service time begins.
"It's all based on performance," general manager George McPhee said. "We'll see how they do in the rookie tournaments, and we'll graduate from there and see how they do in the big camp and make decisions at the end of camp.
"We know what 95 percent of the team is going to look like, typically. And there are always a few jobs around the edges that might be available."
Where to this season?
Brannstrom and Hauge might have the best shot to make the team since they are defenseman.
Brannstrom displayed his smooth skating and poise with the puck throughout the Vegas Rookie Faceoff. His signature play came against Colorado on Saturday when he faked a slap shot, made a move around a defender in the high slot and whipped a shot into the top corner.
At 5 feet, 10 inches and 173 pounds, Brannstrom is undersized, but he played against professionals in the Swedish Hockey League and is quickly adapting to the smaller ice sheet in North America.
"I thought about (making the team) a little bit, but I just play good and do my best out there and not think about it so much," Brannstrom said. "I just think about my own performance, how I do every day. We'll see after that."
Hague, the defenseman of the year in the major-junior Canadian Hockey League, scored four goals in the opening two games of the rookie tournament and cuts an imposing figure at 6-6, 215 lbs.
Brannstrom and Hague are eligible to play in the American Hockey League and also can be returned to juniors, though the latter appears unlikely.
Glass, meanwhile, is not eligible for the minors based on an agreement that prohibits 19-year-old CHL prospects from playing in the AHL. (Hague turns 20 in December, while Brannstrom is subject to different rules as a European player.)
That means if Glass doesn't make the Knights, he will return to his junior team in Portland.
"Everybody's different. Everybody has their separate time to go in," Glass said. "I know (New York Islanders' Mathew) Barzal, he was mad he didn't make it as a 19-year-old. But you look at him as a 20-year-old, he won (rookie of the year) and had 85 points.
"Everybody has a different time that they'll make the league and when they'll start producing. I'm not too worried about anything right now. I know I have a good shot this year, I feel. I'm just going to try to prove it."
More Golden Knights: Follow all of our Golden Knights coverage online at reviewjournal.com/GoldenKnights and @HockeyinVegas on Twitter.
Contact David Schoen at dschoen@reviewjournal.com or 702-387-5203. Follow @DavidSchoenLVRJ on Twitter.