George McPhee says Golden Knights aren't done dealing
Updated June 27, 2019 - 7:12 pm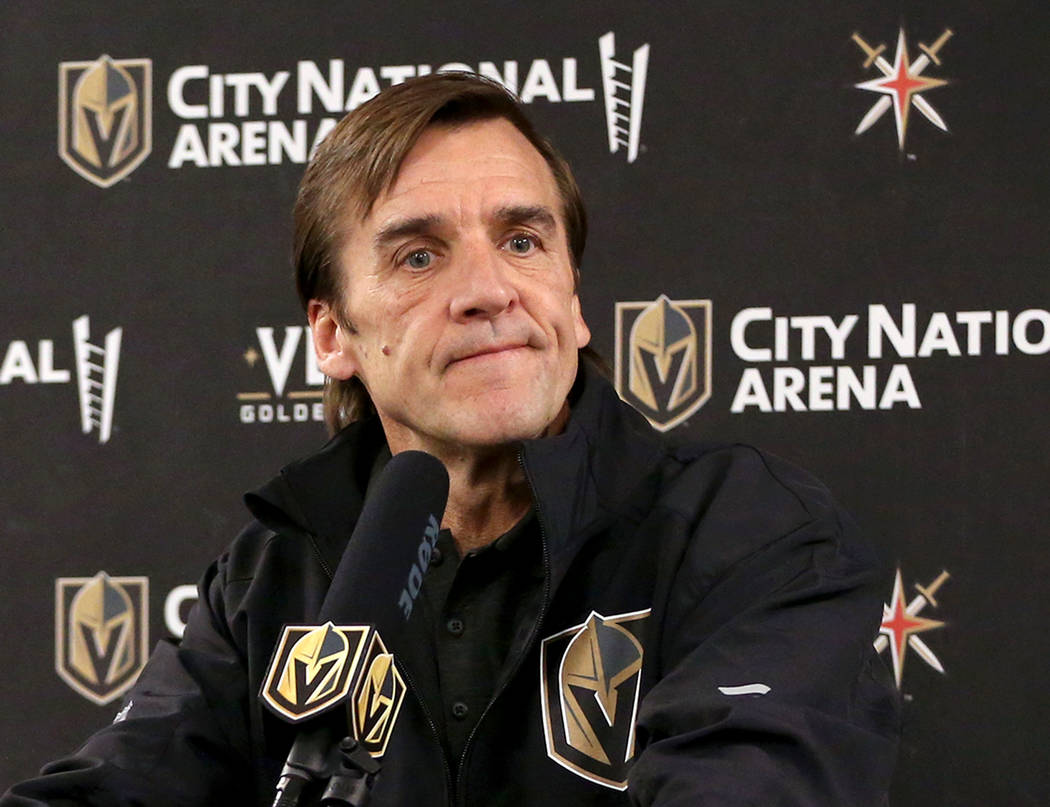 The Golden Knights are still exploring the trade market as they maneuver to get under the NHL's salary cap.
The day after trading forward Erik Haula to the Carolina Hurricanes for a prospect, incoming president of hockey operations George McPhee said his mission isn't complete. The Knights are approximately $4.775 million over the salary cap.
"We have a little more work to do," McPhee said Thursday during a news conference. "We'll see where things go in the next few days. We made a move yesterday, and there's probably another one coming. We'll talk about that when it happens."
McPhee said it was a difficult decision to trade Haula, an original member of the franchise who had a career year in the Knights' inaugural season before missing all but 15 games last season with a knee injury.
"The hardest thing for a manager in our sport, or a manager in any sport, is trading a player that you really like personally," McPhee said. "It's a hard thing to go through. Those conversations are difficult. Those kinds of conversations are telling a young man he's not good for the NHL or telling a veteran he's being replaced by a younger player.
"Erik took it like a pro, as we expected he would, but it was not easy for any of us."
The Knights acquired prospect Nicolas Roy and a conditional fifth-round pick in 2021. McPhee said the pick was contingent on Haula re-signing with Carolina or what the Hurricanes get for him if they trade him.
McPhee conceded that the move was necessitated by cap concerns, but emphasized it also was a beneficial deal from a hockey perspective. Haula, 28, was under team control for only one more season, and Roy is a promising 22-year-old center on an entry-level deal.
"We've addressed a cap issue, and we got a good young player," McPhee said. "Erik Haula would be a UFA (unrestricted free agent) a year from now, so we thought what we made was a good hockey trade. That's where we sit today."
McPhee added that the team won't make deals to simply dump salary.
The Knights are familiar with Roy. The 6-foot-4-inch, 215-pounder helped lead the Charlotte Checkers to the Calder Cup championship this month, as they defeated the Chicago Wolves, the team's American Hockey League affiliate, in five games. Roy had three goals and one assist in the series.
"He stood out," McPhee said. "We really didn't have an answer for him. I talked to some of our players that were in that series about him, and it seemed like every time they dropped the puck, he won the faceoff and we were chasing him. He's a big man that went hard to the net. He was a pretty dominant player."
As it became clear that the Knights needed to unload quality players to get under the cap, McPhee's phone began lighting up. The team is believed to be shopping several players, most notably defenseman Colin Miller.
"We have lots of good players, and we have lots of good players on good contracts," McPhee said. "We're popular these days. You just never know, but there is a lot of activity right now. It's a busy time of the year, and there are a lot of teams talking about lots of different things. We'd expect next week we'll reveal signings, free agents and other trades."
One of those moves is expected to be the re-signing of restricted free agent Tomas Nosek. A deal to bring the forward back on team-friendly terms is believed to be imminent.
More Golden Knights: Follow at reviewjournal.com/GoldenKnights and @HockeyinVegas on Twitter.
Contact Adam Hill at ahill@reviewjournal.com. Follow @AdamHillLVRJ on Twitter.