GM George McPhee hopes practice makes perfect for Las Vegas in NHL expansion draft
October 6, 2016 - 11:12 pm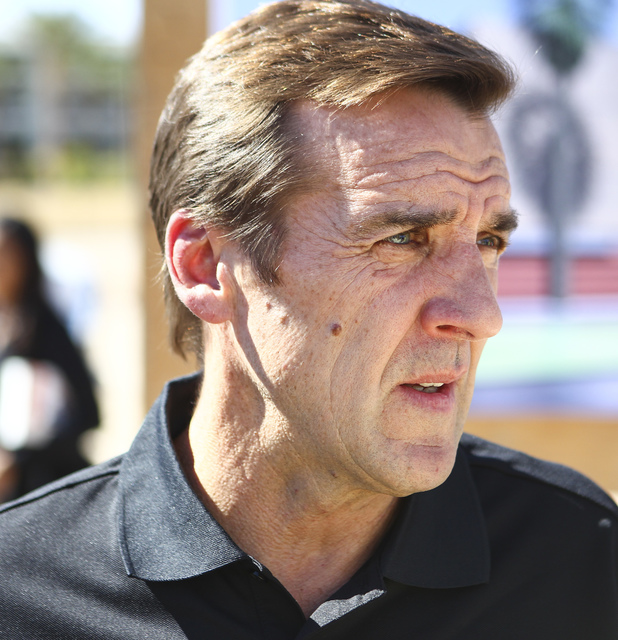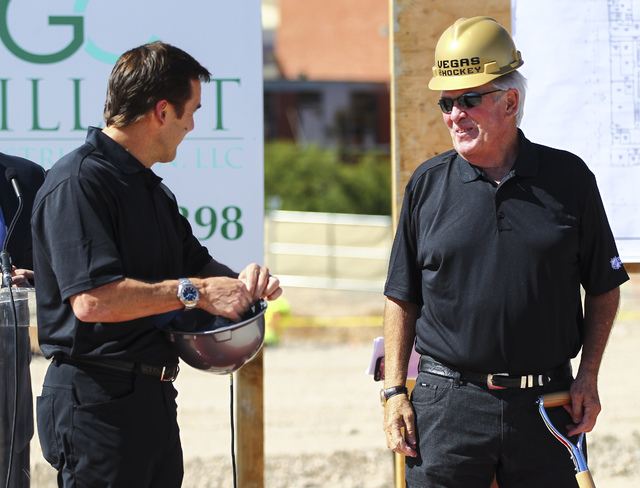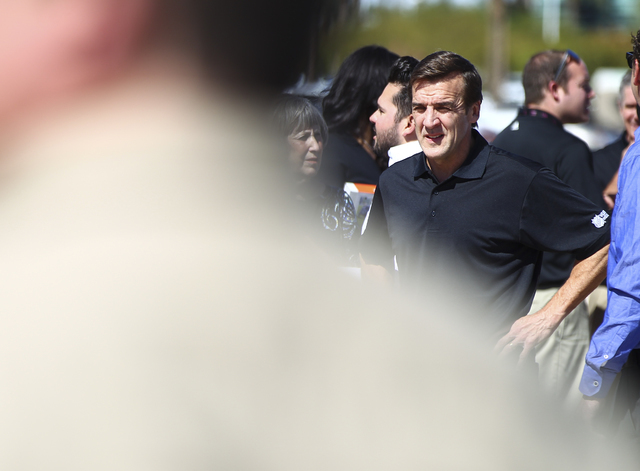 George McPhee promises he will be ready come June 20.
The general manager for the Las Vegas NHL expansion team has had the date circled since he accepted the job July 12. That's the day Las Vegas has to turn in its 30 selections, one from each team, for the NHL expansion draft.
The team will conduct the first of what will be several mock drafts Saturday and Sunday at the team's temporary offices in Summerlin. McPhee and his professional scouts, along with other members of the hockey operations staff, will meet and go through the process of selecting players.
"It's a chance for us to get comfortable with the procedure and the rules," McPhee said Wednesday after the groundbreaking ceremony for the team's headquarters and practice facility adjacent to Downtown Summerlin. "It's our first time doing this, so there are going to be a lot of questions and get a feel for what the process is like."
For the expansion draft, the current 30 NHL teams will have the option of protecting seven forwards, three defensemen and one goaltender or eight skaters and one goalie. All first- and second-year professionals as well as all unsigned draft choices will be exempt.
The teams must submit their protected lists by 2 p.m. PT on June 17. Las Vegas must submit its expansion draft selections by 2 p.m. PT on June 20. The selections will be announced June 21.
McPhee said the team will go in alphabetical order in making its mock selections, starting with Anaheim and ending with Winnipeg. There are no plans to reveal who gets selected during these mock draft exercises.
"We'll probably spend 15 to 20 minutes on each team's selection," McPhee said. "I'm sure there'll be lots of discussion on who to select, and that's what we want. I want to get everyone's opinion."
It won't be as simple as just selecting Player A. There will be several factors involved, including a player's salary and length of contract, his impact on the salary cap, his age and obviously his projected level of productivity.
The players' combined 2017-18 contract value must meet a minimum of 60 percent of the cap, about $48.3 million.
Andrew Luegerner, the team's director of hockey legal affairs and its capologist, will be involved in the process. For projecting players' future worth, Misha Danskov, the team's director of hockey operations and analytics expert, probably will be asked his opinion.
"It's all about being ready for the real thing," McPhee said.
Contact Steve Carp at scarp@reviewjournal.com or 70-387-2913. Follow on Twitter: @stevecarprj
FAN FEST SET FOR SATURDAY
The team's Fan Fest is scheduled from 2-7 p.m. Saturday at Toshiba Plaza.
There will be food and drinks available for purchase, music, and a fan Q&A session with owner Bill Foley and McPhee at 5 p.m. Admission is free.
The team announced the hiring of Keith Veronesi as a Hockey Operations Assistant. Veronesi spent the previous two years working for the Utica Comets of the American Hockey League, serving as the vice president of Business Operations during his last year with the Comets.

NHL in Vegas
Complete coverage of hockey in Las Vegas
Want to keep up with all the hockey updates? Follow our Twitter: @HockeyinVegas