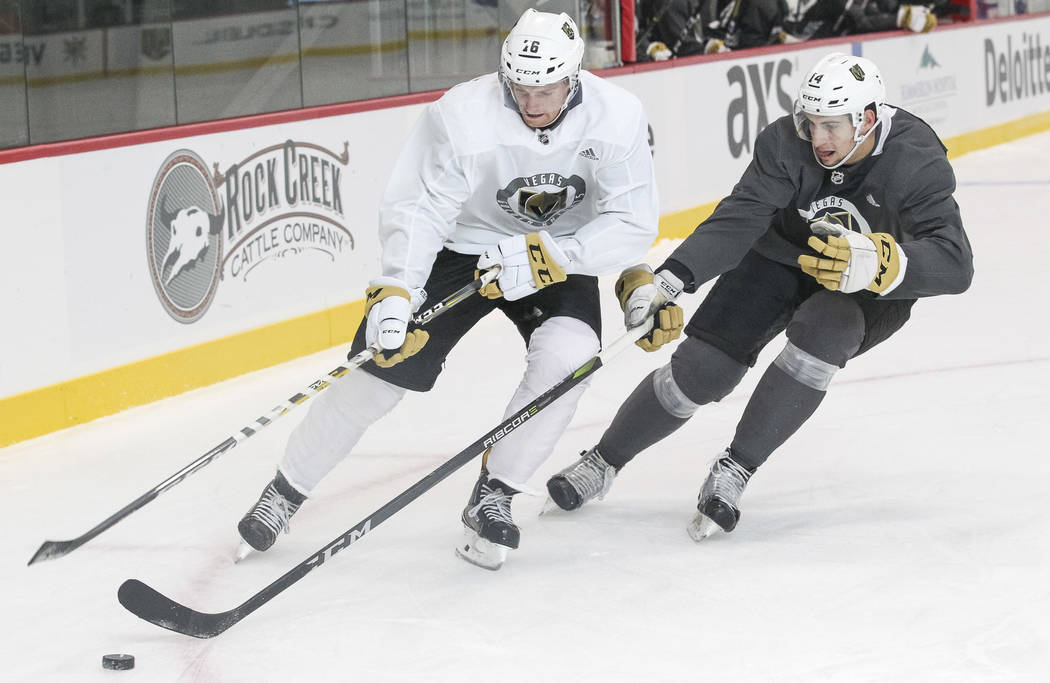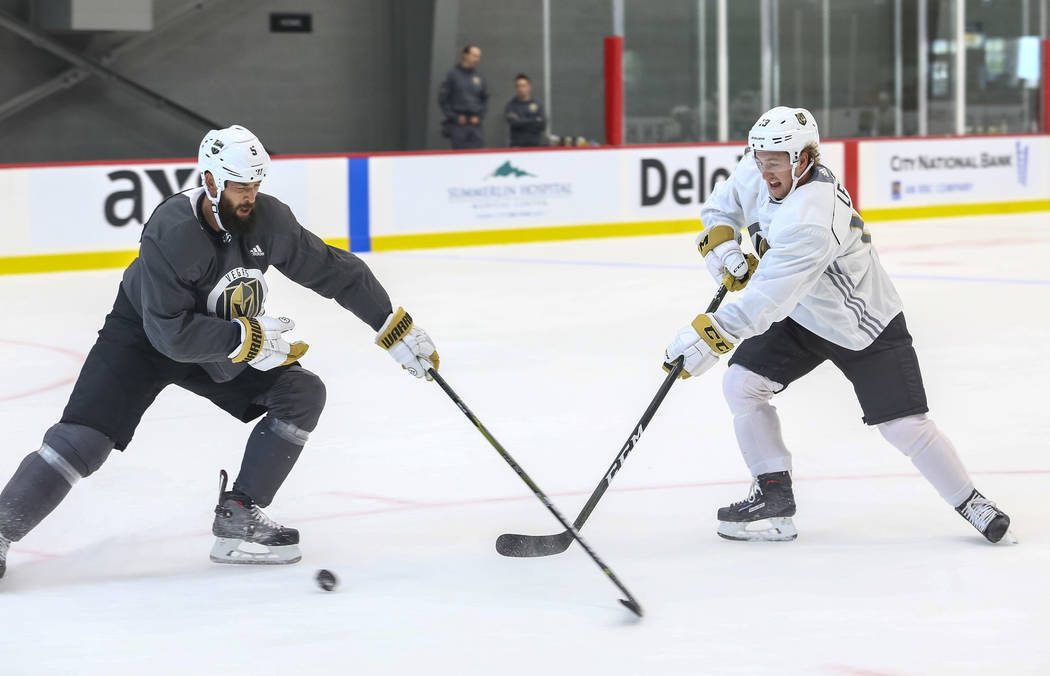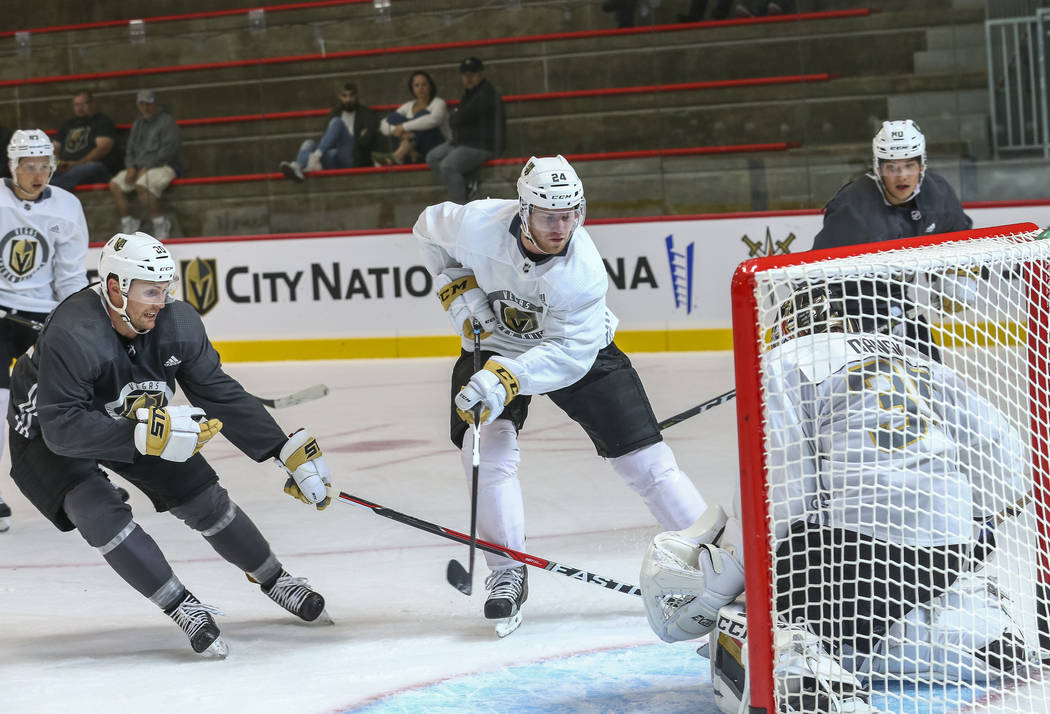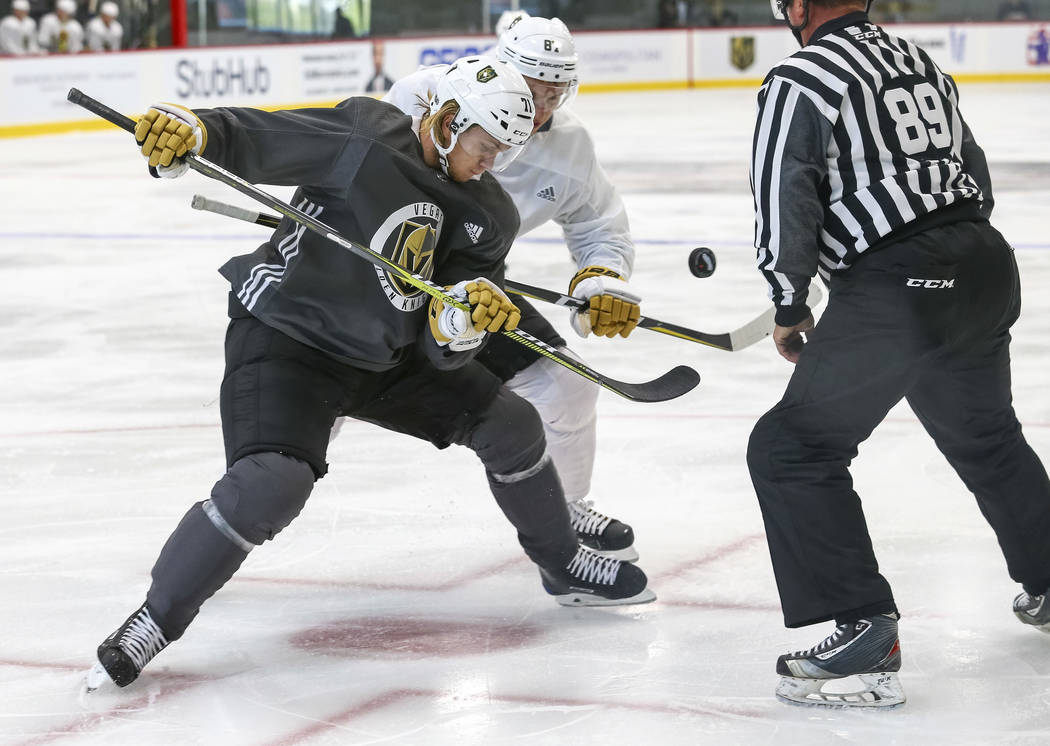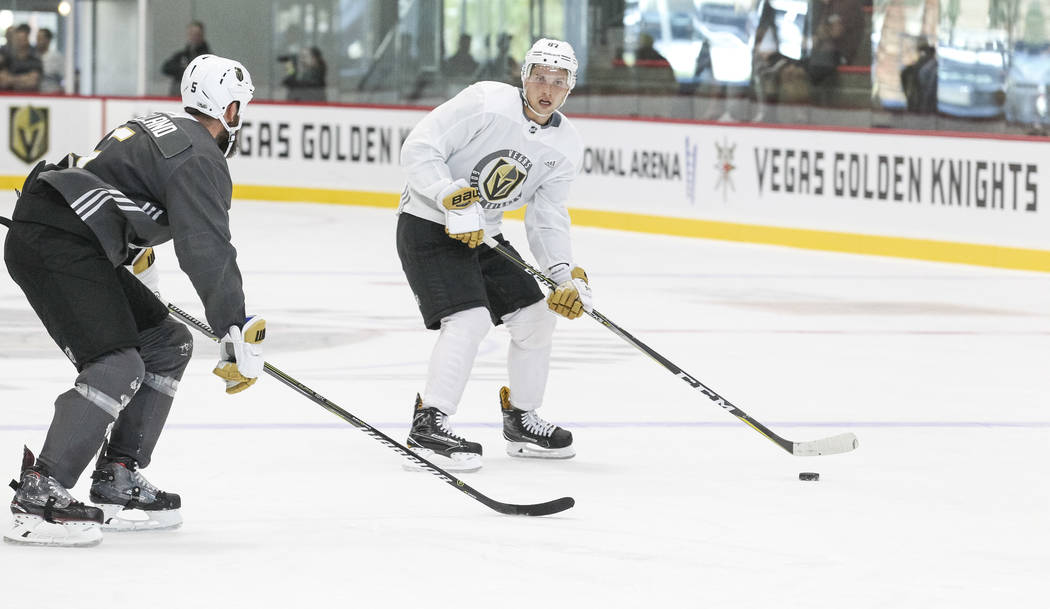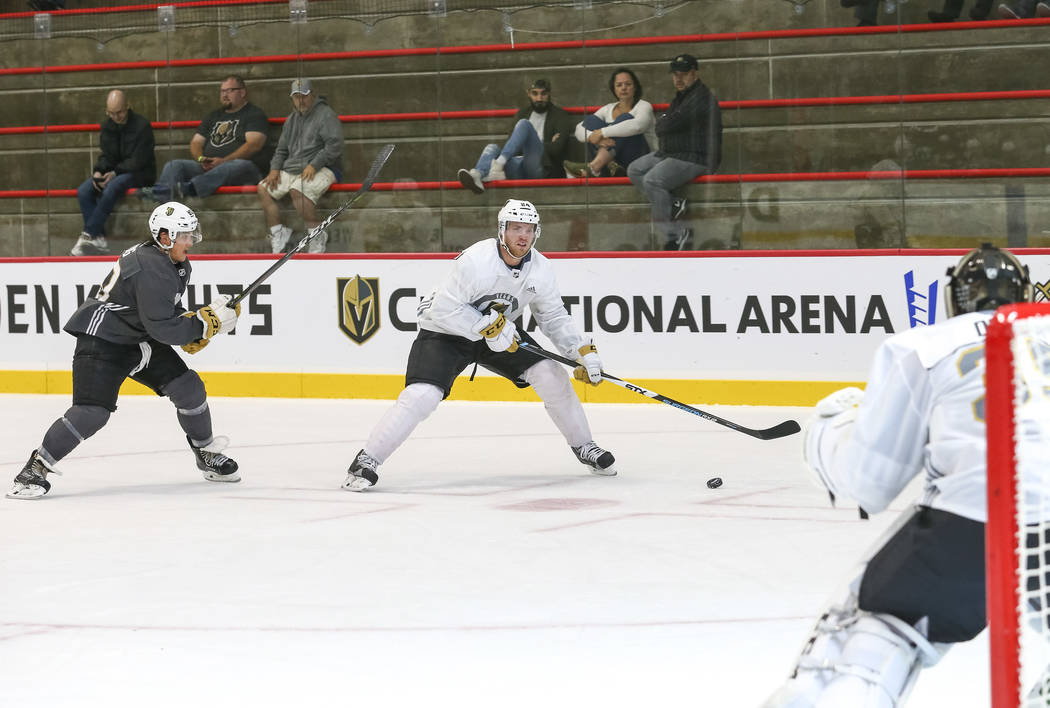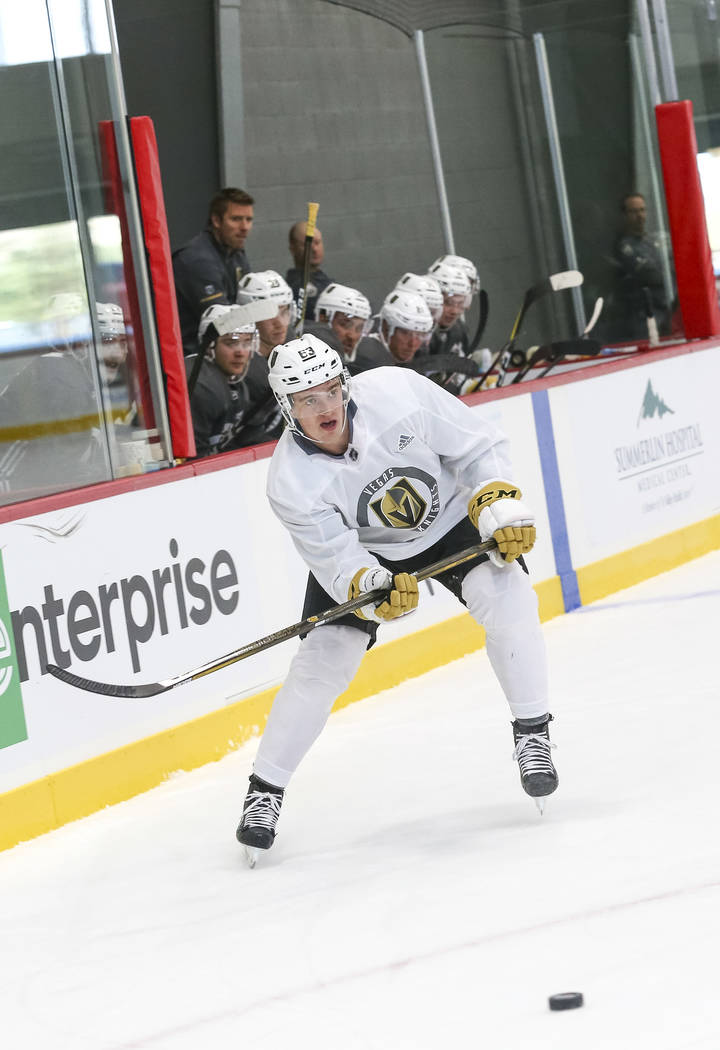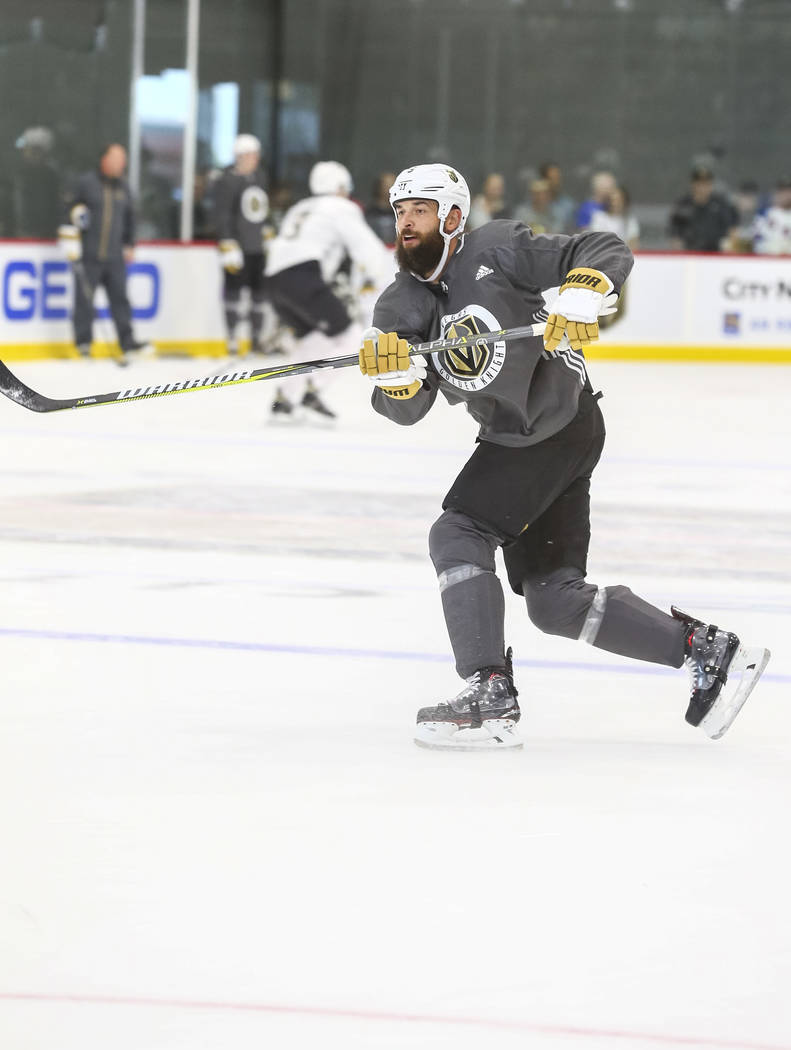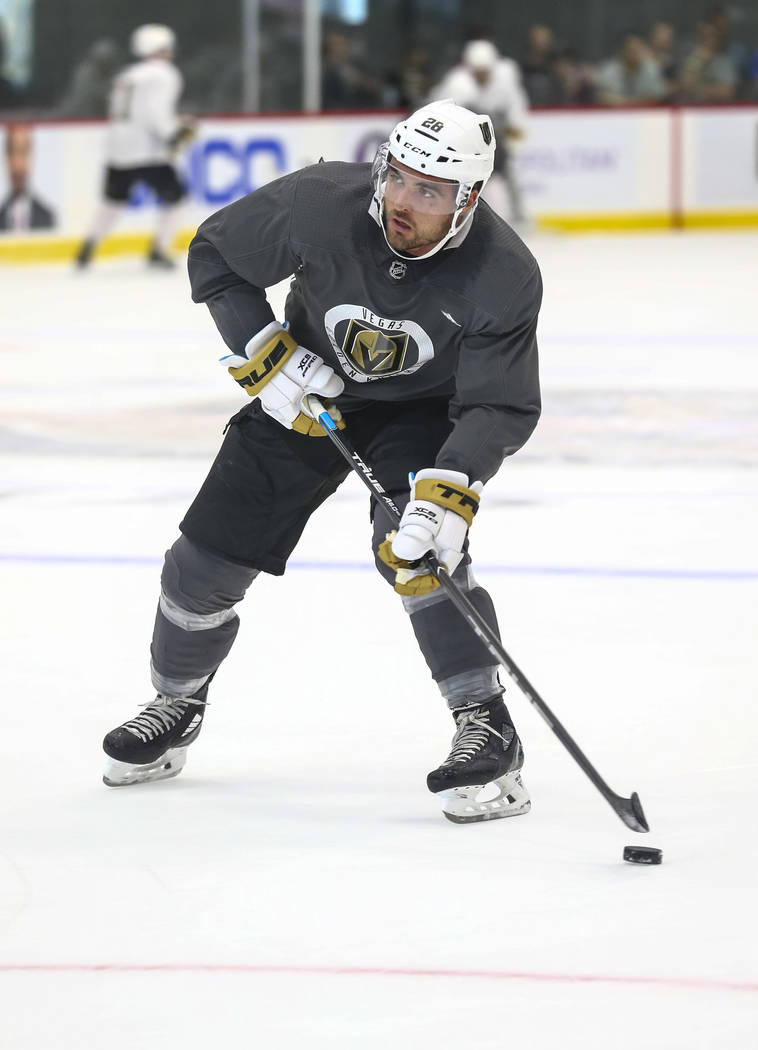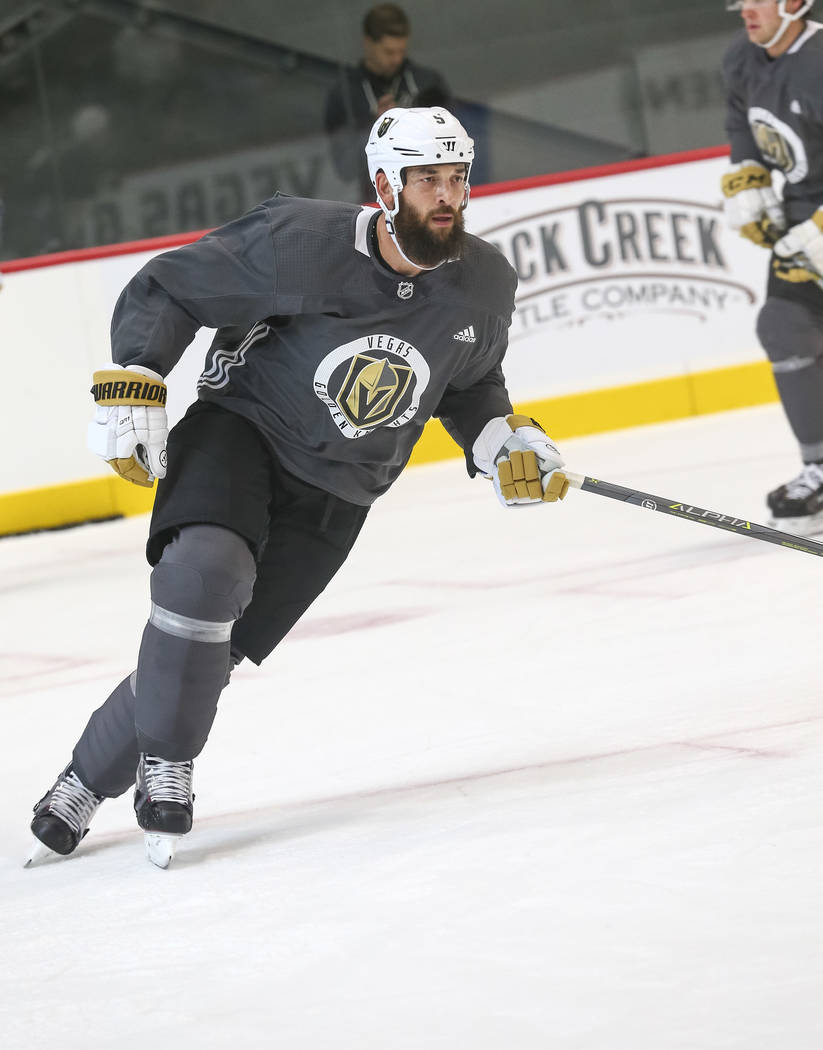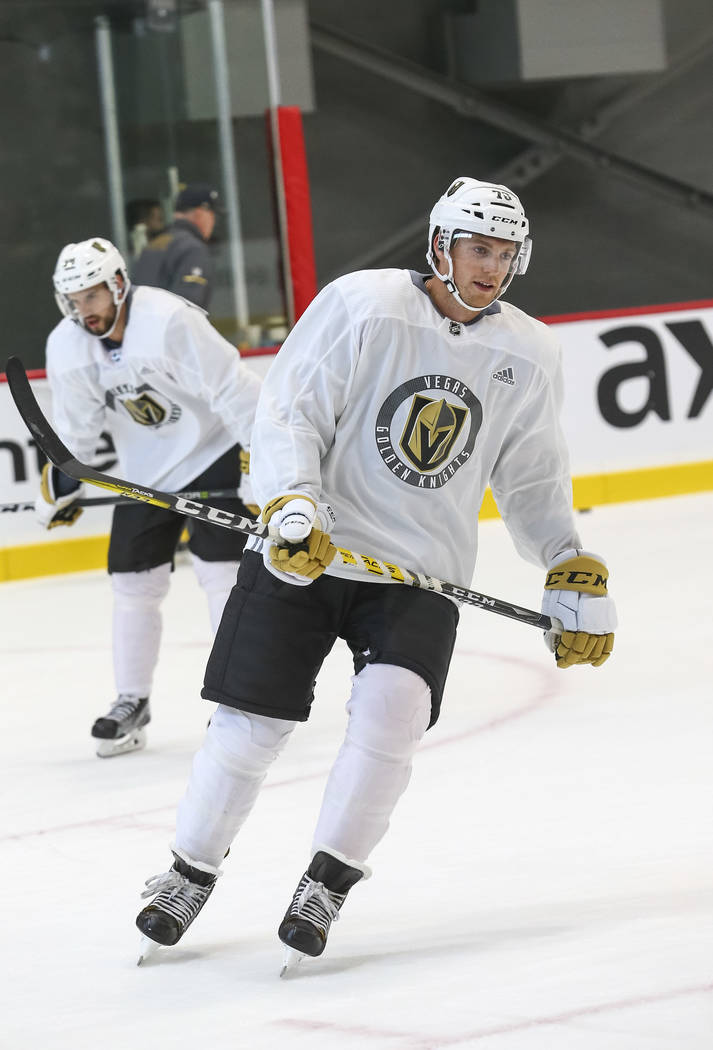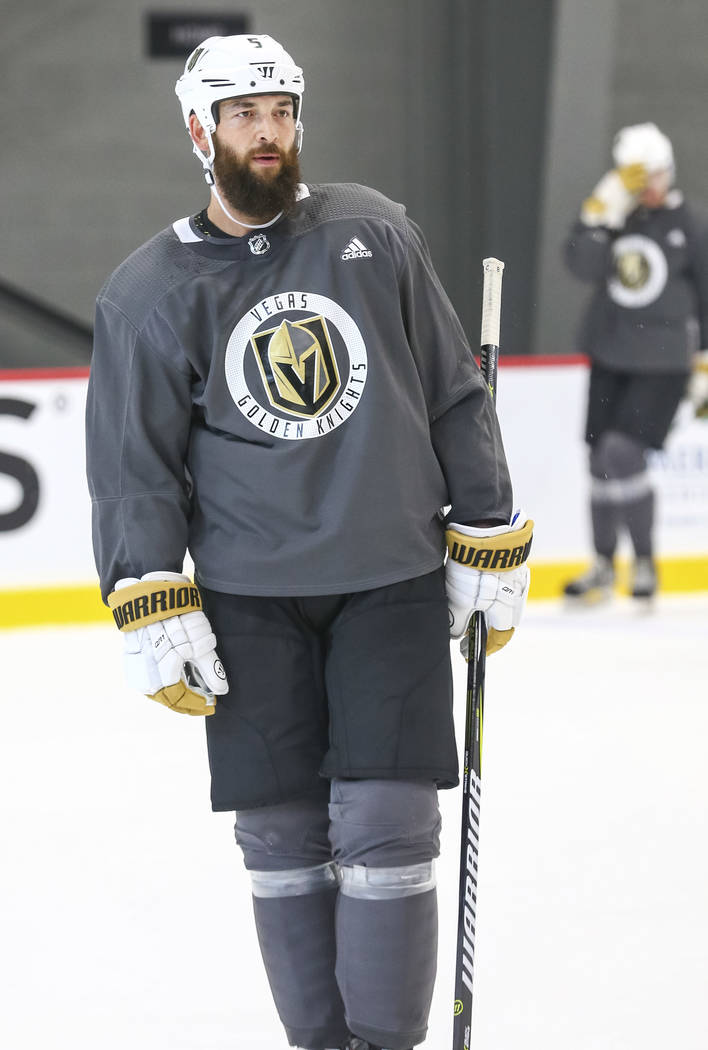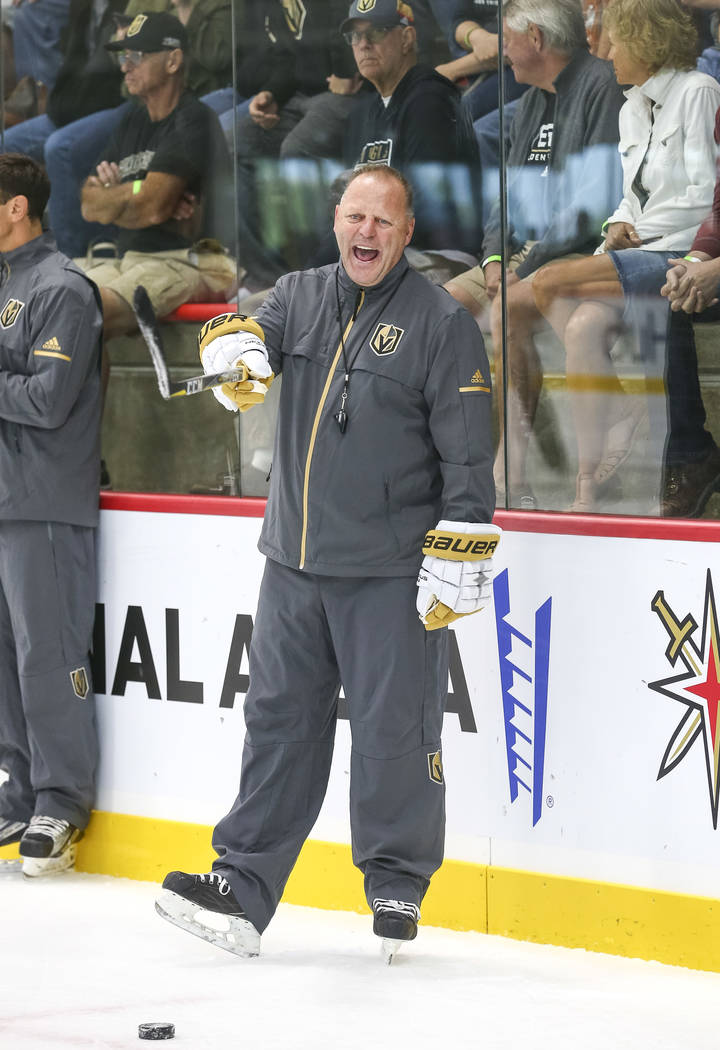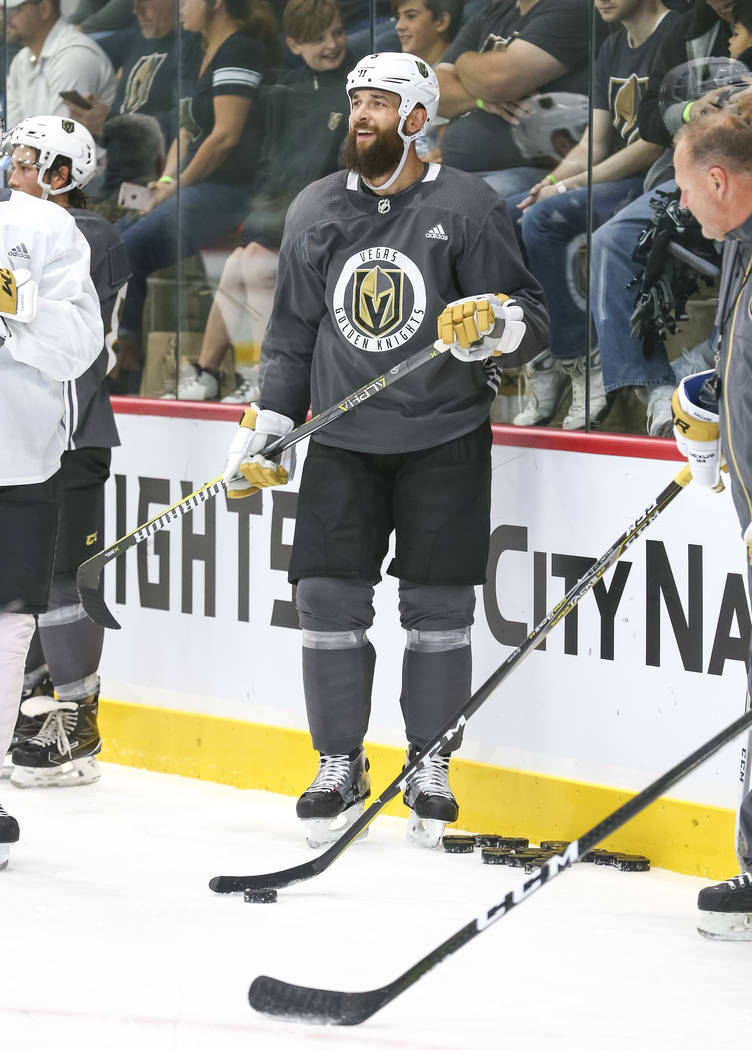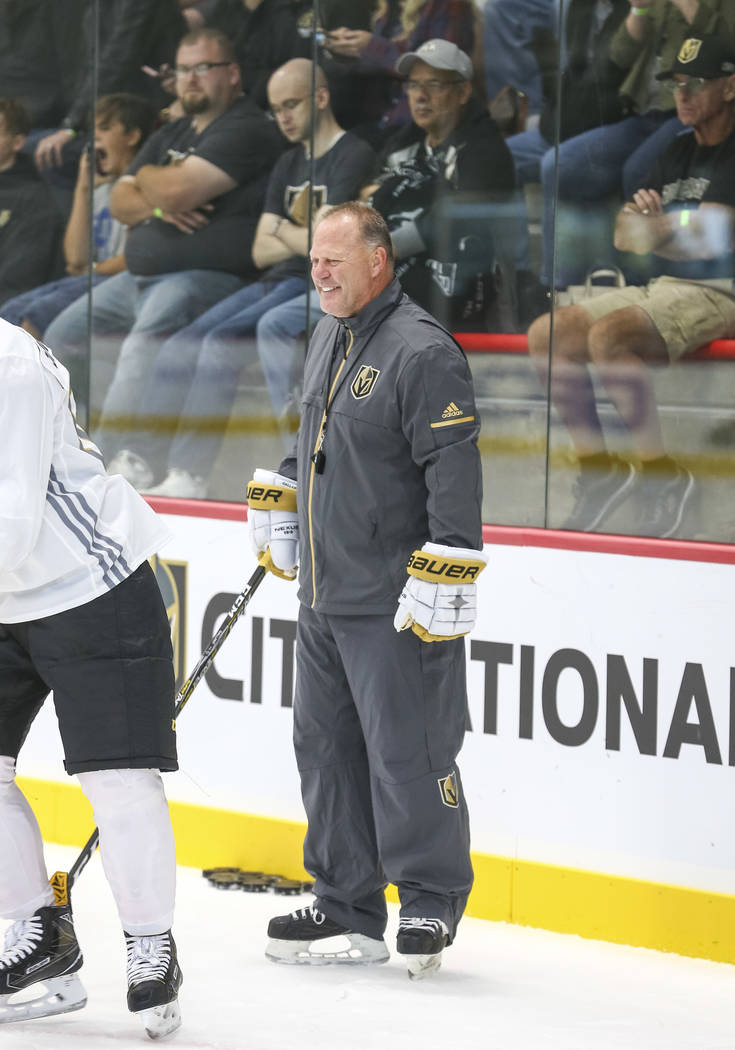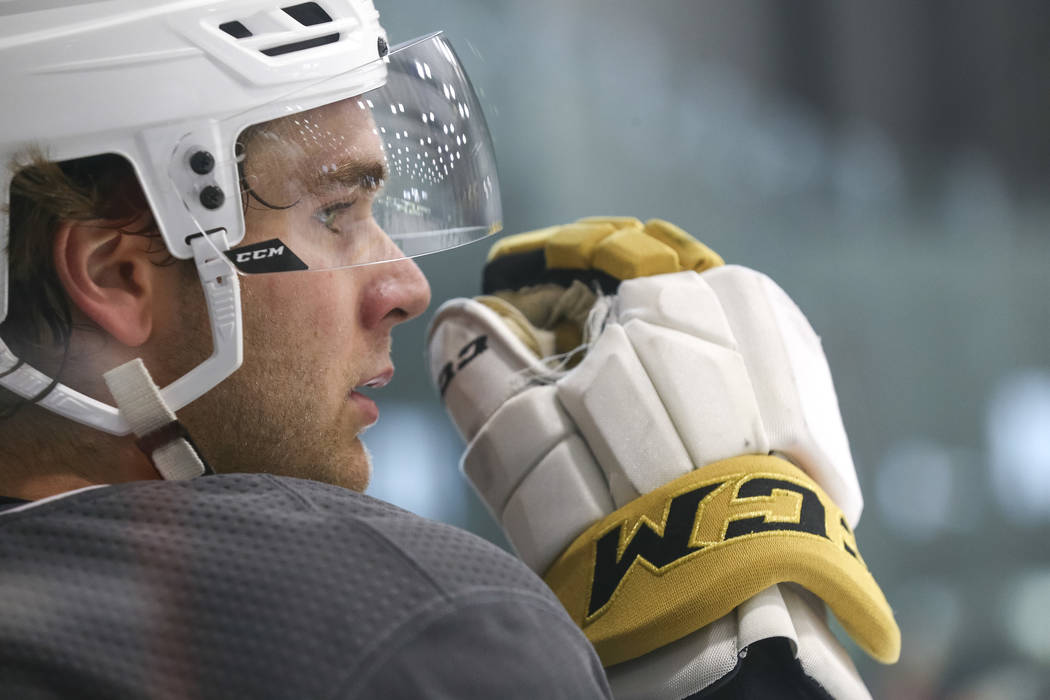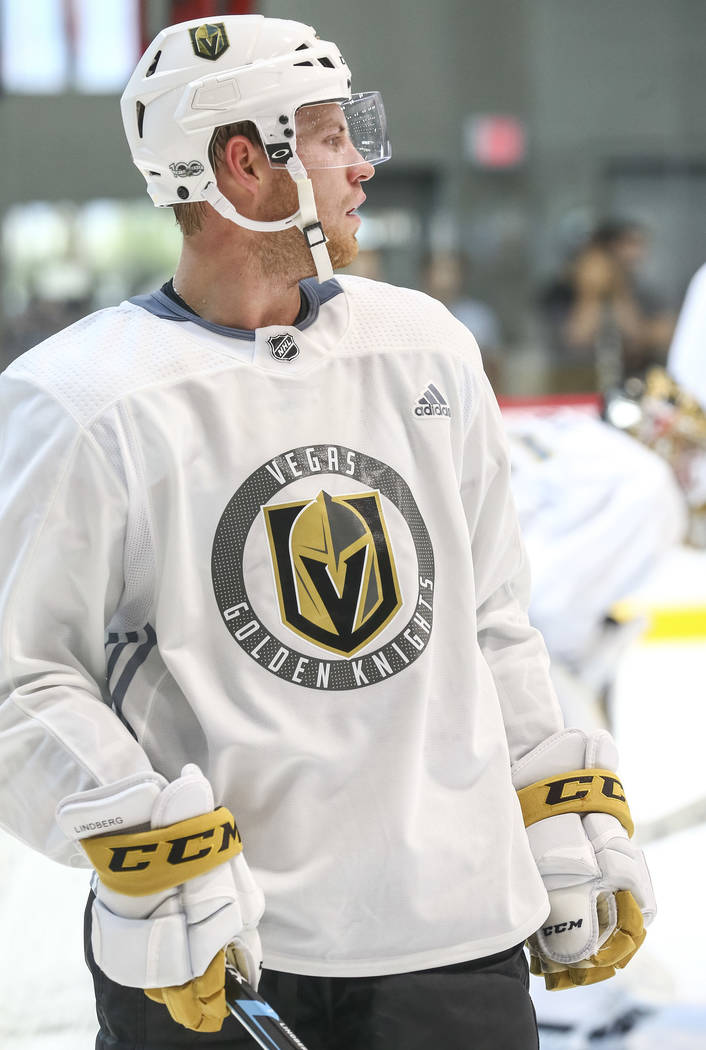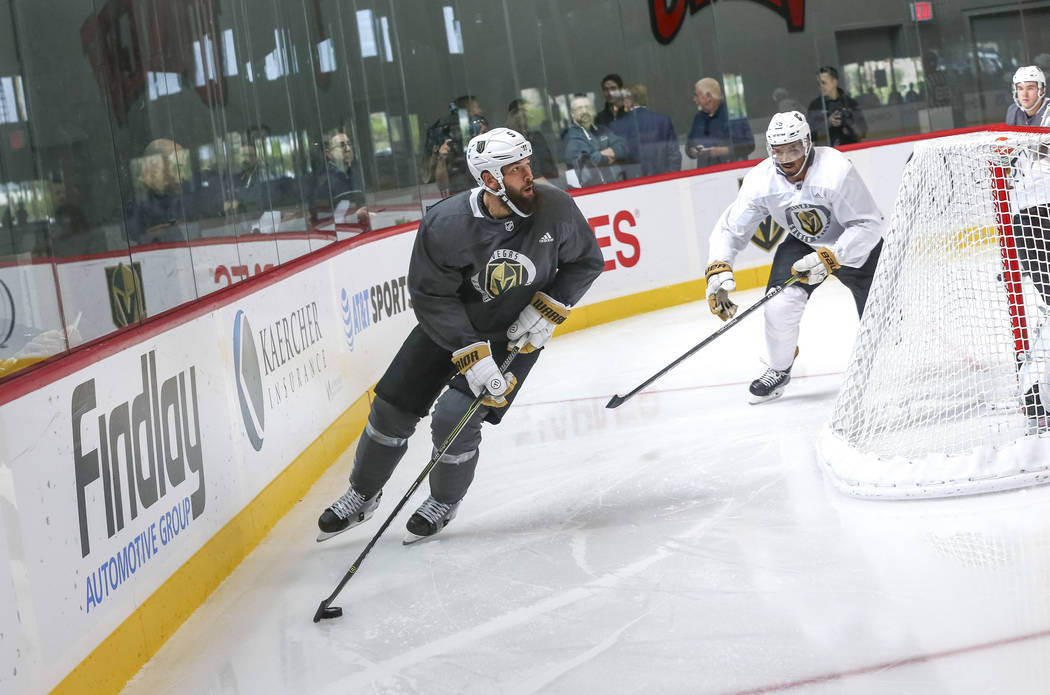 Oscar Dansk's chances of making the Golden Knights' opening-night roster remain minuscule.
But the 23-year-old goaltender isn't going down to the minors without a fight.
Dansk made several fine saves during the Knights' morning scrimmage Friday at City National Arena and showed that he may be a valuable insurance policy should something happen to Marc-Andre Fleury or Calvin Pickard this season.
"It's only the first day, and my goal is to have a long training camp," Dansk said. "So, I'm taking it one day at a time, and just coming here, I'm going to work my butt off and do my best."
Dansk stuffed rookie Keegan Kolesar on a breakaway and turned aside nearly every shot he saw in his team's 3-1 scrimmage victory.
Dansk was a second-round pick (No. 31 overall) by Columbus in 2012, but he struggled to establish himself with the Blue Jackets.
He spent the past two years playing in his native Sweden before he returned to North America in April.
Columbus did not extend Dansk a qualifying offer this summer, and he signed a one-year deal with the Golden Knights. Dansk (6-3, 195 pounds) is expected to start the season with the Chicago Wolves, the Knights' AHL affiliate.
"Coming back here after two years in Sweden, it's a chance for me, and I'm very happy about the opportunity with the Vegas Golden Knights," Dansk said. "I'm going to do everything in my power to play my best, and hopefully everything with work itself out."
Cox-AT&T update
Friday saw the launch of AT&T SportsNet on CenturyLink's Prism TV as well as on U-Verse. However, Cox Cable subscribers remain in the dark.
Knights majority owner Bill Foley said the two sides remain in negotiations but no deal is in place.
"I still believe we'll get a deal done in time for the start of the season," said Foley, who is not involved in the negotiations. "I believe that AT&T and Cox will do the right thing for the Golden Knights fans."
Sunday's preseason game in Vancouver will be the first Golden Knights telecast on AT&T SportsNet. The game also will be carried live on radio on Fox Sports 1340 AM and 98.9 FM.
Haula wins title
Fleury wasn't the only Knights player who celebrated winning a championship this year. Fleury, of course, won the Stanley Cup for the third time with the Pittsburgh Penguins in June.
At the other end of the hockey spectrum, forward Erik Haula was a member of the RBC team that won the Da Beauty League championship.
The Da Beauty League is a summer league based in Minnesota for players who were born in that state. It has been in existence since 2015 and it runs from mid-July to late August. Along with Haula, Knights players Nate Schmidt and Jake Bischoff played in the Da Beauty league this summer.
"I guess I've got bragging rights," Haula said.
There's no money for winning the Da Beauty League championship. No parade. There is a trophy — John Scott's Cup. But unlike the Stanley Cup, you don't get a day with the Scott's Cup.
"I think I spent a second with it," Haula said with a laugh.
Injury report
Rookie center Reid Duke did not practice Friday because of an undisclosed injury.
Knights coach Gerard Gallant said Duke was injured Wednesday during the team's 6-2 rookie-game victory over the Los Angeles Kings. The team did not say when Duke would return.
Contact Steve Carp at scarp@reviewjournal.com or 702-387-2913. Follow @stevecarprj on Twitter. Contact David Schoen at dschoen@reviewjournal.com or 702-387-5203. Follow @davidschoenlvrj on Twitter.
Vegas preseason schedule
— At Vancouver Canucks, Sunday, 2 p.m.
— At Colorado Avalanche, Tuesday, 6 p.m.
— At San Jose Sharks, Sept. 21, 7:30 p.m.
— At Anaheim Ducks, Sept. 24, 7:30 p.m.
— Los Angeles Kings, Sept. 26, 7 p.m.
— Colorado Avalanche, Sept. 28, 7 p.m.
— San Jose Sharks, Oct. 1, 5 p.m.
(Home games at T-Mobile Arena)