Goaltender Malcolm Subban close to returning for Golden Knights
November 15, 2017 - 5:11 pm
Updated November 15, 2017 - 8:37 pm
VANCOUVER, British Columbia — Malcolm Subban said he's "pretty close" to returning to the Golden Knights' lineup.
Coach Gerard Gallant said the injured goaltender looked good Wednesday during the team's practice at Rogers Arena.
That means Subban is starting in net Thursday when the Knights (10-6-1) take on the Vancouver Canucks, right?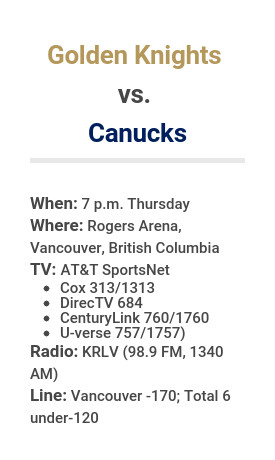 "He's getting closer," Gallant said, pumping the brakes on an early return. "He feels a lot better and he's getting comfortable, but he's still on the (injured-reserve list) and we're going to wait and make sure."
Subban practiced Wednesday for the first time since he was placed on injured reserve after suffering a lower-body injury Oct. 21 against the St. Louis Blues.
He is expected to participate in the Knights' pregame skate Thursday, and the team will make a decision whether to activate him at that point.
"We're pretty close. That's all I know right now," Subban said. "We're still talking with the coaches and trainers. Obviously it's only one practice, so we've got to see how I feel (Thursday) and stuff."
Subban's return would provide a lift to the Knights' goaltending situation, which is bordering on crisis mode.
Maxime Lagace started Tuesday in Edmonton and was shelled for seven goals on 29 shots before he left midway through the third period.
Lagace was slow to get to his skates and reached for his back after the Oilers' fifth goal less than a minute into the third.
He was checked out by the trainer and stayed in the game until he was replaced with 9:14 remaining by Dylan Ferguson, who made his NHL debut at age 19. Gallant said after the game that Lagace suffered cramps and his status is day-to-day.
Lagace left the ice midway through the Knights' practice Wednesday and was not available to the media afterward.
If Subban is not activated and Lagace's ailment is worse than the team is letting on, that leaves Ferguson, a Vancouver native, as the Knights' only option in net against the Canucks (9-7-2).
Neither Marc-Andre Fleury nor Oscar Dansk made the road trip to western Canada; each remains on injured reserve.
Forward David Perron was asked about the goaltending situation after Tuesday's loss and joked the Knights may give the reporter a run between the pipes.
"We'll decide (Thursday)," Gallant said when asked if Lagace will start. "We'll take it one day at a time. It's good to see three of them on the ice."
Ferguson, who was playing major junior for the Kamloops Blazers of the Western Hockey League three weeks ago, is the fifth goaltender used by the Knights this season.
The NHL record for most goaltenders used in a season is seven, held by the Quebec Nordiques (1989-90), the St. Louis Blues (2002-03) and the Los Angeles Kings (2007-08).
Subban, 23, was 2-0 with a 2.06 goals-against average and .936 save percentage in three games before he was injured in the third period against the Blues.
"You finally get an opportunity and you get hurt, you want to make sure it doesn't happen again," Subban said. "I'm just taking all those precautions right now and just trying to get healthy."
Subban skated Sunday at City National Arena for the first time. Wednesday was the first time he faced shots since coming back.
Subban was ruled out for four weeks at the time of the injury, but would be slightly ahead of schedule if he is activated Thursday.
"Obviously, it's really tough," Subban said. "You want to get back as soon as possible and you just want to do anything to help the team, so that's what I'm trying to do right now. I'm trying to get back as soon as possible."
Contact David Schoen at dschoen@reviewjournal.com or 702-387-5203. Follow @DavidSchoenLVRJ on Twitter.
3 storylines
1. Who's in goal? Malcolm Subban practiced Wednesday for the first time since he went on the injured-reserve list Oct. 22 with a lower-body injury. But he hasn't been activated yet, and it's not clear whether he'll replace Maxime Lagace, who's started the past seven games.
2. Blue line business. The Knights' Jon Merrill stepped into the lineup against Edmonton on Tuesday and struggled on in place of injured defenseman Luca Sbisa. If Merrill is replaced in the lineup by Shea Theodore, that could force coach Gerard Gallant to juggle his defense pairs.
3. Opposite directions. The Knights are coming off their worst loss of the season, while Vancouver rallied from an early two-goal deficit to beat the Los Angeles Kings on Tuesday. Will either of those results carry over?
David Schoen/Review-Journal