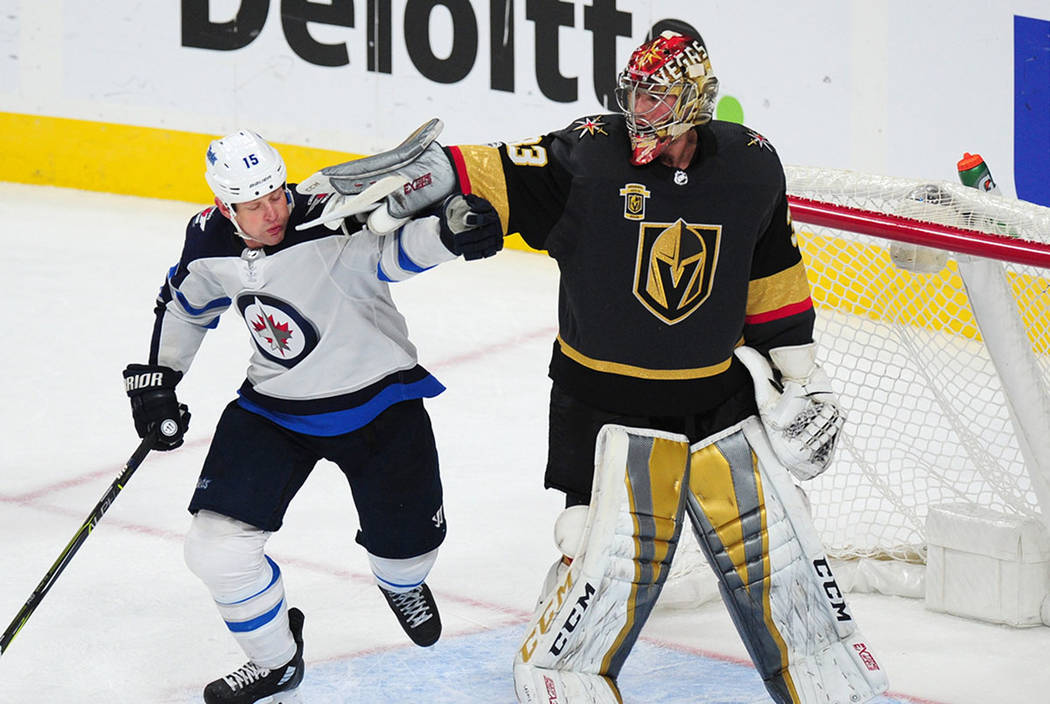 Maxime Lagace's second goaltender mask was delivered recently and features warriors from the movie "300."
"Just a little more, I want to say, raw," he said. "More action on it."
Sounds pretty epic.
Does that mean the Golden Knights goaltender is going to switch masks following one of the best performances in his fledgling NHL career?
"No," Lagace said. "Not a chance."
Lagace has been on an astonishing journey the past two weeks, unexpectedly becoming the Knights' No. 1 netminder when Oscar Dansk suffered a lower-body injury against the New York Islanders on Oct. 30.
And considering this could be Lagace's only cup of coffee in the league, the 24-year-old journeyman is not about to change what's working.
Even if it means King Leonidas and the Spartans remain tucked away in his locker for now.
"The whole past two weeks for me, it's been a long way to where I'm at right now," Lagace said. "I feel like I never gave up, so it's a good thing to learn for me and other guys I guess. If sometimes you want to give up, there's always a chance. You never know when it's going to come, and I'm glad it did."
Lagace was cut twice as a 20-year-old in the Quebec Major Junior Hockey League and signed as an undrafted free agent with the Dallas Stars in 2014.
He spent three seasons bouncing around the American Hockey League and ECHL before he signed with the Knights in July.
Lagace was 2-2 with a 3.24 GAA with Chicago (AHL) before being recalled a second time by the Knights on Oct. 22 when Malcolm Subban was placed on the injured-reserve list with a lower-body injury.
He has started in New York, Toronto and Montreal — three of the brightest stages in the league — and earned his first win Nov. 3 at Ottawa with his parents watching.
"When he got thrown in, through fault of mine, he wasn't as prepared to succeed as I would have liked," Knights goaltending coach David Prior said. "I've been real happy with his progress. Every game I think he's built on being better from the previous game."
Lagace has shown a knack for making spectacular saves, like his pad stop in the first period Tuesday to deny Montreal's Brendan Gallagher from in close.
He went one better early in the second period Friday with a sliding pad save on a one-timer from the Jets' Mark Scheifele to preserve the Knights' 2-1 lead.
"That was probably the turning point in the game, and it was an unbelievable save," Knights coach Gerard Gallant said after Lagace turned aside 27 shots in the 5-2 win. "The longer the kid's playing in the net, the more confident the guys get. He's playing really good hockey for us right now."
The Knights remain mum on the injury status of Marc-Andre Fleury (concussion), Dansk and Subban, who skated Sunday at City National Arena during the team's off day.
That means Lagace (2-4-1, 3.58 GAA) is expected to make his seventh straight start when the Knights visit the Edmonton Oilers at 6 p.m. Tuesday at Rogers Place.
As Prior pointed out, that makes Lagace — not Fleury or even Subban — the expansion franchise's all-time leader.
"It's hard to do in the moment, but back in my room, it's always like, 'Wow, what's going on?' " Lagace said. "Everybody has been great to me, and it's a first-class organization. I'm enjoying every moment of it. It's a great situation I'm in."
Contact David Schoen at dschoen@reviewjournal.com or 702-387-5203. Follow @DavidSchoenLVRJ on Twitter.
Tale of four goaltenders
Name, Record, GAA, SV%
Marc-Andre Fleury: 3-1-0, 2.48, .925
Malcolm Subban: 2-0-0, 2.06, .936
Oscar Dansk: 3-0-0, 1.78, .946
Maxime Lagace: 2-4-1, 3.58, .876