Golden Knights activate Marchessault, send Shipachyov to minors
October 24, 2017 - 5:19 pm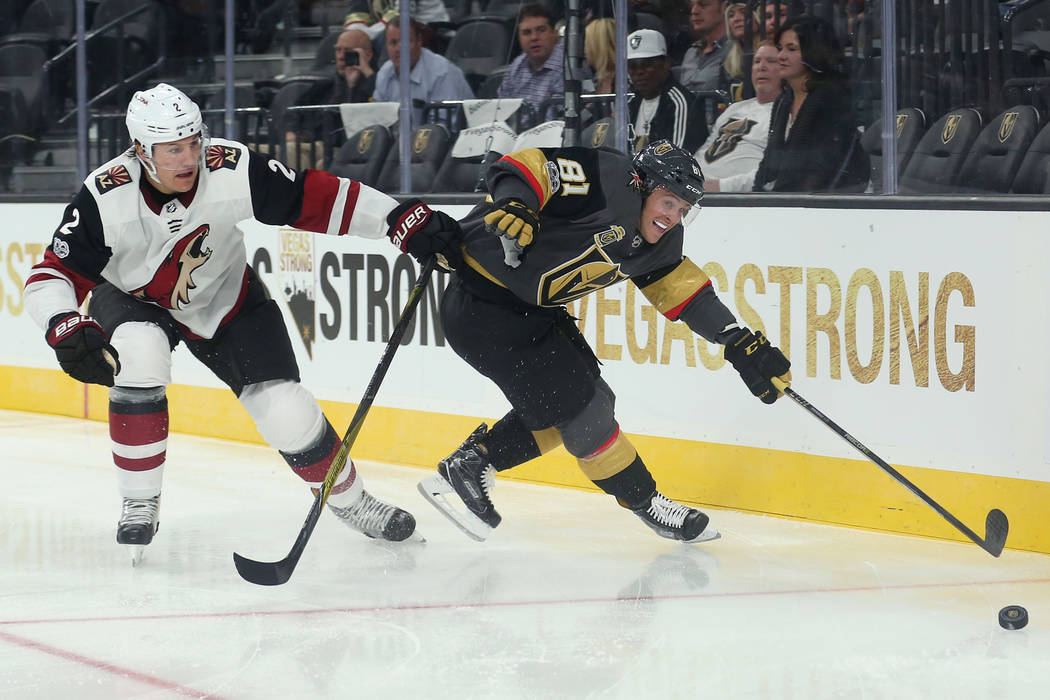 The Golden Knights activated forward Jonathan Marchessault from the injured-reserve list and assigned forward Vadim Shipachyov to Chicago of the American Hockey League prior to Tuesday night's game against Chicago.
Marchessault missed the past three games with a lower-body injury and is expected to be in the lineup against the Blackhawks.
Marchessault has one goal and six penalty minutes in four games.
Shipachyov's demotion is another sign the 30-year-old Russian is struggling after signing a two-year, $9 million contract in May.
Shipachyov started the season in the minors, and Knights general manager George McPhee denied that Shipachyov wanted to return to Russia, where he starred in the KHL the past nine seasons.
Shipachyov did not play for Chicago (AHL) and returned to Las Vegas to be with his wife until he was recalled by the Knights on Oct. 14.
In three games with the Knights, Shipachyov had one goal and two penalty minutes.
Ice remains good
It seemed a little cooler than usual inside T-Mobile Arena last Saturday. But George Salami, the arena's ice guru, said he didn't turn down the temperature in the building, which is usually kept between 59 and 64 degrees.
"They are keeping the doors leading inside closed," he said of the entrances to the arena. "It's like a refrigerator. If you close the door, everything stays colder."
The unseasonably warm temperatures the past few days did not negatively impact ice conditions. Salami said the reports sent to the NHL office by officials for the first five home games indicate the playing surface is grading out at 100 percent.
"We work really hard to make sure we have the best ice possible," he said.
Salami and his crew spent 16 hours Sunday removing the "NHL Faceoff" graphics from the ice. The etching is used in all 31 rinks to promote the beginning of the season.
Foley family donates to wildfire relief
Knights owner Bill Foley's charity foundation and family wines has made a donation of $225,000 in support of the communities recently devastated by the Northern California wildfires.
The Foley Family Charitable Foundation has also set up a GoFundMe account to support those affected by fires in the community. Employee contributions to this fund will also be matched up to $75,000.
"We are deeply saddened by the destruction and devastation we see all around us, and our hearts go out to our wine country community," Foley said in a statement. "Our first priority is the safety and support of our employees who have been deeply affected by the fires. We remain hopeful as we combine efforts with our neighbors, to support victims displaced by these fires and rebuild."
Contact Steve Carp at scarp@reviewjournal.com or 702-387-2913. Follow @stevecarprj on Twitter.