Golden Knights carry competition into fantasy football league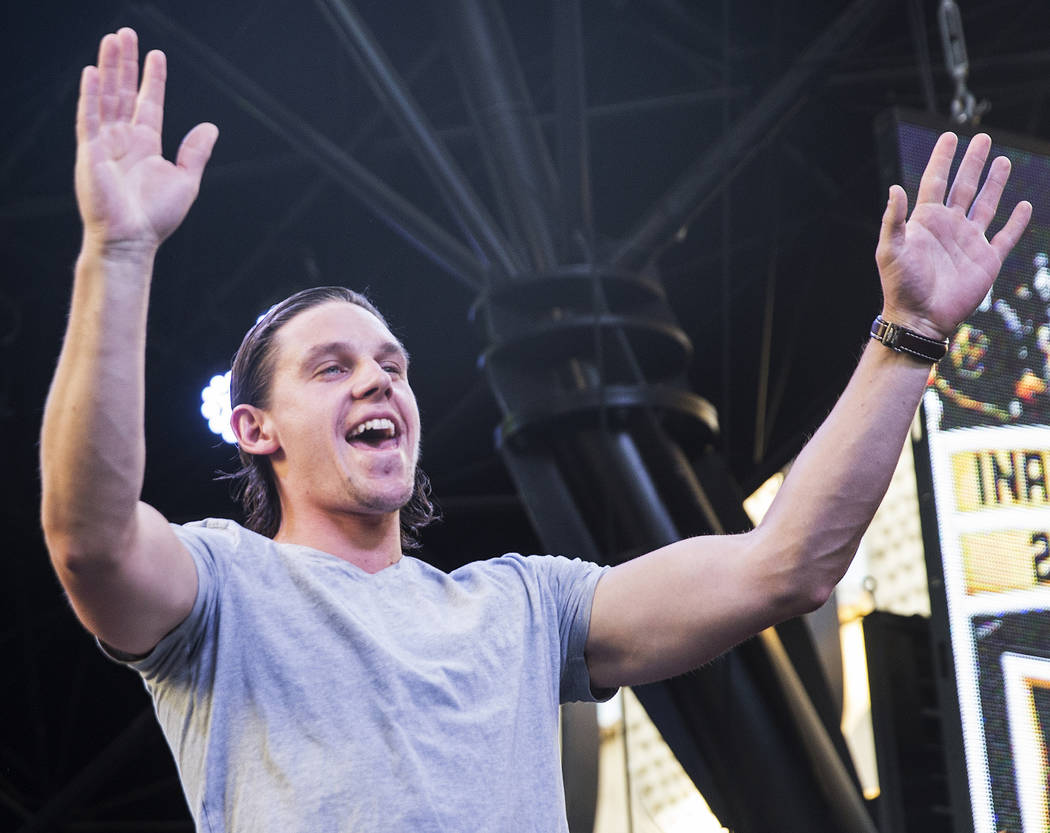 Every fantasy football league has certain characters.
The terrible player, the guy who isn't quite prepared and the person who never pays the dues. All are rightfully subjected to mock and ridicule for the entire season.
The Golden Knights players' league is no different.
Organized by forward Erik Haula, the league held it's draft for a second season Wednesday night.
"It's fun," Haula said. "When I first got here, one of my first priorities was to figure out something we could all do together. I love fantasy football and luckily a lot of other guys did too, so I just set up the league. Everyone on our team is very competitive and likes football so I'm very excited. I just think it's a fun thing to do with the team.
"It's fun to throw chirps here and there in the locker room."
Shea Theodore was probably the target of the most mockery last season as his team failed to win a single game.
"He's by far the worst," Haula laughed. "He is awful. But he picked a partner this year and he got the first overall pick so maybe it will work out better for him."
Theodore selected Todd Gurley and was followed immediately by Brayden McNabb's selection of Le'Veon Bell, who has still not reported to the team amidst a contract dispute.
Does McNabb have some sort of insight on when Bell may finally take the field?
"No, he just doesn't really know what's going on," Haula said. "Then I took (Bell's backup) James Conner just to kind of piss him off."
Cody Eakin is the defending champion, though Haula isn't entirely sure he's the best player. He'll have to prove it again this season, much like the Knights.
One thing the winner won't have to worry about is collecting from his teammates. Haula said there's only one player for whom that may be a concern.
"Nate Schmidt, for sure," he said. "Last year he said if he doesn't pay right away, he'll just keep on forgetting and forgetting. Everybody pays, you just might have to go get it."
Getting physical
Much of the Knights roster once again got together Thursday for an informal practice outside the presence of the coaches.
There's typically not a whole lot of hitting, but Ryan Reaves put Jonathan Marchessault on his back directly in front of the net just before the end of the session.
Both players got up laughing after a big reaction from the smattering of fans checking out the practice, which involved 20 players.
It was initially believed Reaves was getting Marchessault back for his constant teasing of Subban out on the ice the last few days, but Reaves denied that motive with a big smile.
"Nah, you've just got to get those guys ready for the regular season," Reaves said. "Marchessault's going to have guys laying him out so I'm just making sure he's prepared for that.
"This is always a fun time. Summer's a grind and the way we ended last year, I think everybody's kind of anxious to get back out there with the boys and start the season so we can prove last year wasn't a fluke and this time finish the job."
Reaves didn't think he'd have a chance to return. He was an unrestricted free agent and wasn't sure if he was in the Knights' plans.
"I'm really happy with how it turned out," he said of signing a two year contract worth $2.775 million per season.
"It was a tough summer," he said. "It didn't look like I was coming at first. I had some interviews with some other teams, but once these guys called me back I was more than happy. I told everyone this is where I wanted to be. It's a great atmosphere. I love the team, coaches, management, everyone. This is where I want to call home."
Back at it
There's really no such thing as an offseason for an NHL executive as the draft and free agency chew up much of the time that would otherwise be used to get away from the sport for awhile.
General manager George McPhee's summer was even further shortened by his team's historic run to the Stanley Cup Final.
That's just fine with McPhee.
"I would love to have that kind of summer every year," he said Thursday. "To be able to play that long was fantastic and to have a year like we had was truly amazing. It was a terrific experience to be with a first year team that played the way it did and have the community respond in the way it did. It was something that's never happened before. Certainly something I've never seen. We'd like to do it every year, only have that last week go a little bit better."
More Golden Knights: Follow all of our Golden Knights coverage online at reviewjournal.com/GoldenKnights and @HockeyinVegas on Twitter.
Contact Adam Hill at ahill@reviewjournal.com or 702-277-8028. Follow @AdamHillLVRJ on Twitter.