Golden Knights cherish memories of victory, pregame ceremony
October 11, 2017 - 4:05 pm
Updated October 11, 2017 - 5:12 pm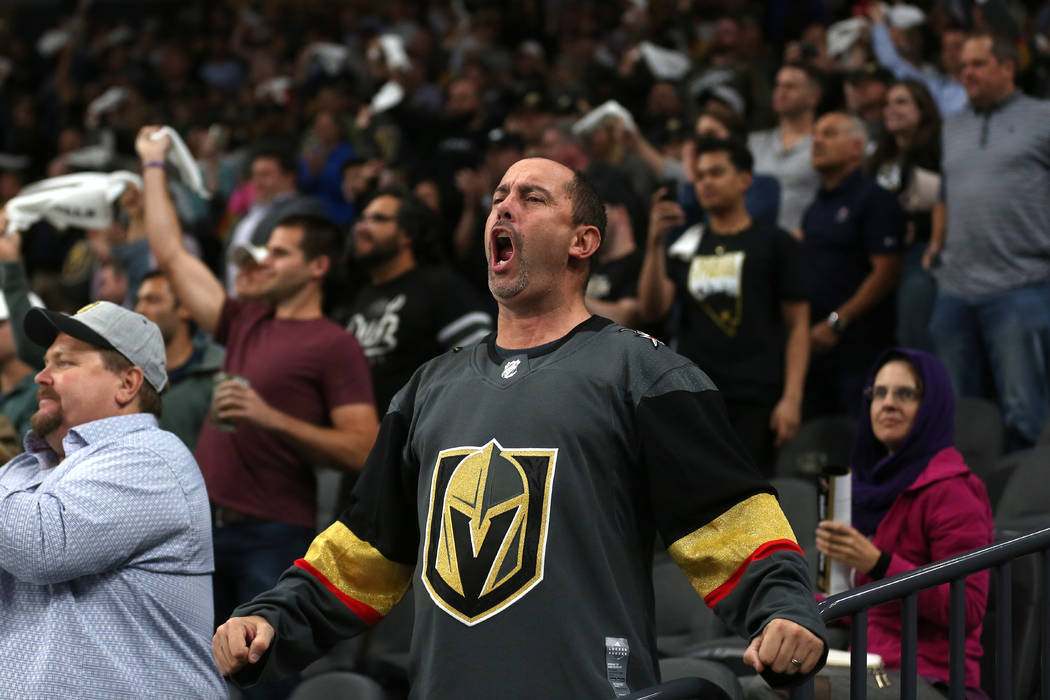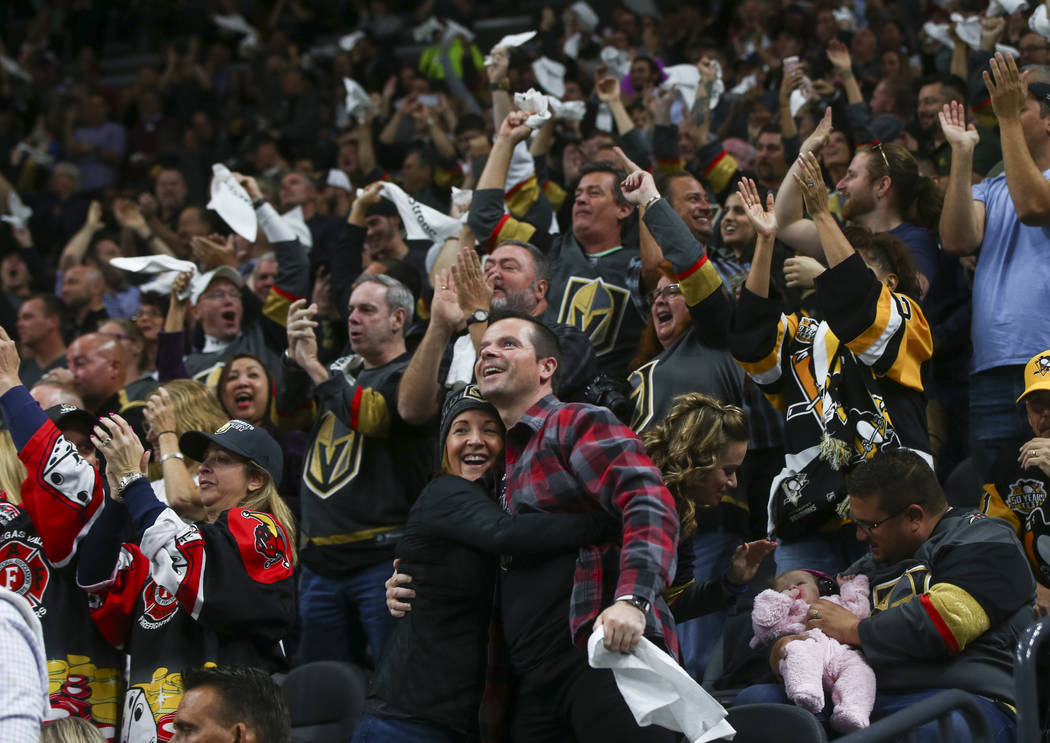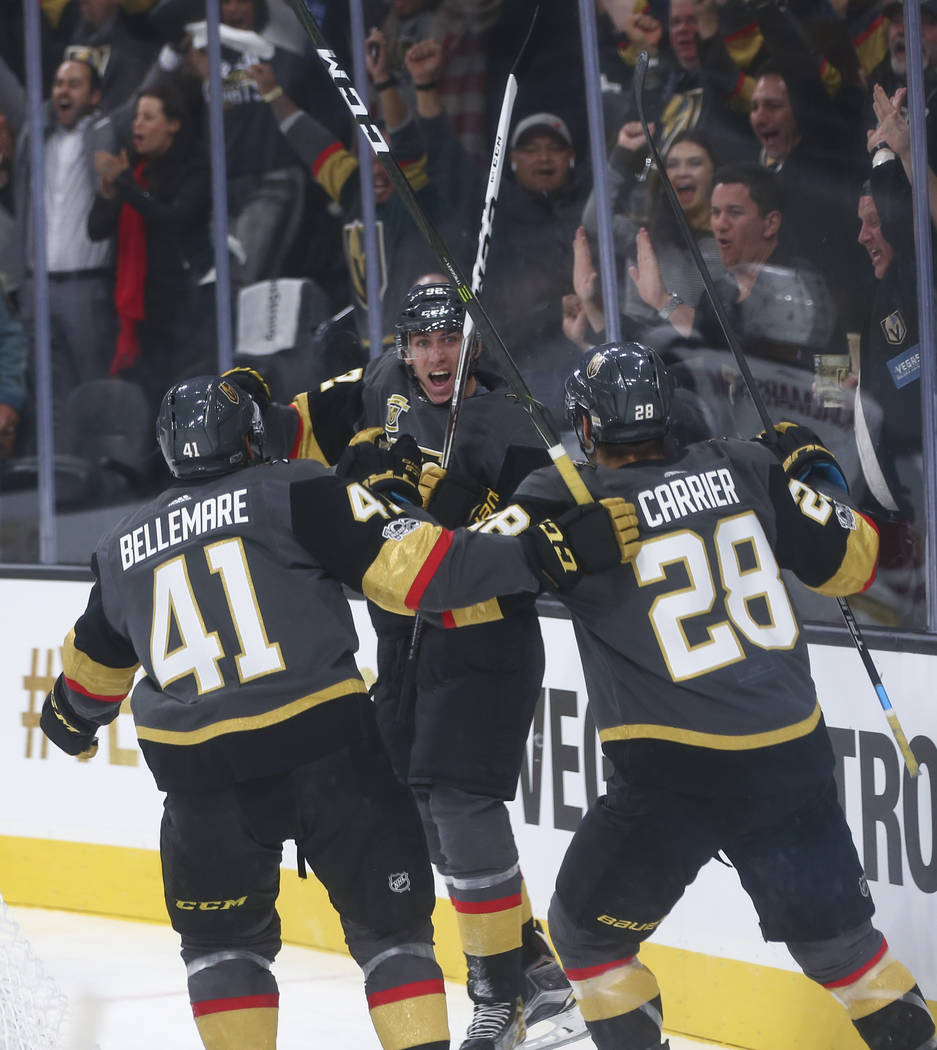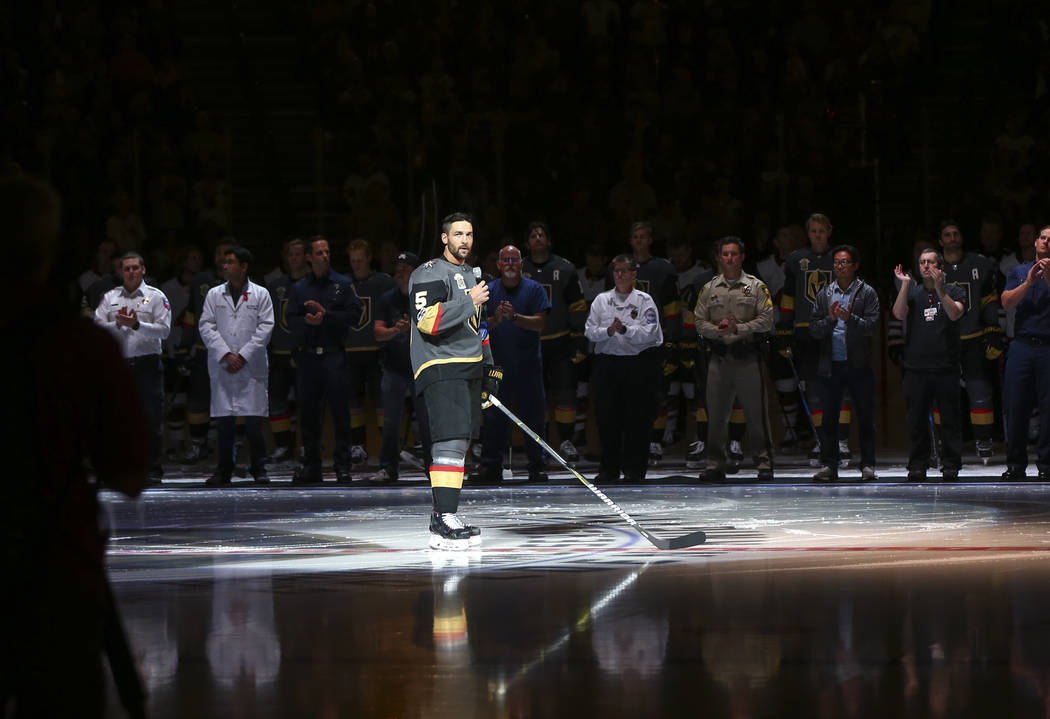 Ten years from now, Luca Sbisa will probably receive a phone call from a journalist asking him what still resonates about the night of Oct. 10, 2017.
Sbisa, a defenseman for the original Golden Knights, will recall how he was on the ice for the team's first game at T-Mobile Arena. He'll talk about the moving pregame ceremony to honor the shooting victims of Oct. 1 and paying tribute to the first responders.
He'll remember accompanying Metropolitan Police K9 Officer Dave Newton to the Knights' blue line. He'll remember the 58 seconds of silence as the names of the victims were flashed on the ice.
The Golden Knights just had 58 seconds of silence for the 58 victims #VegasStrong pic.twitter.com/Vbsc6o4mOW

— Betsy Helfand (@betsyhelfand) October 11, 2017
And he'll remember how he and his teammates brought joy to the 18,191 fans by jumping the Arizona Coyotes 4-0 in the first 10 minutes and posting a 5-2 victory to become the first expansion team in NHL history to begin their inaugural season 3-0-0.
"It's something I'll never forget," Sbisa said Wednesday at City National Arena as the Knights stayed off the ice and went through some strength and conditioning. "It probably ranks at the top of special nights I've had as a hockey player.
"It was emotional. Usually people look up to us as hockey players. We're not heroes compared to those guys. We're just entertainers. Those guys make a difference in saving lives."
For forward Tomas Nosek, he made history of his own by scoring the Knights' first goal in T-Mobile.
"It was great to celebrate with the fans," said Nosek, who jumped against the glass following his first goal of the season. "I could feel their energy. I was just happy to score a goal and help the team win."
Knights coach Gerard Gallant reflected on what had happened Tuesday and said he was proud of how his players responded.
"Driving home last night, thinking about what happened, everything went perfect," Gallant said. "I thought the ceremony was outstanding. Obviously the first seven minutes of the hockey game was outstanding for us.
"For me personally, going out with the first responders, meeting them and shaking their hands was the memory I'll most remember."
While the Knights sit atop the Pacific Division standings heading into Friday's game against Detroit, Gallant said it's important to keep looking forward.
"I'd love to see that start every night but I don't think that's going to happen," Gallant said of Tuesday's opening 10 minutes. We've played what, nine periods and a little overtime, and I think we've played seven solid periods."
Still, there will be many memories from Tuesday. Nosek's goal. Deryk Engelland's first-period goal which further energized the crowd after he had given a stirring speech prior to the opening faceoff. The fans acknowledging Knights majority owner Bill Foley late in the game with a chant of "Thank You Foley."
And after the final buzzer sounded, the Coyotes stayed on the ice with the Knights as both teams went to center ice and raised their sticks in saluting the crowd.
"It was a great night that none of us will ever forget," defenseman Jason Garrison said.
Contact Steve Carp at scarp@reviewjournal.com or 702-387-2913. Follow @stevecarprj on Twitter.