Golden Knights coach helps drive for business suits for unemployed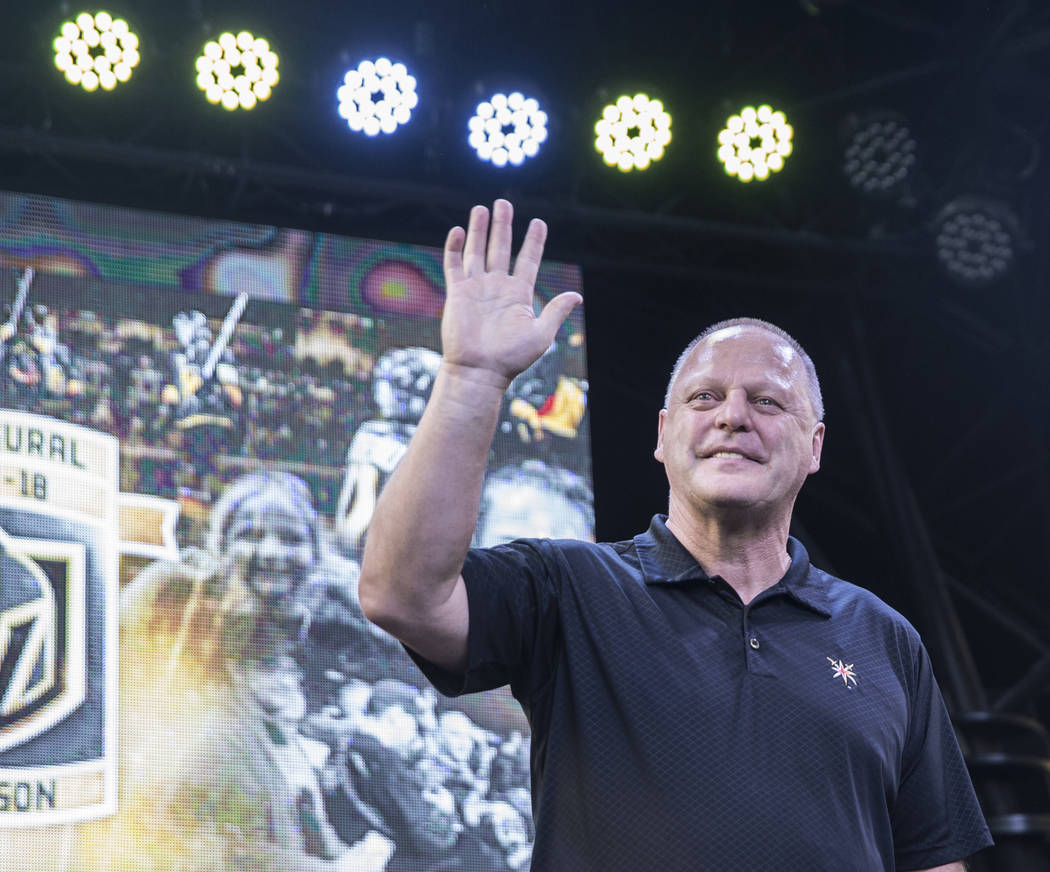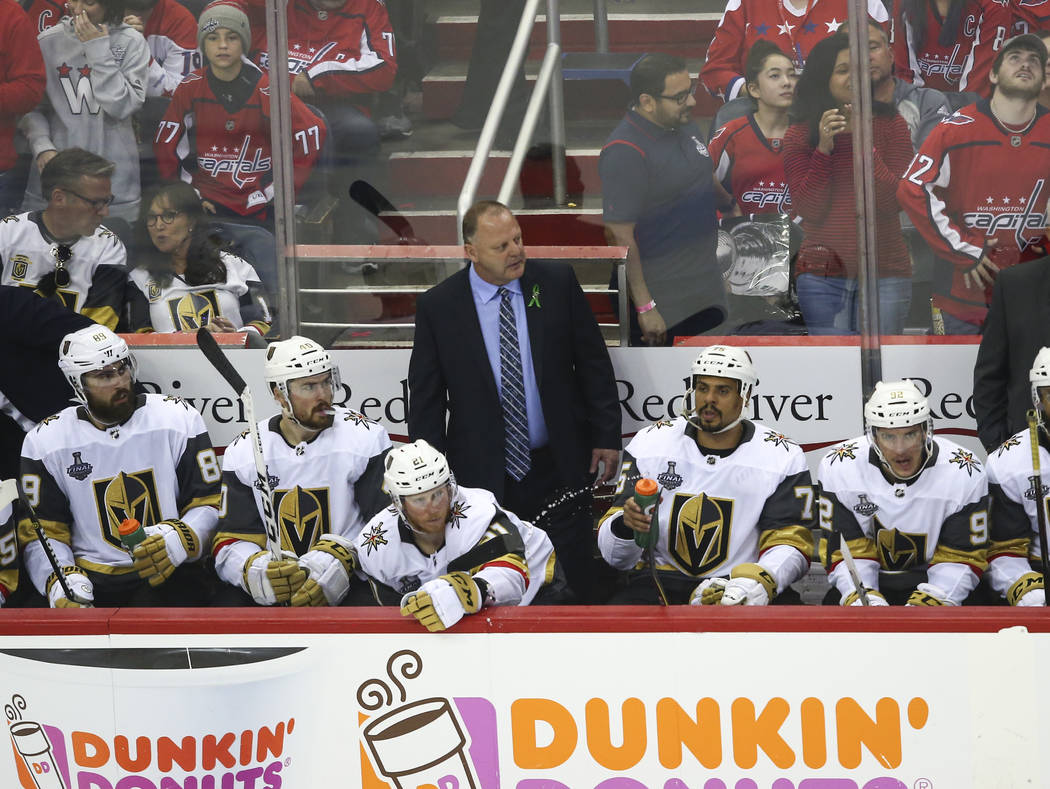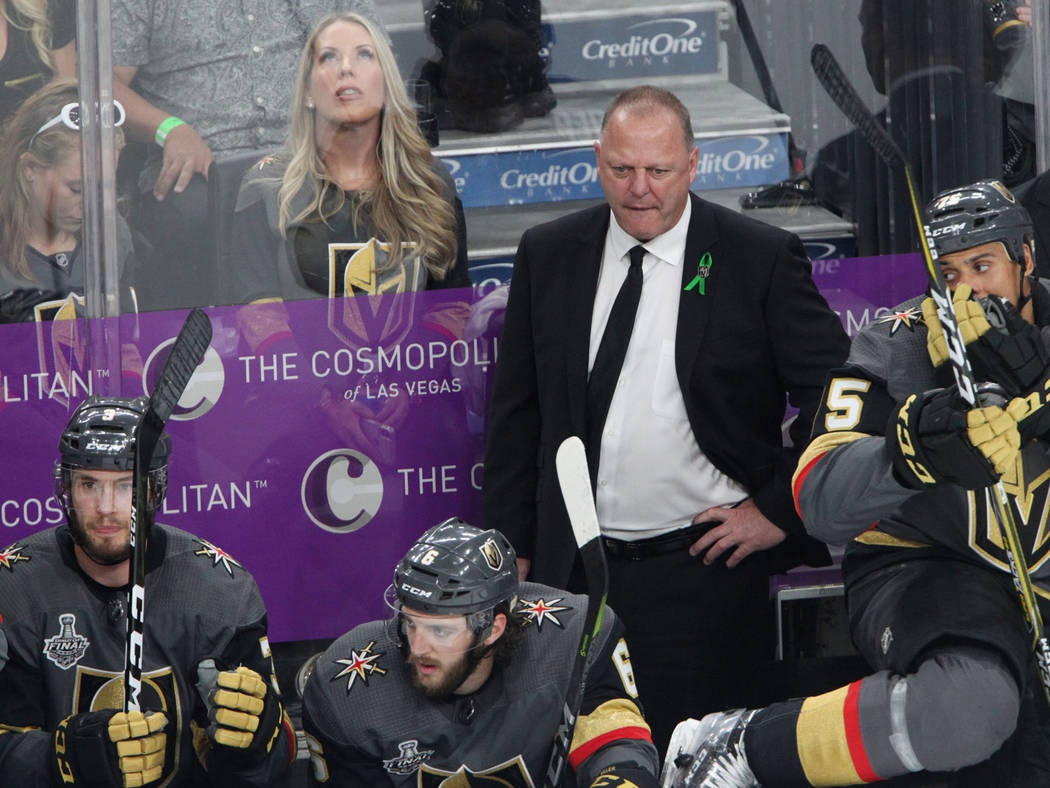 Vegas Voices is a weekly series highlighting notable Las Vegans.
As coach of the Vegas Golden Knights, Gerard Gallant has one of the best jobs in Las Vegas. When he goes to work behind the bench, he wears a suit. Now Gallant is working to help unemployed Americans dress for the jobs they want.
Gallant is among a group of NBA and NHL coaches partnering with Men's Wearhouse on its 11th annual Suit Drive. Through July 31, anyone who donates a gently used men's or women's suit at a Men's Wearhouse will receive 50 percent off the regular price of his or her next purchase.
"When you donate a gently used suit, it goes to men and women who are unemployed when they go back into the workforce," Gallant explains of the promotion.
We spoke to the coach about suits, Las Vegas' spirit of giving and his other impressions of the city after the team's inaugural season.
Review-Journal: When we see you behind the bench you're in a suit, which is a rare sight in a city that pushes the limits of business casual. Why do you think being well-dressed is important in life, particularly for the people who benefit from this program?
Gallant: It's really important. That's the way it's been in the NHL for a lot of years. You wear a shirt and tie and you look good on the bench, and you dress the best you can. It sets a good example for the younger kids coming up. When you go into the workforce, when you're going out to interview for jobs, I think the better you look the better chance you have to get that job.
If you're going out for a special occasion, is what you wear different than your work suits?
To be totally honest with you, I don't dress up very often. Besides going to work, I'm a pretty casual guy. I don't remember wearing a suit besides going to hockey games. But it's pretty much the same suits.
You and the team were new to Las Vegas when we faced one of our most difficult moments on Oct. 1. The way the team responded has been such a large part of their story. Did you learn anything about the city after the shooting?
I really did, because of the ways people responded — not just the hockey team, but the way the people responded. It was a tragic event obviously, but the people came out and supported each other and really wanted to help people heal. People just kept responding, and kept coming out, and really were caring. To me it was something special.
We weren't thinking about a hockey game at that time. We were only thinking about trying to do the best to help the first responders and help the families. And I think that's exactly what the whole city did.
Before you were approached by the Golden Knights, what was your experience with Las Vegas and your impression of the city? How has your impression changed now that you live here?
I came here a few times when I was a player, with some other players. And I came here on vacation a couple of times on golf outings. And obviously I enjoyed gambling a little bit at the casinos. I thought it was awesome.
But I didn't know a whole lot about (Las Vegas) besides the Strip. Once I got here and moved out to Summerlin, the area where we bought our home and where the practice facility is, I really enjoy it. I love the mountains. … And really everything is 20 minutes away. Traffic's not bad.
(My wife and I) got more visitors last year than probably in the last 10 years combined. Everybody loves to come to Las Vegas.
T-Mobile Arena was built with hockey in mind. Have you taken in any other events there?
I haven't. I'd love to go to some concerts there. It is a beautiful building, and a perfect hockey building. The atmosphere in that building is second to none around the whole league.
From a chocolate Marc-Andre Fleury at Bellagio to a Golden Knights jersey on the Statue of Liberty, what do you think about the kind of "only in Las Vegas" tributes the team has received?
You don't get that anywhere else. The closest you get to that is Toronto and Montreal, because they're passionate hockey fans and they've been involved in the game for a long time. And in one year, I think our fans and our city, the way they've supported our club, we're probably in the same category right now, which is hard to believe. What's happened in the last season is just incredible.
Getting to know Gerard Gallant
Ringtone: AC/DC "Thunderstruck"
Place I always take visitors: Top Golf
Everyday ritual: Coke Zero in the morning
Favorite vacation: Golfing in Myrtle Beach
Never leave the house without: My cellphone
Last concert: Luke Bryan
Favorite movie: "The Shawshank Redemption"
Contact Al Mancini at amancini@reviewjournal.com. Follow @AlManciniVegas on Twitter.