Golden Knights' Colin Miller adds penalty killing to list of duties
Updated May 10, 2018 - 8:29 pm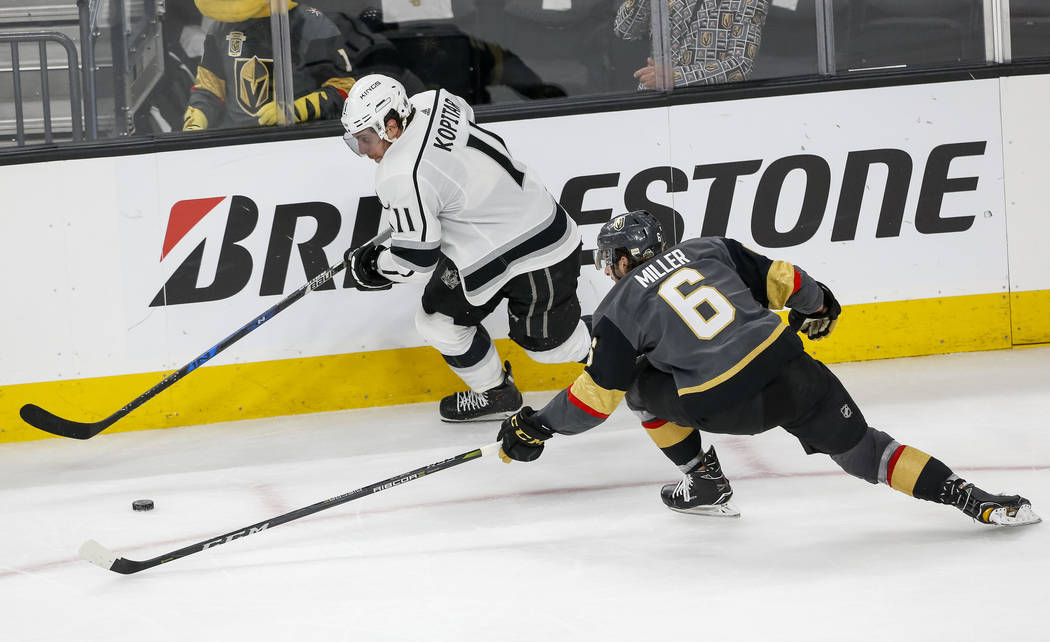 Colin Miller usually is thought of as an offensive-minded defenseman. After all, he led the Golden Knights' blueliners in goals and points during the regular season.
But along the way, the 25-year-old best known for his booming shot quietly developed another aspect of his game.
Miller has become a reliable penalty killer for the Knights, who will face the Winnipeg Jets in the Western Conference Final.
Game 1 is at 4 p.m. Saturday at Bell MTS Place.
"His game got so much better after the 15- or 20-game mark," Knights coach Gerard Gallant said. "He had a good start to the season. He was confident, he played real well with us. But again, we stress it with all our players. 'Let's make sure we're playing good defensive hockey, too. You've got to be a good defensive hockey player. We're just not worried about numbers and goals and assists. You've got to be good, solid defensively.'
"If you look at his game, if you look at some other guys on our team — young (Shea) Theodore — the more reps they get out there in different defensive situations, the more confidence they get. I think it's all about confidence."
Miller rarely killed penalties in the first two months of the season, but with defenseman Luca Sbisa unable to stay healthy, he became a mainstay on the second unit.
Miller logged 37:45 of short-handed ice time through Jan. 31 (49 games) and totaled 42:14 on the penalty kill in the final 33 regular-season games.
"Positionally, you've just got to be so aware," Miller said. "Where your stick is, where your body is type of thing. Whether you're down low or they're up high, wherever their guys are. You've just really got to be that type of detail and play your positioning and then obviously bearing down when you've got to get a clear."
The Knights rank No. 2 in penalty killing during the postseason at 85 percent (34-for-40), tops among all teams that reached the conference semifinals.
The Knights successfully killed 22 of San Jose's 27 power plays in their second-round series. Miller was on the ice for one of the Sharks' power-play goals.
"Power play, penalty kill is such a huge thing in the playoffs, right?" Miller said. "Especially against that last team in San Jose. They have one of the best power plays in the league. Been together for so long and so good at finding each other's sticks. We did a great job.
"I think we can limit it by staying out of the box. I didn't do a great job in that series, and as you get closer to the top here, those little penalties are going to hurt you."
Deryk Engelland and Brayden McNabb are the first defensemen over the boards on the penalty kill for the Knights, provided they aren't the one in the penalty box, of course.
Miller is paired with Nate Schmidt on the No. 2 PK unit.
Early in the season, Gallant used Sbisa on the top penalty kill with either Engelland or Schmidt. Now that Sbisa is healthy, Gallant has another option in short-handed situations against the Jets.
Sbisa played one shift (with Miller) while short-handed in Game 6 against San Jose after McNabb was penalized for delay of game in the first period of the Knights' 3-0 series-clinching win.
"I'm ready. I had my first PK shift in a very long time the other day, and hopefully I can build off that," Sbisa said. "It's tough because the guys have done a good job. You've just got to wait your turn and see what happens."
Contact David Schoen at dschoen@reviewjournal.com or 702-387-5203. Follow @DavidSchoenLVRJ on Twitter.
Western Conference Final
Saturday: At Winnipeg, 4 p.m. (KSNV-3)
Monday: At Winnipeg, 5 p.m. (NBCSN)
Wednesday: At Golden Knights, 6 p.m. (NBCSN)
May 18: At Golden Knights, 5 p.m. (NBCSN)
x-May 20: At Winnipeg, noon (KSNV-3)
x-May 22: At Golden Knights, 6 p.m. (NBCSN)
x-May 24: At Winnipeg, 5 p.m. (NBCSN)
x-if necessary