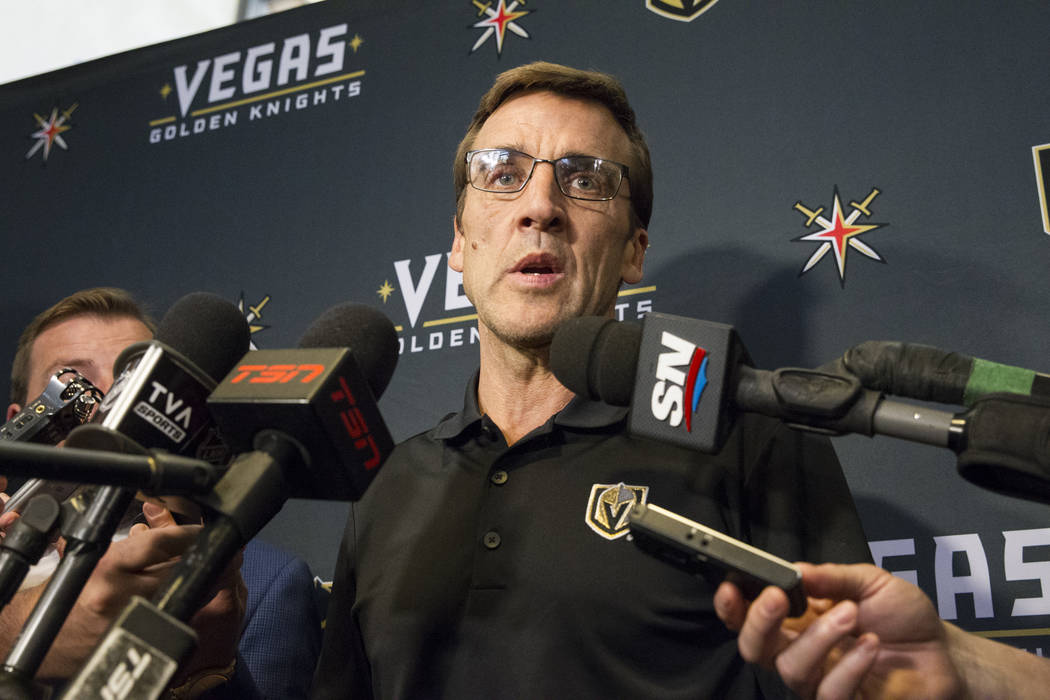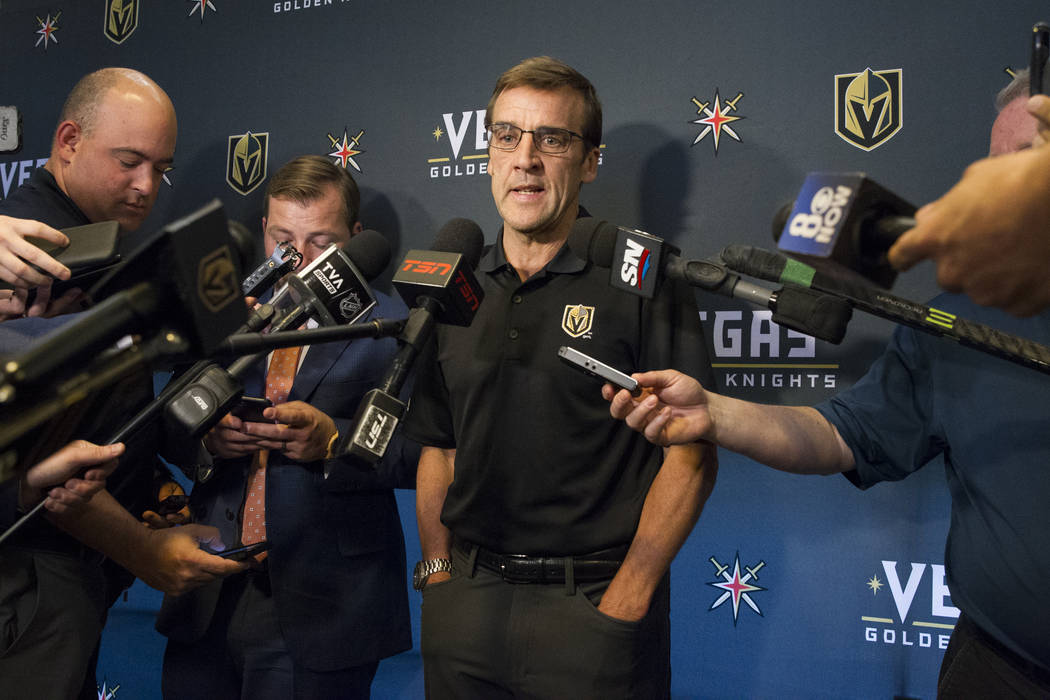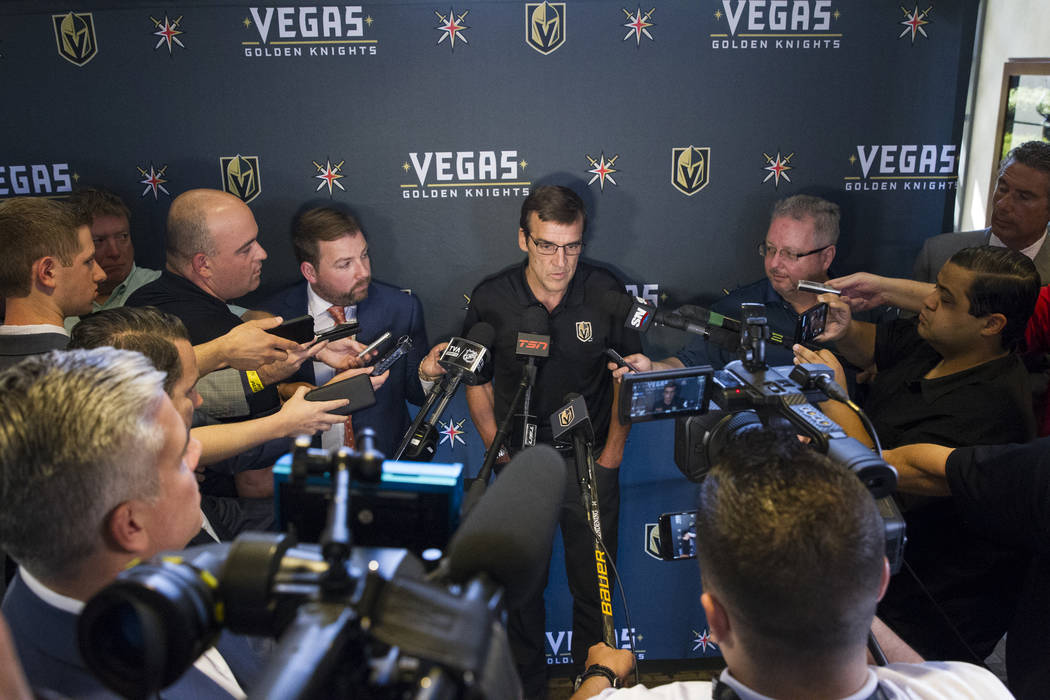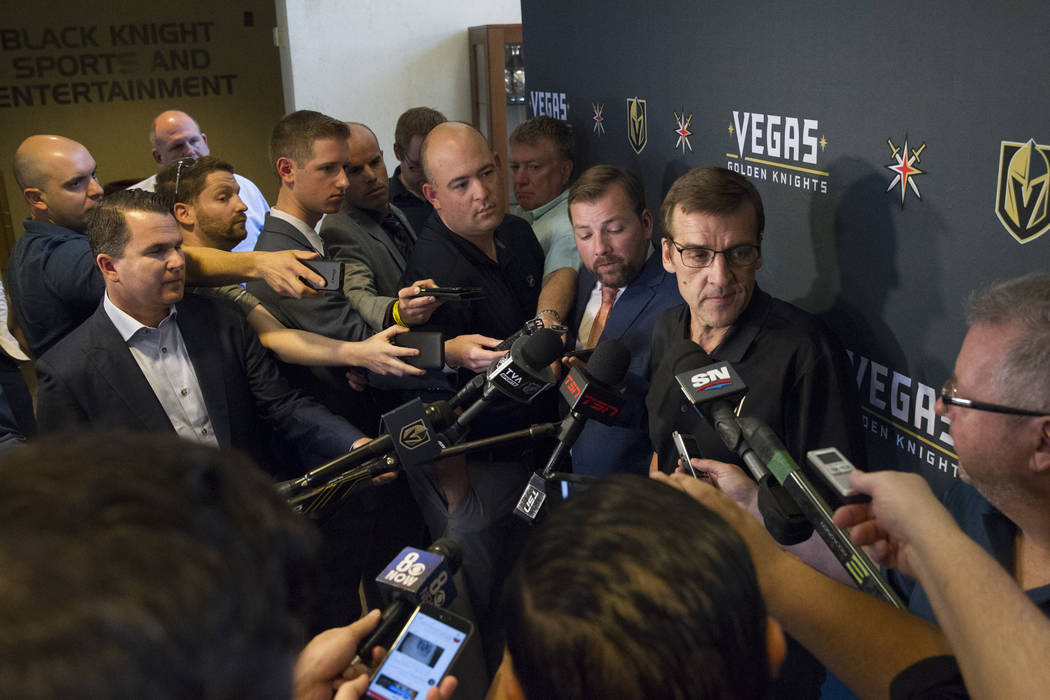 It's taken almost a year, but the Golden Knights are about to become a team with players.
A day before the one-year anniversary of the NHL granting majority owner Bill Foley an expansion franchise, the team will reveal its 30 selections at the league's Expansion Draft beginning at 5 p.m. Wednesday at T-Mobile Arena. The announcement will be made in conjunction with the NHL Awards Show and will be televised live throughout North America.
A handful of the selected players are expected to attend Wednesday's event.
"It's really hard to believe we're here now and we're submitting this list," Vegas general manager George McPhee said at his Tuesday briefing at the team's Summerlin offices. "Three days ago, we had a whiteboard with no names on it, and now it looks like we've got a hockey team.
"And we like the way it looks. But it's interesting that the debate has gone from, 'What are we doing with clubs?' to now, we have a couple of things to wrap up, now we're entering that phase where what kind of flavoring do we have to add to the team? What other things do we need to do here?'"
The Knights must select a minimum of three goaltenders, nine defensemen and 14 forwards. The remaining four choices can be at any position.
When asked what he thought of the roster he's submitting to the league, McPhee said: "Actually, I think we've done pretty well in all the positions. We have lots of defensemen lined up, we have lots of centers and we have scoring on the wings, a little more scoring than we anticipated. The goaltending is going to be pretty solid.
"It's looking pretty good. It's what we've been trying to accomplish, and that is have a competitive club that people are going to enjoy watching play, and then having the draft picks to be able to draft our way to a contending team, a championship team."
McPhee and his hockey operations staff have been working almost nonstop trying to piece together a difficult puzzle in selecting one player from each of the 30 existing NHL teams.
Several deals have been made and will be revealed after the announcement of the expansion roster. The Knights reportedly have acquired additional first-round picks for the NHL Entry Draft on Friday in Chicago, meeting one of McPhee's primary goals.
"We've done a lot of things," he said, refusing to get specific but admitting the Knights are involved in at least six deals. "Transactions? Yeah. Yeah, certainly at least that. We've tried to talk to every club before we make a selection, and different things result from that. I certainly haven't been able to keep track of it, and I guess we'll tally it all up at the end and you guys can tell us how we did."
McPhee remained coy about free agency, saying, "Maybe so, yeah. We'll find out (Wednesday) night, I guess. That's what the show is all about."
The general manager said the Knights are as prepared as they can be.
"We worked really hard at this," he said. "We've needed the whole year to do it. We've talked to a lot of people about how to do it. We've done a lot of planning. We've had a great blueprint. And it's worked very, very well. We've gotten through this process.
"I had some concerns (Monday) about 1 o'clock about whether we were going to have enough time. It was kind of overwhelming, but we were handling it. And then we sort of looked up at the clock at 4 o'clock and said, 'You know, we're going to be all right. We're going at a good pace, and things are falling into place.'
"So, it's worked. It's kind of like going in for a final exam and knowing you know it."
More Golden Knights: Follow all of our Golden Knights coverage online at reviewjournal.com/GoldenKnights and @HockeyinVegas on Twitter.
Contact Steve Carp at scarp@reviewjournal.com or 702-387-2913. Follow @stevecarprj on Twitter.
Related
Here's the RJ's Golden Knights expansion mock draft