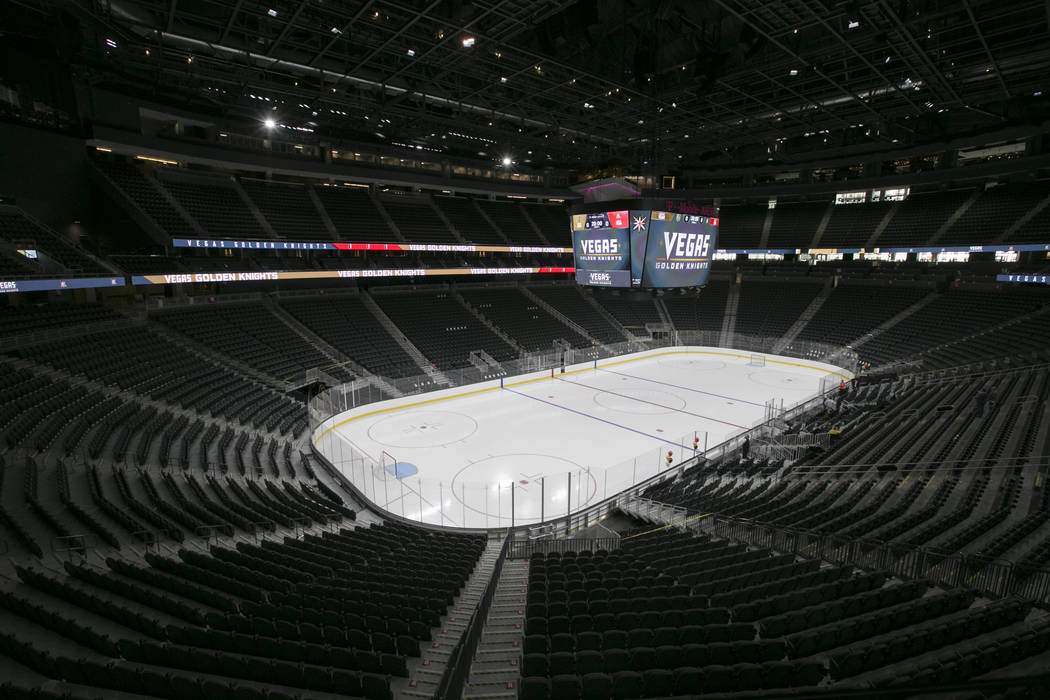 The Golden Knights will begin their inaugural NHL regular season on the road on Oct. 6 against Dallas.
The NHL announced the 2017-18 home openers for all 31 teams Wednesday and the Knights are the visiting team for the Stars. The following night, Oct. 7, the Knights travel to Glendale to be the opponent for the Arizona Coyotes in their home opener.
The Knights' first-ever regular-season home game T-Mobile Arena will be Oct. 10 against the Coyotes.
The entire 2017-18 NHL schedule will be released Thursday morning. Owner Bill Foley said the team had gone back to the NHL and asked them to tweak a couple of portions of the schedule that initially had the team with extended homestands and road trips of eight and nine games.
"We were hoping to break those up and we were able to a little," Foley said.
The Westgate Las Vegas Superbook wasted no time putting up odds for the Knights' road and home openers. Dallas is a minus-250 favorite for the Oct. 6 season opener with the Knights at plus 220. The total is 5 1/2 goals and is pick 'em both for over and under the total.
The Oct. 10 home opener against Arizona is also a pick 'em as both teams are minus-105. The total is 5 1/2 goals with the under the favorite at minus-130 and the over is at plus 110.
The NHL preseason schedule has the Knights on the road for four consecutive games, beginning Sept. 17 in Vancouver. The team's preseason home opener will be Sept. 26 vs. Los Angeles. It will be the first of three consecutive preseason home games wrapping up with an Oct. 1 game at T-Mobile vs. San Jose.
Contact Steve Carp at scarp@reviewjournal.com or 702-387-2913. Follow @stevecarprj on Twitter.
List of NHL home openers for 2017-18
Anaheim Ducks: Thursday, Oct. 5 vs. Arizona
Arizona Coyotes: Saturday, Oct. 7 vs. Golden Knights
Boston Bruins: Thursday, Oct. 5 vs. Nashville
Buffalo Sabres: Thursday, Oct. 5 vs. Montreal
Calgary Flames: Saturday, Oct. 7 vs. Winnipeg
Carolina Hurricanes: Saturday, Oct. 7 vs. Minnesota
Chicago Blackhawks: Thursday, Oct. 5 vs. Pittsburgh
Colorado Avalanche: Wednesday, Oct. 11 vs. Boston
Columbus Blue Jackets: Friday, Oct. 6 vs. NY Islanders
Dallas Stars: Friday, Oct. 6 vs. Golden Knights
Detroit Red Wings: Thursday, Oct. 5 vs. Minnesota
Edmonton Oilers: Wednesday, Oct. 4 vs. Calgary
Florida Panthers: Saturday, Oct. 7 vs. Tampa Bay
Los Angeles Kings: Thursday, Oct. 5 vs. Philadelphia
Minnesota Wild: Saturday, Oct. 14 vs. Columbus
Montreal Canadiens: Tuesday, Oct. 10 vs. Chicago
Nashville Predators: Tuesday, Oct. 10 vs. Philadelphia
New Jersey Devils: Saturday, Oct. 7 vs. Colorado
New York Islanders: Saturday, Oct. 7 vs. Buffalo
New York Rangers: Thursday, Oct. 5 vs. Colorado
Ottawa Senators: Thursday, Oct. 5 vs. Washington
Philadelphia Flyers: Saturday, Oct. 14 vs. Washington
Pittsburgh Penguins: Wednesday, Oct. 4 vs. St. Louis
San Jose Sharks: Wednesday, Oct. 4 vs. Philadelphia
St. Louis Blues: Saturday, Oct. 7 vs. Dallas
Tampa Bay Lightning: Friday, Oct. 6 vs Florida
Toronto Maple Leafs: Saturday, Oct. 7 vs. NY Rangers
Vancouver Canucks: Saturday, Oct. 7 vs. Edmonton
Golden Knights: Tuesday, Oct. 10 vs. Arizona
Washington Capitals: Saturday, Oct. 7 vs Montreal
Winnipeg Jets: Wednesday, Oct. 4 vs. Toronto
Source: NHL
RELATED
Vegas Golden Knights' uniforms stay true to owner's colors
Golden Knights complete homework on eve of Expansion Draft