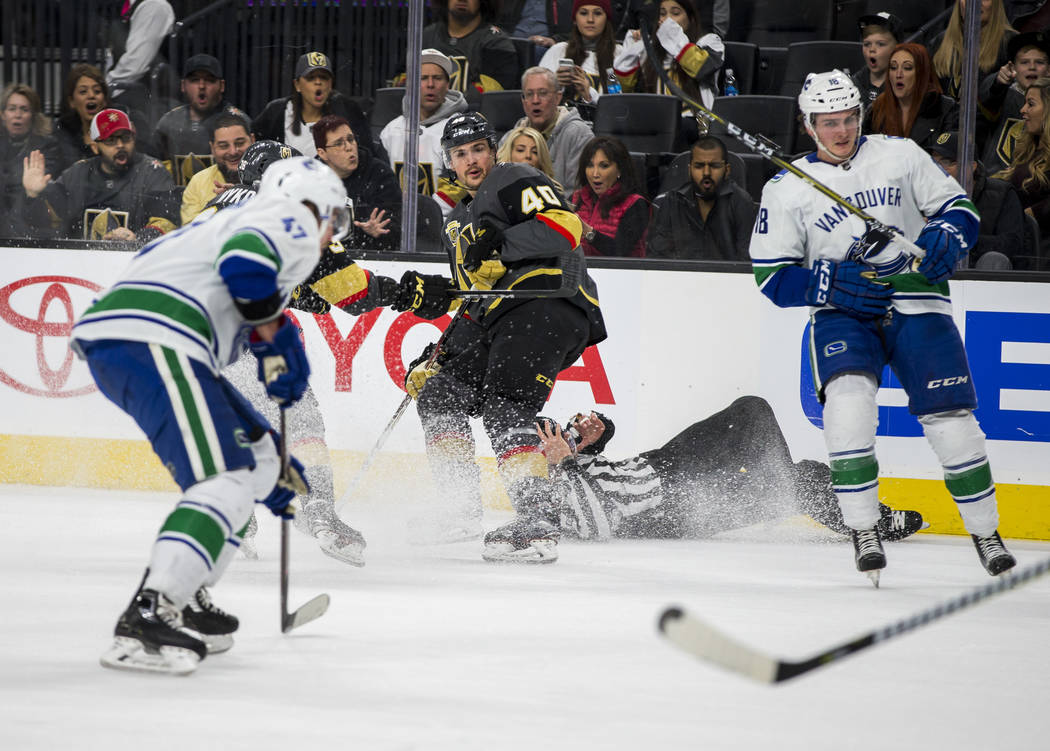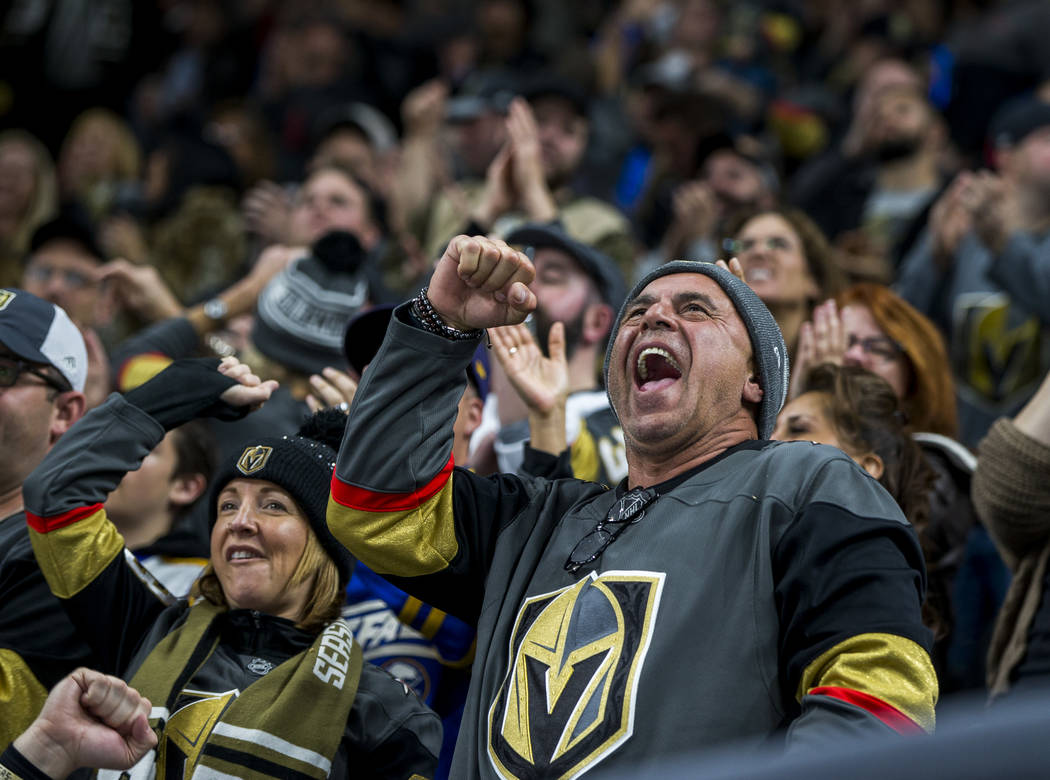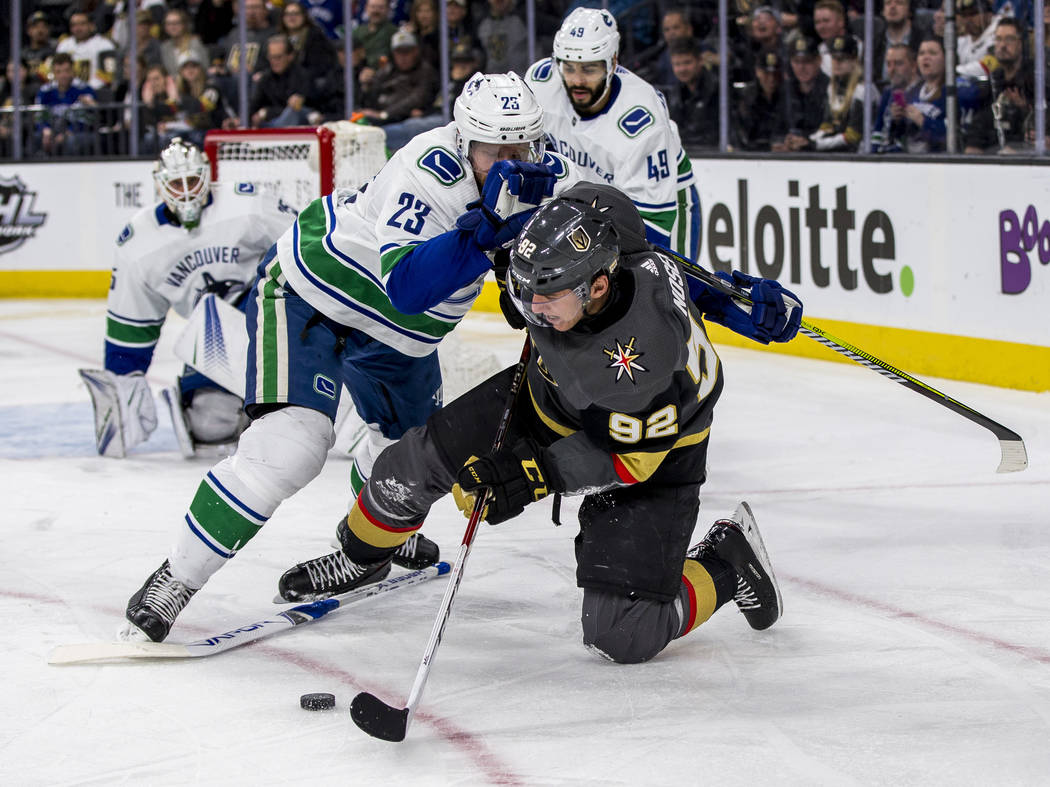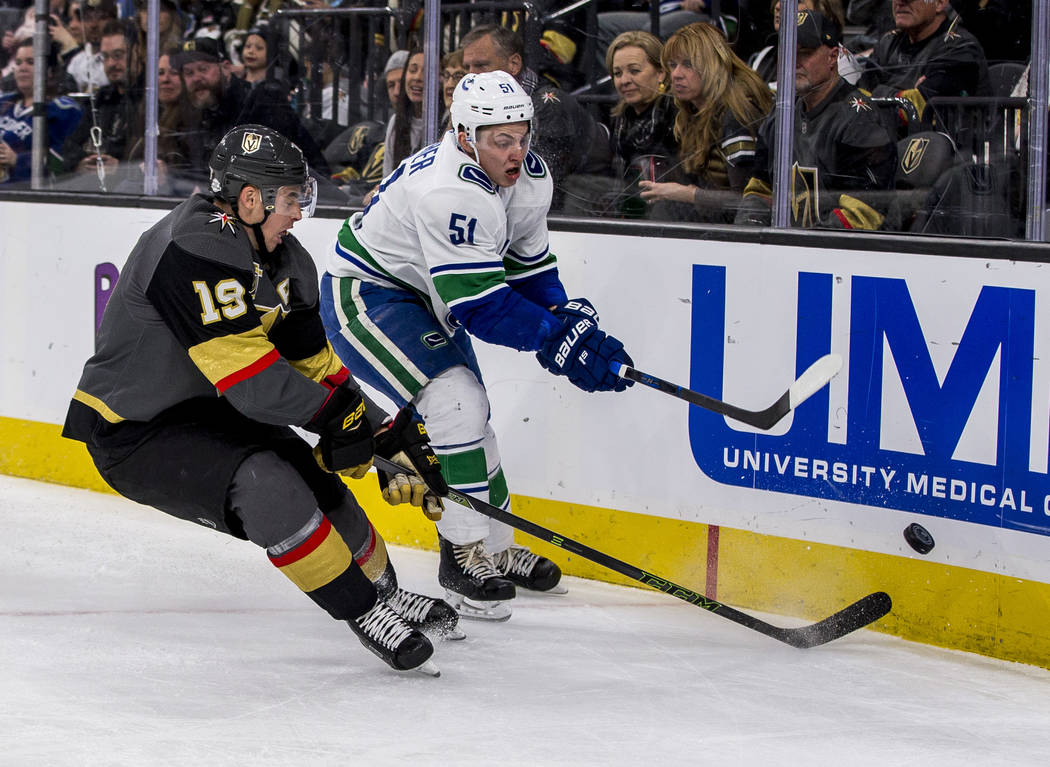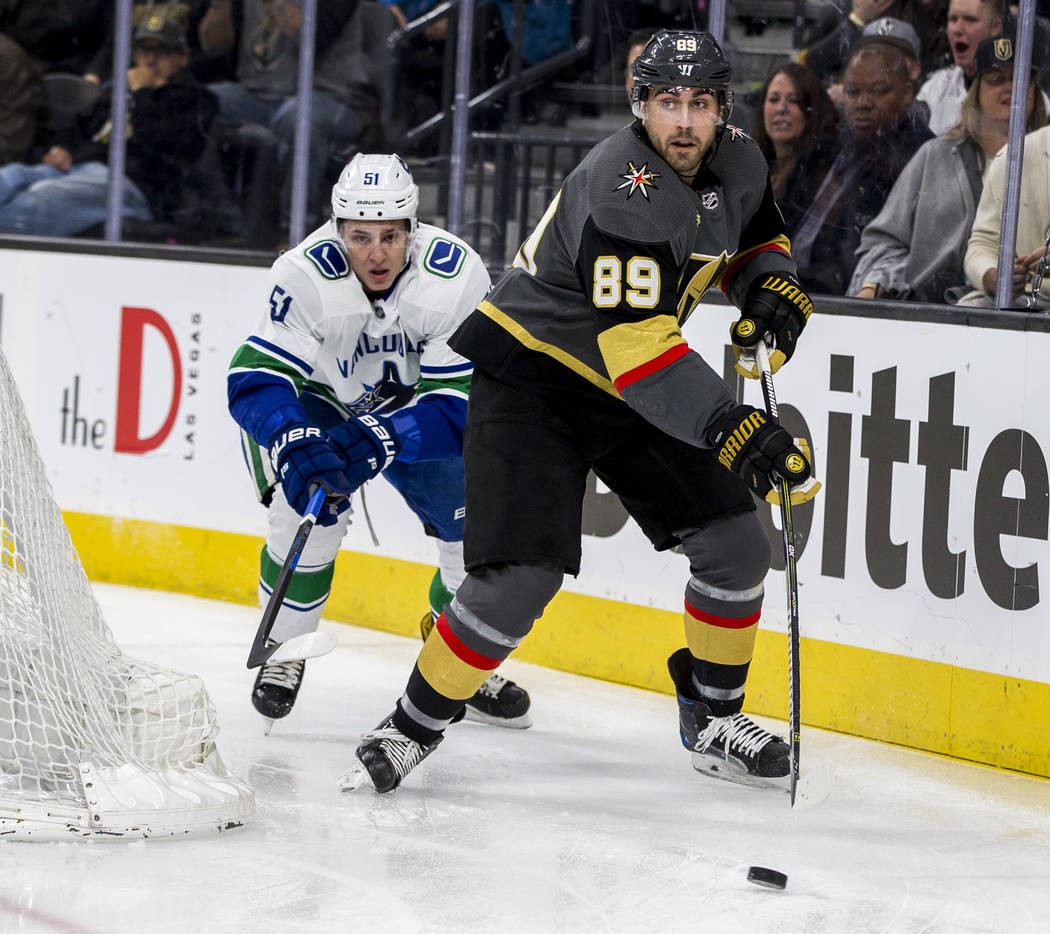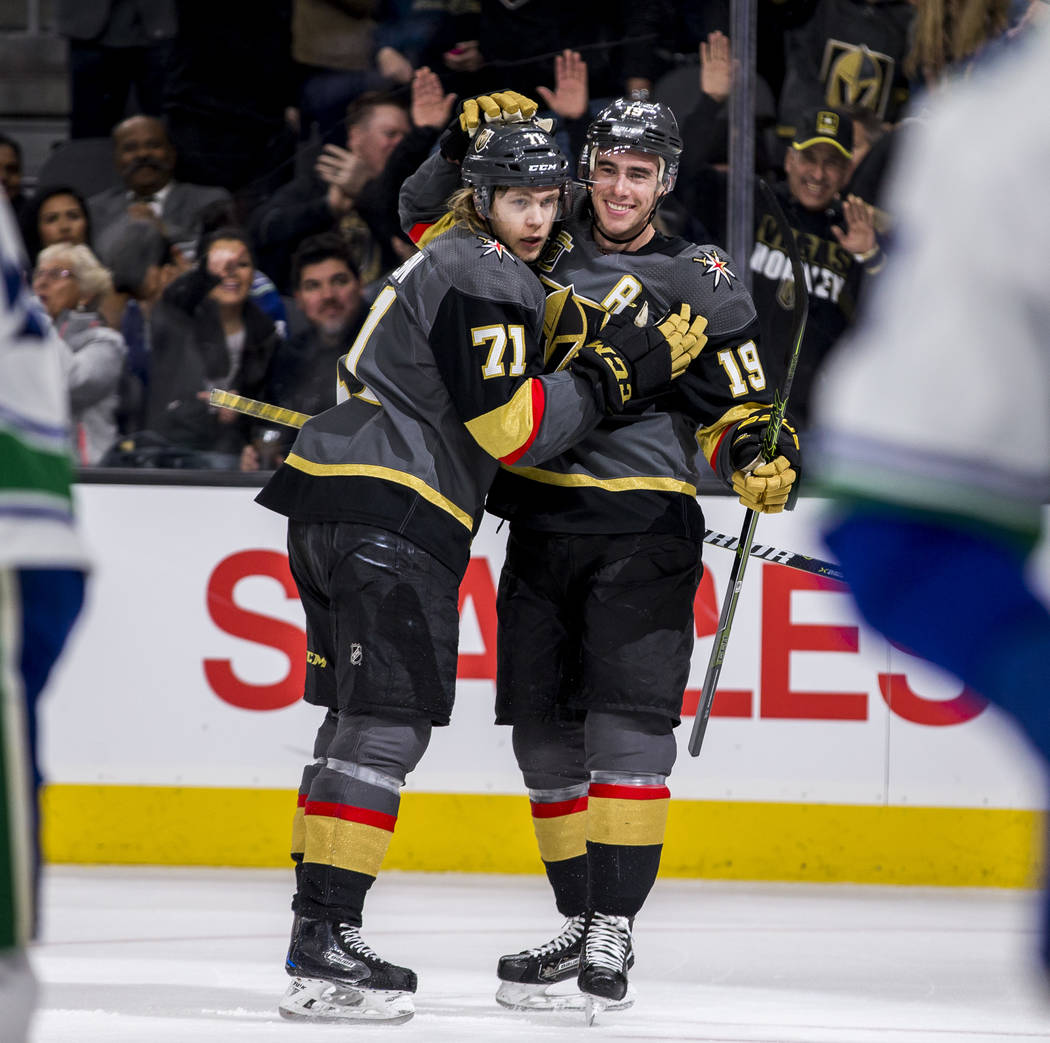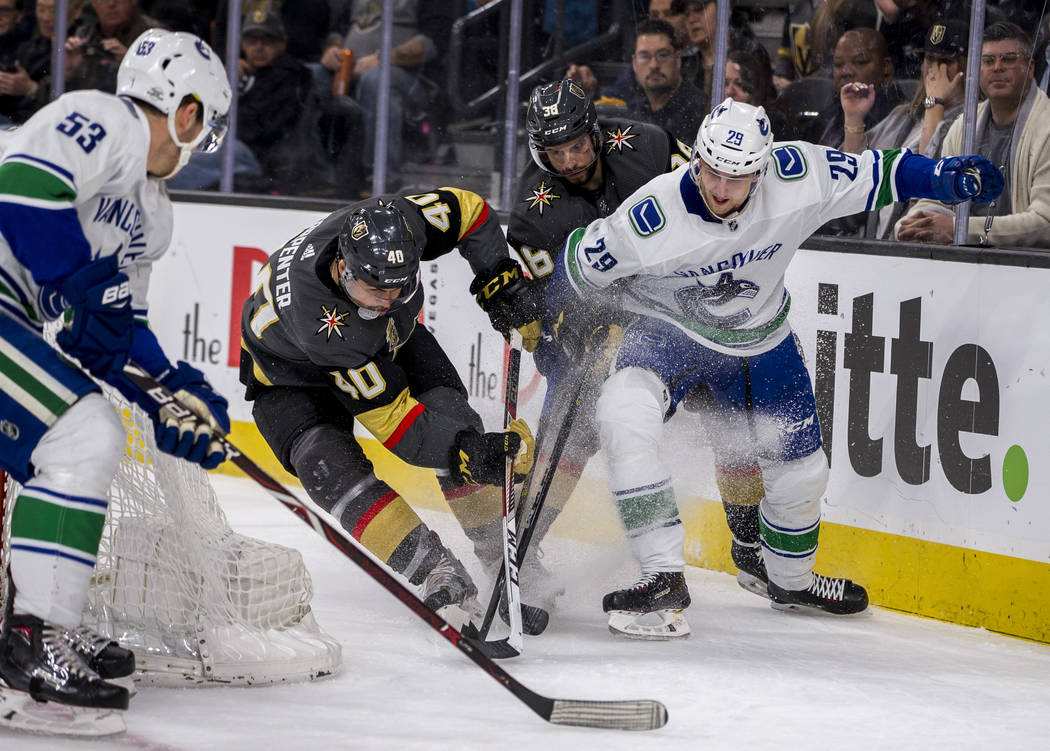 As the Golden Knights were preparing to conclude their seven-game homestand Friday with a 6-3 win over the Vancouver Canucks at T-Mobile Arena, general manager George McPhee was working to improve his club.
The Knights, Ottawa Senators and Pittsburgh Penguins were involved in a complicated three-way trade.
When it finally was completed, here's what happened:
— The Knights got right wing Ryan Reaves from Pittsburgh;
— The Penguins obtained center Derick Brassard, defenseman Vincent Dunn and a third-round draft pick in 2018 from Ottawa, along with minor league forward Tobias Lindberg from the Knights;
— The Senators received defenseman Ian Cole, goaltending prospect Filip Gustavsson, a first-round pick in 2018 and a third-round selection in 2019 from the Penguins.
"It was a little convoluted," McPhee said. "But we had the (salary) cap space to do it, and I thought it was a good deal for our hockey club.
"It's not a major transaction. It's more of a subtle one. I don't see it changing our chemistry. Most players like seeing that size and grit."
Coach Gerard Gallant said of the trade: "We're bringing in a big, strong guy who can fill a role for us. We all know what he can do and we want him to be a good hockey player first."
Reaves, 31, is 6-foot-1-inch, 225 pounds. He had four goals and four assists with 84 penalty minutes in 58 games for the Penguins. By comparison, Brayden McNabb is the Knights' leader in penalty minutes with 42. Reaves will be an unrestricted free agent after the season. He makes $1.125 million.
The Knights also received Pittsburgh's fourth-round pick in the 2018 draft, which was originally Vancouver's.
"You end up having several discussions," McPhee said of how the Knights got involved. "I talked to Pittsburgh a couple of days ago, and getting the deal done with them was fairly easy. Completing it with the league was harder."
Initially, there was supposed to be some of Brassard's salary retained by the Knights as part of the deal. But the NHL rejected it, as it did not meet the terms of the league's salary cap and the collective bargaining agreement.
The teams had to restructure the terms. The Knights will take on 40 percent of Brassard's $5 million salary this season.
By helping facilitate Brassard's trade to the Penguins, McPhee kept the center from playing in the Western Conference. Winnipeg reportedly was trying to make a deal with Ottawa.
"We heard there was some talk about him going west," McPhee said. "Materially, was that part of the deal? No."
In Friday's win, William Karlsson and Jonathan Marchessault scored 1:03 apart in the second period to break a 2-2 tie and send the Knights to their 41st victory.
Karlsson, who scored in the first period after the Canucks took a 2-1 lead and added an assist, has 33 goals. Marchessault scored his 22nd goal and had an assist to give him a team-high 61 points.
Rookie Tomas Hyka opened the scoring with his first NHL goal, as he tapped home a loose puck in the Vancouver crease 2:29 into the game.
"It was a great thrill," said Hyka, holding the puck from his goal. "I've worked very hard to get here, and hopefully there'll be many more to come. And it's especially nice because we won."
With Reaves set to join the team Saturday, McPhee said he can't predict if he's done dealing before Monday's noon trade deadline.
"I never know what's going to transpire at the trade deadline," he said. "All the managers are making calls. It could be a lot. It could be nothing. We'll see what the next 48 hours bring."
Contact Steve Carp at scarp@reviewjournal.com or 702-387-2913. Follow @stevecarprj on Twitter.
Three takeaways
1. Haula switches lines. Erik Haula was moved off his second-line duties, where he's usually paired with David Perron, and was replaced by Tomas Nosek, who skated with Perron and Alex Tuch, who was subbing for James Neal. Haula found himself centering for Oscar Lindberg and Stefan Matteau on the fourth line.
2. Fleury's penalty streak. For the third time in three games, Knights goaltender Marc-Andre Fleury received a penalty, getting whistled for tripping 8:12 into the first period.
3. Score four. For the 31st time this season and 16th in 31 home games, the Knights have scored at least four goals. They scored four or more times in each of the five wins on the seven-game homestand, which ended Friday.
Steve Carp Review-Journal